Enjoy a Taste of Fall with These Denver Cocktails
Seasonal sips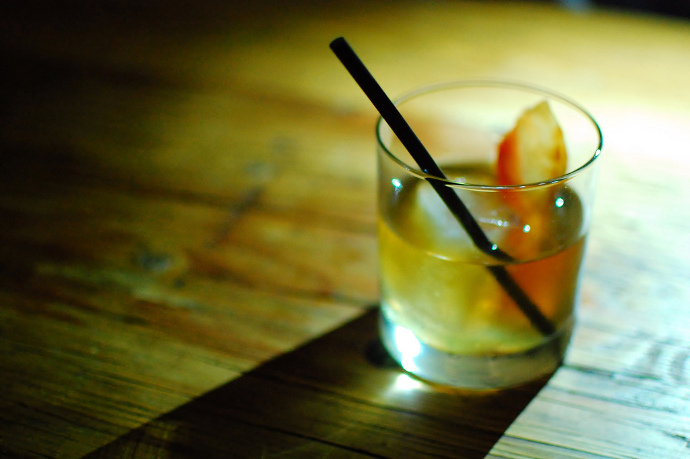 As the warm days of September and October slip behind us, we have still have the warm flavors of the season to sip on at Denver's bars and restaurants. Using seasonal ingredients and new flavors in old classics, bartenders around town want you to slip easily into winter with these tasty concoctions. These seasonal sips will light you up as the days get shorter.
Chippewa Falls Old Fashioned, Wally's Wisconsin Tavern
Enjoy a taste of northern Wisconsin at Wally's in near Larimer Square. The restaurant says the Old Fashioned is the state's unofficial cocktail so Wally's serves up several different mixes, but this one is a fall favorite. Made with Bulleit Rye, spiced apple cordial, and Calvados and Carpano Antica, this cocktail is a taste of fall sweet and spice. (1417 Market St.; 303-800-2652)
Cold Mountain Hot Toddy, Tupelo Honey
This hot drink will warm you over on cold days. Made with Copper and Kings American Craft Brandy, pumpkin spice ginger syrup, fresh apple and lemon juice, Chamomile tea, dried apple and a cinnamon stick, pour hot water over this toddy and let the tea steep for two minutes. Then just sip in the warmth. (1650 Wewatta St.; 720-274-0650)
The Diablo, there…
Recently celebrating its first anniversary in Denver, there… has a warm and fuzzy cocktail for fall. The Diablo features Mescal Vida, Torres Orange Liquor, lime juice, simple syrup, blood orange puree and sambal chili paste. One sip will heat you up on the chilliest of days. (3254 Navajo St.; 720-500-3254)
Elyx Spice, Ocean Prime
This refreshing drink will lighten any mood as the daylight hours dwindle. Made with Absolut Elyx, Uncle Val's Botanical Gin, fresh pear and local cider, this earthy and fruity cocktail will shake you out of that Seasonal Affective Disorder funk. (1465 Larimer St.; 303-825-3663)
Gobble Gobble Gobble, Punch Bowl Social
The only thing better than cocktails is cocktails with friends and Punch Bowl Social has a fall punch that packs a pow. The Gobble Gobble Gobble is made with Old Forester Bourbon, DOM Benedictine, house made orange shrub, Teakoe's pineapple guava tea and orange juice. Punch bowls come in servings of four and eight. (Denver, 65 Broadway; Stapleton, 3120 N Uinta St.)
Little Brothers Manhattan, range
One of the bar's most popular drinks, Little Brother is a relaxing sip for the fall. Made with bourbon, Peychaud bitters, Leopold's Tart Cherry and Antica Sweet Vermouth, the cocktail is bottled in-house, rested for two to three days, and served over ice with what's left in the bottle on the side. Keep adding liquid to the glass as the ice melts for extra smoothness. (918 17th St.; 720-726-4800)
Pumpkin Coconut Chai Martini, Bremen's Wine & Tap
This fall Martini has an exotic twist. Made with Ketel One Vodka, Ricurra, Pumpkin King, coconut water concentrate and Coconut Chai Tea this flavorful Martini is rimmed with crushed toasted coconut flakes and garnished with cinnamon and star anise to round out the season. (2005 W. 33rd Ave.; 720-504-4410)
Scofflaw, The Corner Office
Heading to see a show at the arts complex for the holidays? Stop in for a theatrical beverage at The Corner Office and sip this new cocktail, the Scofflaw. Made with Redemption High Rye, Yzaguirre Rojo, Yzaguirre Dry, lemon and pink peppercorn syrup and garnished with pink peppercorns, this high flying cocktail will set you right before or after a show. (1401 Curtis St.; 303-825-6500)
Trader's Whiskey, The Fort
Award-winning restaurant The Fort has a historical concoction on the menu, a throwback to the Western Frontier's fur trading days. Trader's Whiskey is something that came about during the Temperance Movement. As whiskey went underground, frontiersmen would cut liquor with water and other flavors to increase supply and profits. These additives, red chile, tobacco and black gun powder, give the whiskey an interesting taste. Yes, gun powder, a combination of sulfur, charcoal and saltpeter, is in the whiskey. Served neat. (Morrison, 19192 CO-8; 303-697-4771)
Templeton Maple Old Fashioned and Tennessee Honey Lemonade, Thirsty Lion
Each season brings a new menu to Denver's Thirsty Lion locations. Called the Fall Fresh Sheet guests can enjoy two tasty new whiskey cocktails. Tennessee Honey Lemonade is made with muddled lemons and mint, Jack Daniels Honey Whiskey, lemonade, simple syrup, grapefruit bitters and soda. The Templeton Maple Old Fashion is made with Templeton Rye, pure maple syrup, orange, lemon, Angostura Bitters and soda water. (Downtown, 1605 Wynkoop St.; Cherry Creek, 201 Columbine St.)
Photo via Flickr user jng104
Tags:
Cocktails
Recent Articles

Feedback
How are we doing? Tell us what you like or don't like and how we can improve. We would love to hear your thoughts!