Behind the Bar: Liana Oster of Dante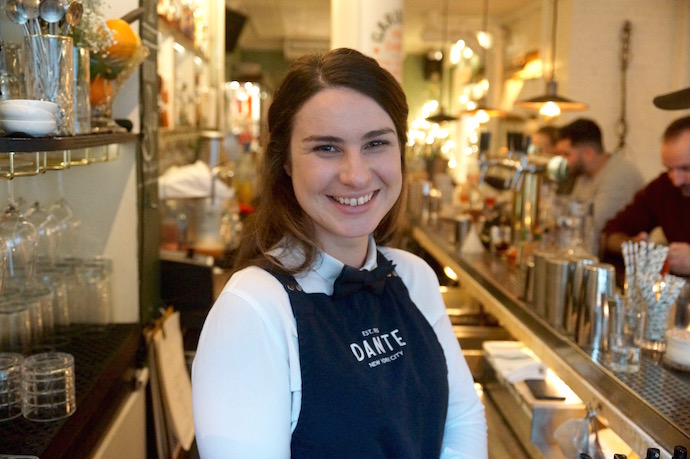 For this exciting installment of
Behind the Bar
, we had the incredible opportunity to sit down with
Liana Oster
, the head bartender at
Dante
in New York City's West Village. Fresh off of the century-old bar's 2019 win for
World's Best Bar
at Tales of the Cocktail and World's Best Bar in the
50 Best Bars
, among other accolades, we got the chance to chat with the Australian born Oster about living in New York, how she likes her martinis, and her enduring love for Elton John.
The Drink Nation (TDN): Tell us about Dante.
Liana Oster (LO): Dante is, in essence, an old New York institution. The building and cafe have been here since 1915, and MacDougal Street is a historic street in and of itself. Back in the day, Caffe Dante was known for its coffee and pastries, and it's still very special to a lot of people because of its history. Nearly five years ago, our current bosses took over and changed the emphasis from a pure cafe to a restaurant, but most of it has remained the same. The idea was to keep the history of the place alive, but make it more contemporary. Because it means so much to people still, I think people feel at home and comfortable; the people who live in the building are still some of our best customers. We want it to be welcoming to absolutely any guest.
TDN: Tell us about the drink program.
LO: The idea behind our program is that we wanted a very European influence, but also that it's a place to come in the middle of the day and have a martini and a drink. For that reason, a lot of our drinks are lower ABV, so you can stay here throughout the day. Our menu is quite large; we started off trying to be "the place" in the city for European-style drinks. The Negroni put us on the map, and we've expanded into martinis and other drinks.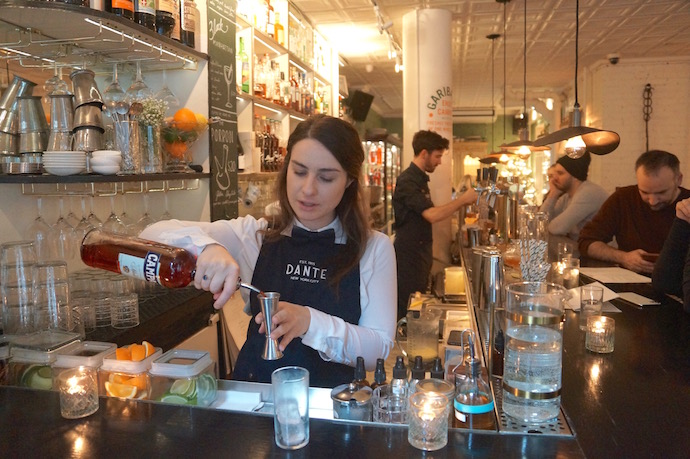 TDN: Have you bartended elsewhere?
LO: Mainly back in Australia; I used to work at a little bar called Bar Americano, which is the smallest cocktail bar in Australia. It's only ten person capacity, standing room. It's designed similarly in concept, so coming here felt like a natural transition. I moved to New York and got the job here within the first month. I also worked at The Bennett for a handful of months, which is now closed, but it definitely taught me about how different bars work.
TDN: What's trendy right now? How have you adapted a classics-based menu to work with trends?
LO: Fat-washing - I think it's coming back after being big a few years ago. We've joined in on the trend for sure. It definitely suits the winter better than the summer, but it gives an unctuousness to any drink. Milk punches are definitely huge right now. Sustainability was a huge thing this past year, and we definitely want to do our part. Everyone in the community tries to be smart about it, so for us, we've done things like in house sustainable cocktail competitions. As for our menu, I think the beauty for us is [Naren Young, creative director] is so creative, and he's always inspired and always has something in his head that he thinks will work. Even though a lot of things on our menus are classics, we're always trying to adapt it into something new; for example, we have a gimlet on the menu, but we've clarified the lime juice so that it almost looks like a martini.
TDN: What are some trends you wish would die?
LO: I'm pretty open-minded. I'll give everything a try once!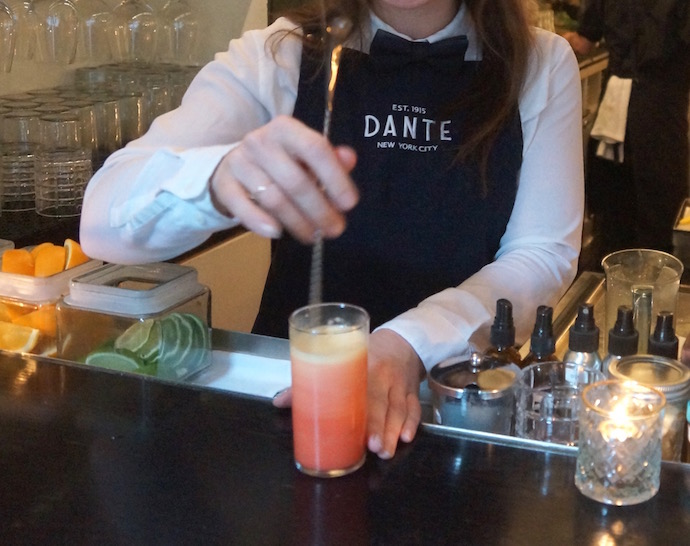 TDN: Any predictions about where the industry might go next?
LO: Sustainability will definitely continue. I think a bigger emphasis on women in hospitality is coming too - we've always been here, but the nicest thing about it now is that it's not necessarily people taking note, but people taking awareness.
TDN: What's it like being a young woman in this industry?
LO: It's been a role I've had to adapt to as opposed to feeling comfortable at the start; all women can relate to dealing with difficulties in the workplace, but we've been lucky here in that we typically always have a female presence behind the bar. I've personally been lucky as well; my team is so supportive.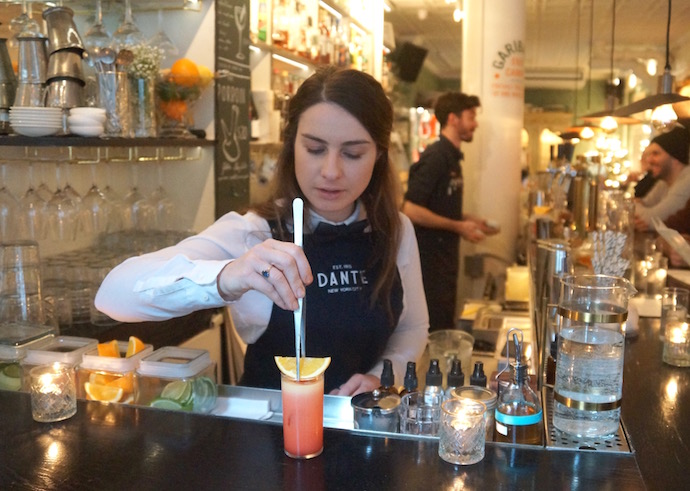 TDN: One unexpected fact about you?
LO: I have a tattoo that says "live for today, hope for tomorrow." I'm getting it removed, thank god!

TDN: Favorite beer?
LO: Miller High Life.
TDN: Favorite wine?
LO: Champagne. I love Laherte Frères.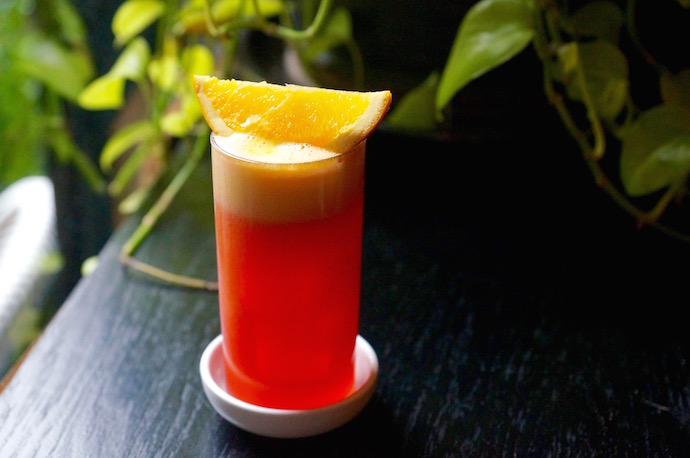 Dante's Garibaldi cocktail (Campari & whipped orange juice).
TDN: Favorite liquor?
LO: I love working working with vermouth, because it's so versatile and you can make anything with it. Gin's my favorite hard liquor.
TDN: Favorite cocktail?
LO: A martini. I'll have a 50/50 if I'm having it before a meal, but I'll do 2 to 1 otherwise. Plymouth is my favorite gin.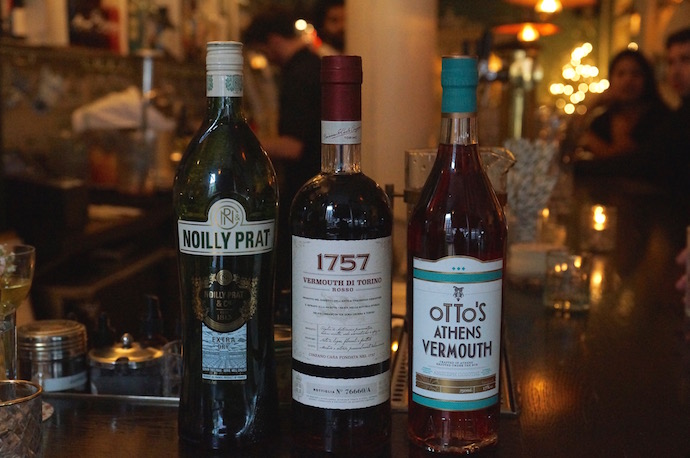 Some selections from Dante's extensive vermouth program.
TDN: You work a lot with vermouth. Can you tell me about your vermouth program?
LO: We did a promotion called Vermouth for Days in April of this year, and every week, we brought a bar in from around the world who share our sensibility, so every drink was based around vermouth. In doing that, we got to showcase different drinks and brands. A lot of our martinis are "reversed," in that they're 2 to 1 but with the emphasis on the vermouth.
TDN: What drew you to vermouth, and what do you want people to know about it?
LO: A couple of things; my family's Italian, so it's a very familiar spirit to me. A lot of it was probably luck in that a lot of my bar jobs had an Italian bent to them, so I've always been around vermouth. I think the beauty of vermouth is that people have this preconceived notion about the half-empty bottle on the back of the bar because they just don't know what it is. I hope people use it and experiment with it more. It's so versatile; you really can do anything with it.
TDN: What's it like to work at one of the most established, recognized bars in New York?
LO: It's crazy! Working days is my favorite because you can talk to the guests a little more, which is definitely what drew me into this job. Sometimes it can be hard, especially with the recent awards, because people want to know why it's the best bar in the world. Everyone will have a different "best bar in the world" - it's so subjective, so we just want to provide everyone with an exceptional experience no matter what.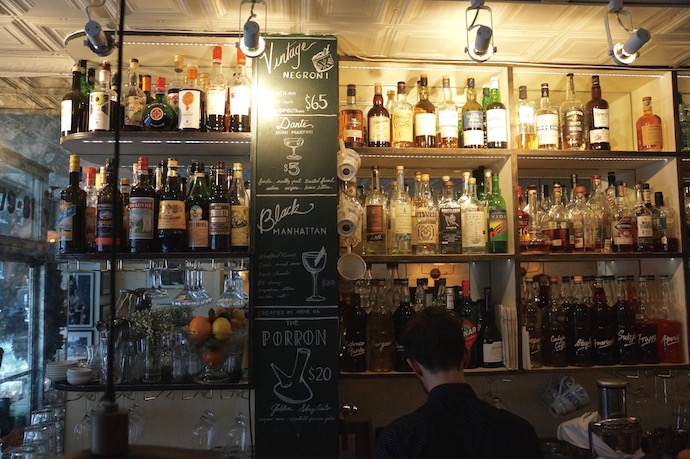 TDN: How do you stock Dante's bar? Why pick those bottles?
LO: I take two different approaches - finding on-brand spirits that are curated towards the menu, and also personal preferences. We don't want anything on the back bar that we don't stand behind.
TDN: What's your favorite kind of customer?
LO: I love people who have never been here before. I love my regulars, but it's nice to have people who just haven't had the experience, and you can see their perception change, especially if you have the chance to talk to them. I love seeing someone who was new become a regular.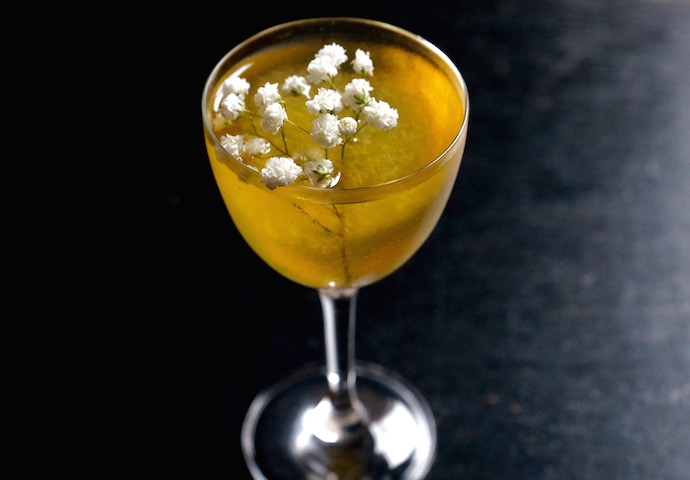 Negroni Bianco (Brooklyn Gin, quinquina aperitif, alessio bianco, lemon bitters).
TDN: What do you think the essentials are for a good home bar?
LO: Definitely vermouth — blanc, sweet, and dry — gin, a whiskey (a bourbon and a rye would be a good start). I'd also stock an amaro of some kind. Montenegro is a great starter amaro because everybody loves it. It's a nice baseline. Campari and Aperol are also musts.
TDN: Where do you go for a drink when you're not working?
LO: I'm generally just at home, but the beauty of being right here is that we're close to Katana Kitten to see Masa. My housemates work at Grand Tivoli, and I love it there. One of my favorite places in general is a great wine bar in Williamsburg called Four Horsemen.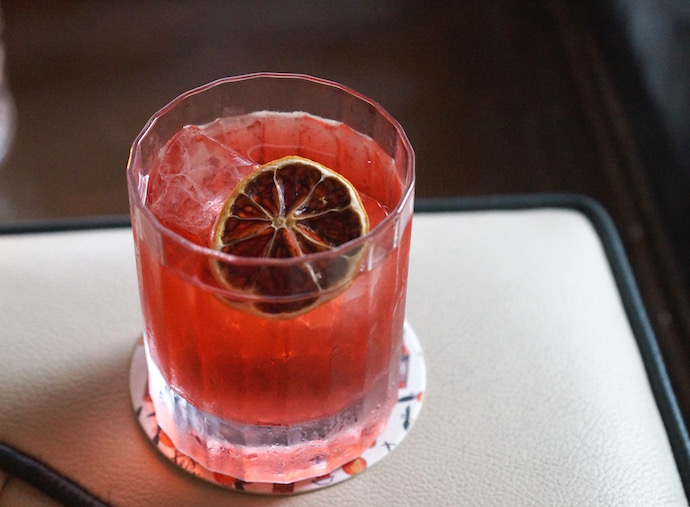 Cardinale (Dorothy Parker Gin, Contratto bitter, Lo-Fi dry vermouth).
TDN: What's the secret to being a great bartender?
LO: You can teach any human being how to bartend, but it's hard to teach people how to be present and connect with people. It sounds cliche, but everybody remember experiences, good or bad, and you're the person providing that experience.
TDN: If you could have a drink with any famous person, living or dead, who would it be and what would you drink, and why?
LO: Elton John, but back before he stopped drinking. I'm a huge Elton John fan - I love "Catalina Wind." We'd probably drink a classic champagne.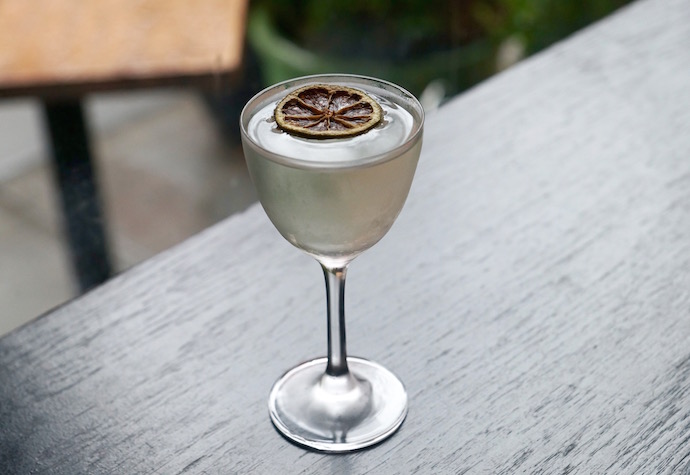 Brilliant Gimlet (Grey Goose or Bombay salted lime cordial, lime bitters, clarified lime).
Photos via Drink Philly
Recent Articles

Feedback
How are we doing? Tell us what you like or don't like and how we can improve. We would love to hear your thoughts!