Taste a Slice of Chicago at Wyman's No. 5 in Denver
Deep dish and Colorado craft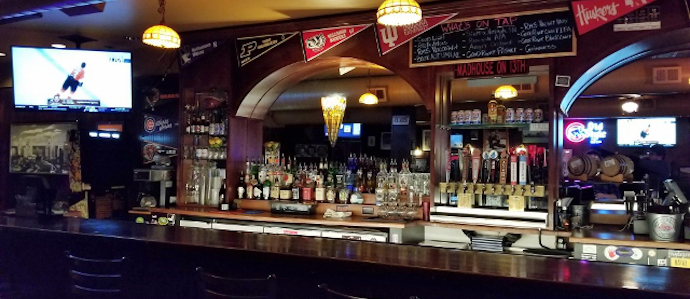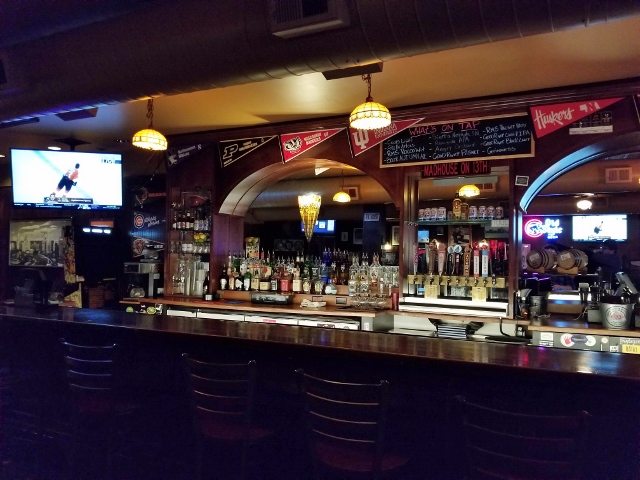 Walking into Wyman's No. 5 in the Capital Hill neighborhood, you'll see it is a combination of things – neighborhood haunt and dive bar; Denver friendly and Chicago swagger. With its large mirrored bar, old tavern charm, and dark booths, you know that you're going to have a good no matter why you came. Although modeled after the gritty taverns of Joliet, Illinois, from where the owners once hailed, Wyman's also has plenty of Denver hospitality.
The Space: Wyman's appears small upon first entrance with a long bar and large booths taking up most of the space. Then you realize that there is opening between the booths and bar that leads to a whole other bar space. The U-shaped bar is in the middle and the booths wrap around the outside. In between are low and high tables for parties of all sizes mixed in with video games and pinball. Even in the day time, the interior is dark, but not scary, more like a cozy den with dark woods and Chicago sports logos all around. Whether you stay for a drink or an evening, Wyman's No. 5 offers plenty of room.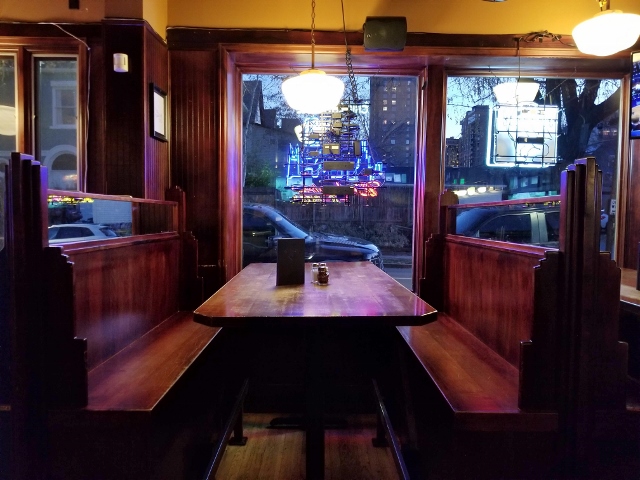 The Atmosphere: Sports, sports, and more sports. If any Chicago team is playing at any time, that game gets first priority on the bar's many TVs. However, they will accommodate game requests if no one is paying attention. Wyman's also supports Illinois college teams including Northwestern, Southern, and Illinois U, and is the local watch house for the Northern Illinois Huskies. They also support the home teams – Rockies, Broncos, Nuggets, Avs, and Rapids. This is most fun when Denver and Chicago play each other.
The Food: Wyman's is all about Chicago comfort food with a menu of deep dish pizza, Italian beef sandwiches, and traditional all-beef Chicago dogs. The pizzas come sized for two people and up to 10 and will tempt you with rivers of sauce and mountains of dough. The Chicago dogs feature all-beef Vienna hot dogs with all kinds of pickled veggie goodness and topped with celery salt and mustard, no ketchup here. Italian beef rolls also feature Vienna beef and house-made giardinera. For those who must have gluten free, the kitchen offers a cauliflower-crust worth checking out even if you don't have celiac because it tastes delicious.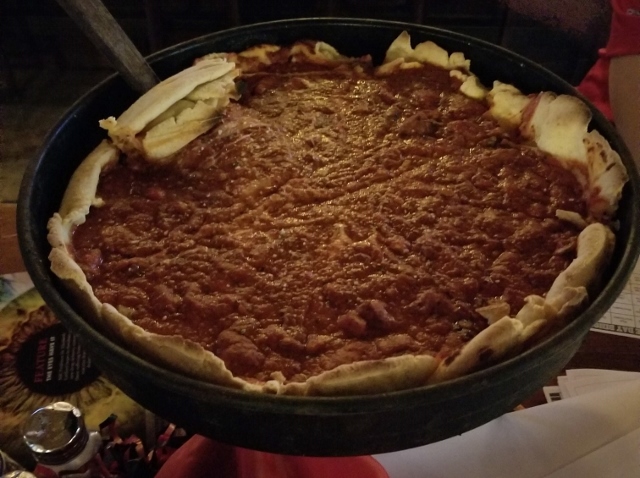 The Drinks: While you won't find orange whips, you will find another Chicago staple not found in many Denver bars, Jeppson's Malört. This horrific alcoholic spirit will assault your taste buds and linger for hours afterward, which may or may not explain why Chicagoans love it. This little-known Windy City spirit is available in that most Chicago of Chicago concoctions, the Chicago Handshake AKA a shot of Malört and an Old Style beer. Available for $8 you can impress friends or more likely lose friends by ordering this drink for them. For those who like to enjoy the taste of their drinks, the bar has a several taps of local craft beers such as Good River, Rocky Mountain Sector, Breckenridge, and Renegade.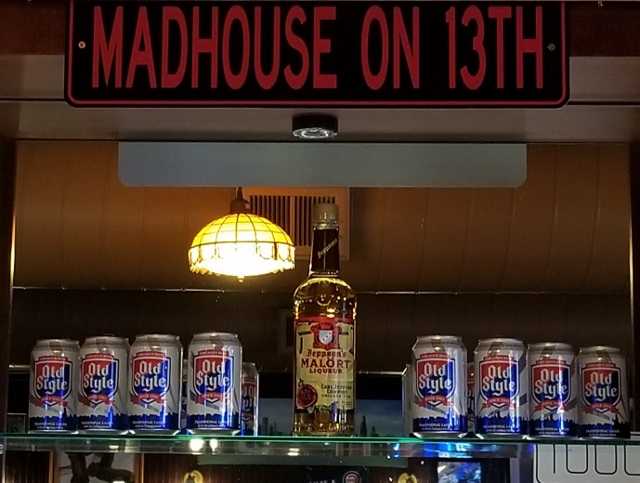 Denver is full of awesome dive bars and Wyman's No. 5 fits right in with that vibe. While we here in Denver may not ever understand Chicago's love for Malört, we call all agree that the world is a better place with doughy, saucy, artery-clogging deep dish pizza. Wyman's No. 5 has happy hour twice daily, 4 to 7 PM and 10 PM to close, and also offers take out.
Tags:
Beer
,
Food
,
Happy Hour
,
Spirits
Recent Articles

Feedback
How are we doing? Tell us what you like or don't like and how we can improve. We would love to hear your thoughts!