Beer and Fun Surrounds the Great American Beer Festival
Extracurricular activities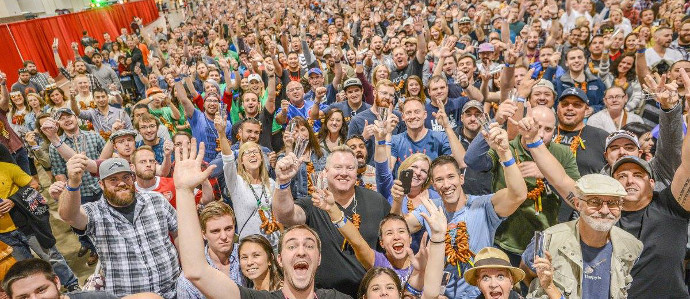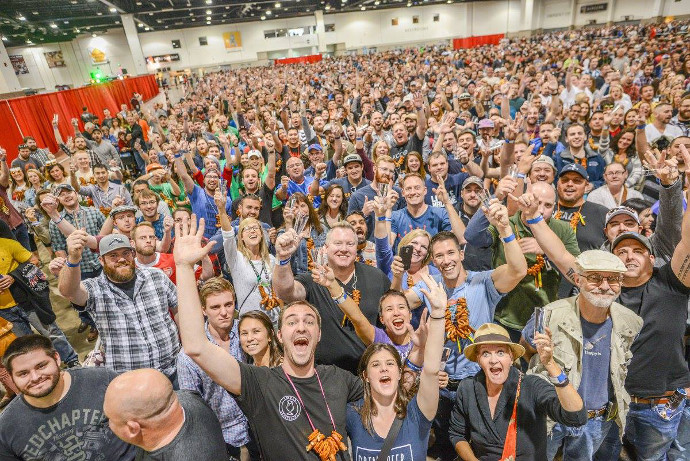 The Olympics of American beer festivals is about to take over Denver and we couldn't be happier. The Great American Beer Festival is happening October 5-7 at the Convention Center and this year some 60,000 beers lovers, judges, brewers, and volunteers will descend into town to enjoy our favoritest of adult beverages. The bad news is tickets for this year's festival again sold out, which means you probably don't have one. No problem! Denver is full of beer-centric extracurricular events the entire week of the festival. So many, the city calls it Denver Beer Fest. All kinds of beery things will happen so even if you can't get into the festival itself, you can still enjoy unique, award-winning brews from around the country.
Below are the larger events surrounding the festival, however, there is also a fantastic list of smaller, but official GABF events including tap takeovers, beer dinners, brewery tours and other shenanigans. Find them under Week Events at the top of the GABF website homepage. You can also find a growing list of Denver Beer Fest events at VisitDenver.com.
Skyline Beer Garden, now through October 7
Right in the middle of the 16th Street Mall, this downtown beer garden opened up back in June and will remain open through the Great American Beer Festival. Skyline Park turned Beer Garden has 40,000 square feet of outdoor space for drinking, socializing, lawn games and food trucks. The garden is open daily from 11 AM to 10 PM and serves 12 taps of craft beer and grub like brats, burgers, salads and German pretzels. Enjoy live music on weekends. (Arapahoe Street between 16th and 17th Streets)
The Science Lounge, Denver Museum of Nature and Science, Thursday, September 21
To coincide with GABF, the September Science Lounge, the museum's monthly adults-only get together, will be exclusively devoted to beer. Learn how the lineage of yeast affects the flavors of your favorite pint and explore a sense of taste through beer. Enjoy local craft beers and other adult beverages and food during this event. Meet and mix with local beer experts to get in the GABF frame of mind. Cost is $13 for museum members and $15 for nonmembers and can be reserved online. (2001 Colorado Blvd.; 303-370-6000)
Iggy Beer Fest, Regis University, Friday, September 29
Denver's newest beer fest, Iggy Beer Fest is held at Regis University in north Denver. The $20 fee allows guests unlimited samples, food trucks, and live music. Guests can also learn about the university's Certificate in Applied Craft Brewing program and meet brewing partners from around Colorado. Register in advance on the Regis Iggy Fest website. (3333 Regis Blvd.)
Hop Zombie Day, Lone Tree Brewing, Saturday, September 30
The Centennial brewery's most anticipated release of the year is coming your way. This hopped-up Imperial Red IPA is sure to raise the dead. There is also a party to celebrate the release with live music, food trucks, photo booth and beer samples. The brewery will sell 22 oz. bombers of Hop Zombie individually and by the case, but supplies are limited. There will also be limited edition glassware for sale. If you snag one, you'll get a discount on your first Zombie pour. Those who purchase a case of the Zombie bombers will be entered into a raffle for Saturday afternoon tickets to GABF. (8222 Park Meadows Dr.; 303-792-5822)
BSB 5th Anniversary Party, Black Shirt Brewing Company, September 27-October 1
The week of the Great American Beer Festival is when Black Shirt Brewing of Denver opened its doors five years ago. To celebrate this milestone the brewery is hosting a five-day party. Enjoy special beer tappings, live music and a bluegrass pig roast. The parties are free, however, pig roast is a ticketed event and costs $20 per person. Learn more on the BSB Facebook page. (3719 Walnut St.; 303-993-2799)
Denver Beer Flights, Denver International Airport, September 28-October 9
Even the airport gets in on Denver Beer Fest. Since a lot of beer lovers will fly in from around the country, why not have a beer festival at the airport? Open from 11 AM to 7 PM the beer garden in the airport's plaza features Colorado brews and admission includes a souvenir glass to taste the beers. During happy hour from 4-6 PM enjoy live entertainment. (8500 Pena Blvd.)
Beers Made by Walking, Denver Museum of Nature and Science, Tuesday, October 3
This popular beer festival is in its seventh year and will feature over 30 place-based beers and 20 of these beers were made specifically for this event. As always, each beer is inspired by walking the landscapes in an area of the brewer's choosing, be it mountains, forests, or even community gardens and city parks. The beers will come from both inside and outside Colorado and proceeds of the event benefit the museum. Tickets are $40 per person and include a commemorative glass. Food will be available for purchase. (2001 Colorado Blvd.; 303-370-6000)
Beer Drinker of the Year, Wynkoop Brewing Company, Wednesday, October 4
So you didn't make the finalist panel for Beer Drinker of the Year. That's OK because you can cheer on your favorite finalist at the live judging event at the brewery. A Meet and Greet with the contestants and judges begins at 4:30 PM and the competition starts at 5:30 PM. Wynkoop will have the back bar open and serving before, during and after the competition. Entry is FREE, but space is limited so RSVP on the Wynkoop BDOY website. (1634 18th St.; 303-297-2700)
Special Beer Events, Avanti Food & Beverage, October 4-6
Avanti Food and Beverage in the Highlands, just on the other side of I-25 from downtown will host several events to coincide with GABF. Dogfish Head Wacky Hat Wednesday is October 4 from 4 to 7 PM and will feature special guest brewer Sam Calagione, Founder of Dogfish Head. Guests can wear a wacky hat for prizes and special Dogfish beers will be poured. Late Night Live will happen Thursday, October 5. This live session of the PorchDrinking Podcast will include a talk with Ratio Brewery Head Brewer and Owner Jason zum Brunnen and include Ratio beer specials. On Friday, October 6, is a special invitation-only Wood Cellar Reserve Party hosted by Eventbrite and Tesla. There will be shuttles to and from the convention center for those selected and feature Wood Cellar Reserve beers and other limited releases. Avanti will give away two tickets to this special event in the days leading up to the party. (3200 Pecos St.; 720-269-4778)
Science on Tap, Denver Museum of Nature and Science, Thursday, October 5
Do you ever wonder why people say, 'drunk as a skunk?' Curious adults can join Dr. Garth Spellman, curator of ornithology, and Dr. John Demboski, curator of vertebrate zoology, as they explore the fascinating ways animals get intoxicated. Mingle with other people who want to learn while having fun. Enjoy corn hole and imbibe delicious drinks. Tickets are $25 for members and $30 for nonmembers and ticket price includes two cocktails and dessert. Food trucks will be onsite for those who want dinner. Purchases tickets on the museum website and the event is 21 and over only. (2001 Colorado Blvd.; 303-370-6000)
Beerlesque at Lannie's Clocktower Cabaret, Thursday, October 5
The regular Thursday burlesque show at Lannie's will be taken over by Avery Brewing for a night of Beerlesque. Enjoy the gang's regular shenanigans along with Avery brews for a night of beer and burlesque to start off GABF. Tickets are $25 and $35 per person and can be purchased on Lannie's website. (1601 Arapahoe St.; 303-293-0075)
Denver Rare Beer Tasting IX, McNichols Building, Friday, October 6
This event, which gets bigger every year, raises money for Pints for Prostates. The event also brings in craft breweries from around the country showing off breweries and beers people in Denver might not normally get to try. This year's event is at McNichols Civic Center Building on Friday. There will be 68 invite-only breweries participating and all will bring their rarest brews. Twenty-eight states will be represented. There will also be food from Brewed Food and silent auction with beer-centric prizes. Cost is $115 per person General Admission, which starts at 1 PM, and VIP tickets are $165. VIP tickets feature early admission at noon so VIPs can taste these rare brews before anyone else. This event sells out every year, so get your tickets now. (144 W. Colfax Ave.)
Collaboration Celebration, Denver Beer Company, October 6
Every year Denver Beer Company hosts a collaborative beer tasting party for GABF. This year the brewery will tap six beers that were made with six breweries from around the country and Mexico and Brazil. The 2017 Collaboration Celebration will include Fremont Brewing of Seattle, WA, Karl Strauss of San Diego, CA, Austin Beerworks of TX, Soulcraft of Salida, CO, Koala San Brew of Nova Lima, Brazil and San Pascual Baylon of Cholula, Mexico. The public is welcome to sample these brews at a block party on Friday, October 6 beginning at 2 PM. The party will include live music, food trucks, games, photo booth and more. Entrance is FREE and the beer and food are pay as you go. (1695 Platte St.; 303-433-2739)
Enter the House of Flying Barrels Party, Friday, October 6
Five, count 'em, five breweries will participate in House of Flying Barrels GABF Party on Friday starting at 9 PM. Avery, Odell and Four Noses of Colorado Firestone Walker of California and Melvin Brewing of Wyoming will serve up cold beers while trying to raise cold hard cash for two charities, Water for People and The Chill Foundation. Not only that, Melvin is sponsoring shuttle buses to take guests to and from GABF to the party. Admission is FREE and cans of brew cost $5 each. Expect a live DJ, circus performers, dancers and martial artists. Visit the party Facebook page for complete info. (1235 Delaware St.)
The GABF LAuGhER at Bierstadt Lagerhaus, Friday, October 6
Get ready to laugh your beer belly off while enjoying great brews at Bierstadt on Friday, October 6. Only $20 gets revelers in to see six comedians, including a special surprise headliner, and your first beer from Lagerhaus. The party starts after the Friday session of GABF at 10 PM. Find the link to purchase tickets from the Bierstadt Facebook page. (2875 Blake St.; 720-570-7824)
Brewer's Brunch, The Corner Office, Saturday, October 7
What better way to cure a GABF hangover than with a hearty hair-of-the-dog brunch? The monthly Brewer's Brunch at The Corner Office will coincide with the festival this year. Featured brewery is Colorado's own Odell Brewing Company. Enjoy a four-course menu paired with different Odell beers plus a welcome beer. Tickets are $40 per person and proceeds will go to Core. (1401 Curtis St.; 303-825-6500)
Photo via GABF on Facebook
Tags:
Beer
,
Festival
Recent Articles

Feedback
How are we doing? Tell us what you like or don't like and how we can improve. We would love to hear your thoughts!