Where to Sip Festive Cocktails in Denver this Holiday Season
Sipping Seasonal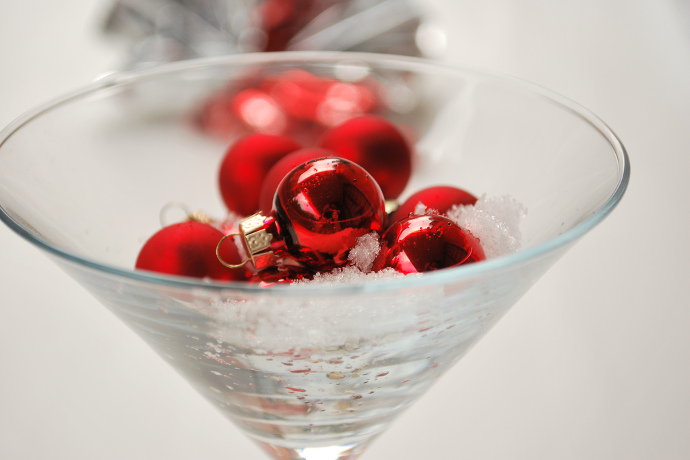 The holidays are a time to be with friends and family for parties, dinners, and nights out — usually over a drink or two. Denver's bars and restaurants have put their best bartenders to work creating fun and festive cocktails featuring the flavors of the season. Enjoy the holiday season by toasting with a delicious drink at one of these fine establishments.
A Walk in Estes at Duo
Take a winter walk in the Colorado high country with this all-Colorado cocktail at Duo. Made with Bear Creek Rum, Leopold Bros. Three Pins Alpine Liqueur, citrus, honey and chamomile, one sip will make you feel like you are walking amongst the pines in Rocky Mountain National Park. (2413 W. 32nd Ave.; 303-477-4141)
Big Apple Sour at Del Frisco's Grille
Opt for a big and bold flavor this holiday with this special holiday cocktail. A take on the traditional sour with the Grille's housemade lemon sour combined with Crown Royal Apple, this drink is shaken to a foamy festive fizz and strained into a glass with a creamy froth on top. The bar adds a floater of Menacer Malbec for an extra holiday touch. (100 St. Paul St., Ste. 140; 303-320-8529)
Cranberry Margarita at Blue Bonnet
This historic Mexican restaurant has come up with a delicious holiday food menu featuring South-of-the-Border holiday classics, and to pair with it, the bar now has a new seasonal margarita. Made with Sauza Tequila, this fruity marg has a tart cranberry taste with a colorful sugar rim for a delicious marriage of sweet and sour. (457 S. Broadway; 303-778-0147)
Gluhwein at Rhein Haus
It wouldn't be the holidays without some classic German Gluhwein. Find some at Rhein Haus in Larimer Square. Gluhwein is mulled wine mixed with spices cinnamon, nutmeg, star anise and cloves along with citrus juice and fruit peels and then fortified with branch or rum. The name translates as "glow wine" and will keep revelers warm deep into winter. (1415 Market St.; 303-800-2652)
Jingle Around the Clock at Punch Bowl Social
Enjoy a sharable punch with friends and family at PBS this holiday. This new holiday punch features Old Forester Bourbon, McClary Bros. Michigan Cranberry Shrub, vanilla syrup, and Colorado's own Teakoe Earl Grey Odyssey Tea and is garnished with lemon wheels and sweet currants. (65 Broadway; 303-765-2695)
Jop Jop at Ace Eat Serve
Share some bubbly with this carbonated punch at Ace in Uptown. Made with Leopold Bros. American Whiskey, pineapple infused Don Q. Gold Rum, lemon, sugar, and oolong tea, this holiday punch with a sweet sensibility will make every smile this holiday. (501 E. 17th Ave.; 303-800-7705)
Hot Apple Sidecar at Hopdoddy
Warm up this holiday season with a hot and smoky cocktail at this burger bar. The drink features Grand Marnier married with Hopdoddy's in-house mulled apple cider, which is made daily. The bar then adds mulling spices, clove, citrus, cinnamon, apple and black pepper. Garnished with an apple slice and a cinnamon stick, the best of the holidays is inside one glass. (1747 Wynkoop St.; 303-446-2337)
Hot Blueberry Tea at The Palm
Enjoy an after dinner sip of tea with a little something extra at The Palm downtown. Made with Grand Marnier, Blackberry Brandy and fresh-squeezed lemon juice, this a different kind of hot toddy. Keep warm and cozy sipping this drink while watching the ice skaters at Skyline Park. (1672 Lawrence St.; 303-825-7256)
Hot Buttered Rum at The Fort
The Fort's late founder, Sam Arnold, once said, 'nothing beats hot buttered rum on a cold, blustery day,' and we have plenty of those days in Colorado. Enjoy this version of the traditional drink made with brown sugar, cinnamon and nutmeg, which are mixed into a simmering pot of dark rum and butter. (19192 CO-8, Morrison; 303-697-4771)
(Vegan) Hot Buttered Rum at The Study
Try this twist on a winter classic — it's a traditional crock-pot style concoction made vegan by using coconut oil instead of butter. The bar then adds maple syrup, Plantation 5-year Barbados Rum and house-made spiced cherry bark bitters. Enjoy this and other hot drinks from the Fireside Cocktail Menu at The Study adjacent to The Nickel inside the Hotel Teatro. (1100 Fourteenth St.; 303-228-1100)
Peppermint Godiva Chocolate Martini at ViewHouse
This is a holiday cocktail with a charitable twist. A feature of the ViewHouse holiday menu, the martini features Grey Goose Vodka, Godiva Milk Chocolate Liqueur, heavy cream, simple syrup and chocolate syrup. Also, for every person that enjoys this delicious cocktail during the holidays, $1 will be donated to the Boys and Girls Clubs of Metro Denver. The bar is also giving this tasty 'tini free to anyone who brings in an unwrapped toy during the ViewHouse toy drive now through December 16. (2015 Market St.; 720-282-1548: 7101 S. Clinton St.; 303-586-3523)
Peppermint Kiss at White Fence Farm
This simple mélange will make holiday guests warm and toasty when they come in for a holiday dinner at the Farm in Lakewood. Made simply with Peppermint Schnapps and hot coco, enjoy one before or after that delicious holiday meal with friends and family. (6263 W. Jewel Ave.; 303-935-5945)
Poinsettia Sparkler at Del Frisco's Double Eagle Steakhouse
Over in the Tech Center, celebrate the holidays with this sweet and sassy sipper. Served in a sugar rimmed flute, the drink is made with sparkling wine, pomegranate syrup, and a lemon twist. (8110 E. Orchard Rd.; 303-796-0100)
Sherry Cobbler at Vesta
Enjoy a classic American taste in a cocktail glass at Vesta with this dessert-inspired drink. The bar starts with local Leopold Bros. Cranberry Liqueur smashed with oranges, berries and mint. It sounds good on its own, but the bar goes one step further with a little Sandeman Amontillado sherry to make flavorful holiday drink. (1822 Blake St.; 303-296-1970)
Tree Line at Avenue Grill
Awarded The Colorado Cocktail by the Colorado Cocktail Project, Tree Line features Leopold Bros. Small Batch Whiskey and Three Pins Alpine Herbal Liqueur, lemon juice and fresh muddled Bing Cherries. One sip tastes like a Colorado winter's day in a glass. (630 E. 17th Ave.; 303-861-2820)
Winter Daiquiri at Steuben's Arvada
Up north at Steuben's sip the holiday version of this summer classic. Made with Diplomatico Anejo Rum, demerara syrup, Angostura bitters and a spritz of lime juice, this festive cocktail shows off with a lime wheel and clove garnish. The taste has notes of vanilla and clove, and the sugar rim will put everyone in the holiday spirit. (7355 Ralston Rd.; 303-830-0096)
Photo via Flickr user brunifia
Tags:
Cocktails
,
Holiday
Recent Articles

Feedback
How are we doing? Tell us what you like or don't like and how we can improve. We would love to hear your thoughts!