Where to Find Extracurricular Events During the Great American Beer Festival
Beer, beer and more beer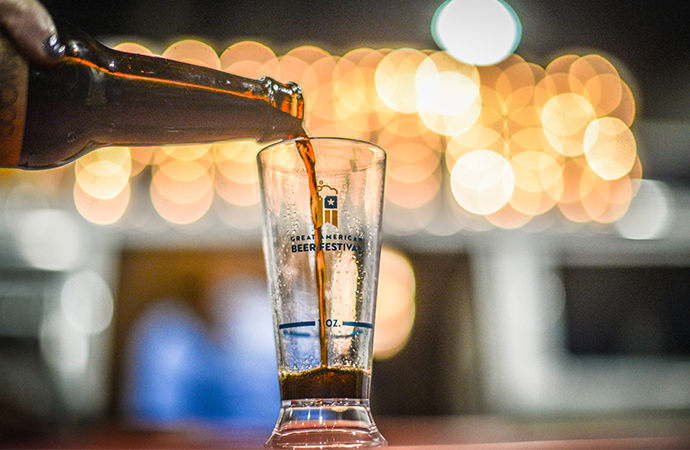 The Great American Beer Festival turns the city of Denver into a Mecca for beer lovers and for 2016 the festival runs Thursday through Saturday, October 6-8. The Colorado Convention Center will be filled to the brim with breweries from all over the country serving their best beers. However, tickets to this highly coveted event are sold out. No need to fear because there will be plenty of places outside the convention center serving up those same delicious beers and some of these events will cost much less than admission to the festival. Clear your calendars. Here is where to find Extracurricular Events in Denver during GAFB.
Something out-of-towners may not realize is that the week prior to the festival is Denver Beer Fest with all kinds of events happening prior to the festival. Make sure you book your hotel dates accordingly.
11th Annual Fresh Hop Fest
The 11th annual Fresh Hop Fest is Saturday, October 1, from 1-4 PM. Enjoy a variety of fresh-hopped beers created by breweries from across the country. What is fresh-hopped beer? Hops growers have 24 hours to get the hops from farm to brewery's drying kiln. Within that 24-hour window, is the opportunity to create one wowza of a beer. Each beer is different with various levels of hoppiness. Tickets are $40 per person and include entry, commemorative glass and unlimited sampling. The event takes place at the Golden Bell Press building, future home of Brewery Liberati. (2403 Champa St.)
Avanti Food & Beverage GABF Events
The entire week is filled with parties and beer at Avanti Food & Beverage in the Highlands. Here is the schedule and all events are PAYG:
Monday, October 3, 6-9 PM – Great Divide Judges Welcome Party
Tuesday, October 4, 6-9 PM – New Belgium Early-Week GABF Kickoff Party featuring a prize of two tickets to Saturday's GABF night session
Wednesday, October 5, 6-9 PM – Odell Happy Hour and will feature a prize of two tickets to Thursday's GAFB
Thursday, October 6, 10 PM-12 AM – Dogfish Head 120 Minute After Party with Guest of Honor brewery founder Sam Calagione
Friday, October 7, 2-6 PM – Ratio GABF Friday Session Pre-Game
Sunday, October 9 – GABF Hangover Party with brunch cocktails and happy hour pricing all day (3200 Pecos St.; 720-269-4778)
Berkeley Beer (and spirits and wine) Mini-Fest at Local 46
The Tennyson Berkeley Business Association (TBBA) and Local 46 are getting together with the Horseshoe Craft & Flea Market for the Berkeley Beer Mini-Fest on Saturday, October 1. Enjoy the Horseshoe Market on Tennyson Street from 9 AM-1 PM and then hit the "after party" at the brewery from 3-7PM. There is an Oktoberfest theme and there will be plenty of flea market fun. Cost for the party is $20 per person and ticket includes commemorative tasting glass, over 15 samples of beer, welcome bag and entry for door prizes. One hundred percent of the proceeds will go back to the TBBA to help support more fun community events. (4586 Tennyson St.; 720-524-3792)
Bristol Brewery Tap Takeover at Russell's Smokehouse
Bristol Brewery of Colorado Springs is taking over the taps at Russell's Smokehouse in Larimer Square for the week of the Great American Beer Festival. Enjoy these beers from September 30-October 8. On Saturday, October 8, meet the brewer and taste the tapping of World Peach Death Ray starting at 4 PM. (1422 Larimer St.; 720-524-8050)
Fifty Firkin Fiasco at Epic Brewing
Join the folks at Epic Thursday, October 6, for the 4th annual Fifty Firkin Fiasco. The breweries have put together 50 unique firkins and guests can wander throughout the brewery to taste them. Tickets are $30 per person and can be purchased online. This event is 21 and over only and starts at 7 PM. (3001 Walnut St.; 720-539-7410)
Beer Runs at Alpine Dog and Jagged Mountain
Get in shape for the festival by joining the run clubs at these local breweries on Tuesday, October 4. Jog or run a 3-4 mile out and back route around Cheesman Park for Alpine Brewing and through the Ballpark neighborhood at Jagged Mountain. Runners need to meet at the brewery. Upon return to the brewery all runners get happy hour specials all night long at Alpine Dog and runners get 50% off their first beer at Jagged Mountian. All levels of runners welcome. No cost to join the run. (Alpine Dog; 1505 Ogden St.; 720-214-5170: Jagged Mountain; 1139 20th St.; 720-689-BEER)
Barley-Har-Har at 300 Suns Brewing in Longmont
Barley-Har-Har is open mic comedy night at 300 Suns sponsored by Bud Comedy on Wednesday, October 7, from 9-11 PM with a "Beermission" at in the middle. This is a FREE event, but you do have to pay for the beers you drink. The comics come from all over Colorado and many are up-and-coming comedians testing out their skills with a fun audience. See them before they become famous or sign up on the website to test your own skills. (335 1st Ave., Unit C, Longmont; 720-442-8292)
Beers Made by Walking at DMNS
Beers Made by Walking is program that invites brewers to make beer inspired by nature hikes and urban walks around the country. This event happens in multiple cities and this year Denver's BMBW is during the Great American Beer Festival. On Tuesday, October 4, visit the Denver Museum of Nature and Science to taste the fruits of this labor from 5:30 to 8:30 PM. Over 30 breweries, mostly in state, but some from out of state, will be serving unique beers made from the Denver landscape and beyond. Tickets are $35 per person and can be purchased at the DMNS website. (2001 Colorado Blvd. 303-370-6000)
Black Shirt Hosts High St. Collective
Close out GABF with live music at Black Shirt Brewing in RiNo on Saturday, October 8, from 7-10 PM. Kick back with some folk-rock and BSB Red Ale on the patio. Music by High St. Collective is free; beer is PAYG. (3719 Walnut St.; 303-993-2799)
Bridging the Divide at Euclid Hall
Kick off the festival on Wednesday, October 5, with Telluride Brewing, Elevation Beer Company and the Euclid Hall kitchen for a delicious beer pairing dinner. Enjoy both sides of the Colorado Divide with beers from Telluride and Salida paired with a five-course meal from Euclid. Tickets are $85 per person and that includes tax and gratuity. (1317 14th St.; 303-595-4255)
Collaboration Celebration at Denver Beer Company
On Friday, October 7, head to Denver Beer Co in LoHi for the Collaboration Celebration with six special collaboration beers brewed with brewers from around the country. The event will also feature live music, food trucks, games, photo booth and more. Entrance to the party is FREE, however, if you purchase a $25 per person beer ticket you get a chance to taste the six special Collaboration Beers and receive an eight ounce commemorative glass. Collaboration breweries are Saranac of Utica, NY, Base Camp of Portland, OR, Mother Road of Flagstaff, AZ, DESTIHL of Normal, IL, Draught Works of Missoula MT, and Rhinegeist of Cincinnati, OH. (1695 Platte St.; 303-433-2739)
Denver Rare Beer Tasting VIII
For the serious connoisseur this event features some of the most respected craft breweries in the country serving their most exotic beers. These are the world's most sought after brews and the event will sell out so sign up now. Held at McNichols Civic Center Building, tickets are $115 per person, which includes a t-shirt. The event is from noon until 4 PM Friday, October 7, and is a benefit for the Pints for Prostates organization. (144 W. Colfax Ave.)
Farm to Bottle Festival on South Gaylord Street
Get a head start on beer tasting at this street festival on Saturday, October 1. Farm to Bottle is a unique event combing a farmer's market with a beer festival. Sip craft brew, spirits and wines, eat tasty local dishes all while shopping for locally made goods. Enjoy live music all day long. General Admission tickets are $35 per person and VIP packages are $65 per person and include an early entrance and a VIP tent for those who don't like to wait in line. (South Gaylord Street between Tennessee Ave. and Mississippi Ave.)
Gratitude at Our Mutual Friend
Every year the Saturday before GABF, the people at Our Mutual Friend Brewing host a party to celebrate you, the beer lover. Entry is FREE and the party features music, food trucks and special pours. To show customer appreciation, the brewery will serve $4 standard brews and $5 special brews all day. There will be six bottles releases including Gratitude 3 South Ale. The party begins at 2 PM on October 1. (2810 Larimer St.; 720-722-2810)
Great American Beer Dinners at TAG
The folks at TAG love beer and to prove it they will have not one, but TWO beer dinners that week. On Tuesday, October 4, enjoy five courses and five beers from The Bruery of California. Dinner is $74 per person with a reception at 6 PM and Dinner at 6:30 PM. Then they do it again on Wednesday, October 5 with featured brewery Surly of Minnesota. Call for reservations. (1441 Larimer St.; 303-996-9965)
Hopdoddy Burger and Beer Week
Hopdoddy Burger Bar at Union Station is hosting a variety of breweries and pairing them with the bar's best burgers. All week long enjoy rare and limited edition beers from Odd 13, Upslope, River North, Eddyline, Tommyknocker, Station 26 and Good River. All special pours will cost only $5 and will have a special burger you can pair them with. Brewers will be on site during the week to meet with guests and offer giveaways, swag bags and prizes, including tickets to GABF. (1747 Wynkoop St.; 303-446-2337)
Kickoff Party at Falling Rock Taphouse
Falling Rock will welcome beer lovers and brewers from all over at its annual kickoff party on Monday, October 3, starting at 5 PM. The GABF clock will count down to zero and the drinking will commence. There will be special rare and unusual beers on tap. There is no cover, but the beer is PAYG. (1919 Blake St.; 303-293-8338)
Left Hand Tap Takeover and Ping Pong Tournament at Ace Eat Serve
On Wednesday, October 5, watch your favorite brewers run the table at Ace Eat Serve for the 5th annual Ping Pong Tournament sponsored by Left Hand Brewing. Enjoy Left Hand beers and root for your favorite brewery in the tournament. (501 E. 17th Ave.; 303-800-7705)
Levitt Pavilion Concert Series at Civic Center Park
Before or after the festival enjoy a crisp fall evening with free live music at Civic Center Park on Friday, October 7, featuring John Fulbright. Great Divide Brewing is the sponsor and their beers will be pouring in the beer tent. The music is FREE and the beer and food trucks are PAYG. Event is from 6-11 PM. (Civic Center Park, West 14th Ave.)
Mercantile Invitational: The Brewer's Table
Mercantile Dining & Provision will host its annual Brewer's Table on Wednesday, October 5, starting at 6 PM. This event welcomes the best in the brewing world to join forces with the Mertcantile for a dinner you won't soon forget. Six breweries and eight chefs will create one amazing evening with a discussion on the state of craft brewing and food. Tickets are $150 in advance and $175 at the door. Call 720-460-3733 to reserve a spot. Breweries include Crooked Stave and Call to Arms of Denver, CO, Jester King of Austin, TX, Alesong of Eugene, OR, Side Project of St. Louis, MO, and The Bruery of Orange County, CA. (1701 Wynkoop St.; 720-460-3733)
OktoberFEAST at Rhein Haus
Oktoberfest will actually extend into October at Rhein Haus Denver. On Tuesday, October 4, root for your favorite city when Denver brewers take on Seattle brewers in a Bocce Tournament. Then on Saturday, October 8, close out the festival with OctoberFEAST. Teams will compete to finish four Rhein Haus dishes and a half liter of lager. There will be four stations and one person must eat and drink a complete meal at each station and then come together for a toast. The team with the fastest time wins. Top three teams collect prizes and the first place team will win the OktoberFEAST trophy plus a $250 donation to the charity of their choice. Team entry fee is $25 and teams can sign up on the website. For those who just want to watch the race, regular Oktoberfest activities such as pretzel throwing and stein holding along with food and drink discounts will happen throughout the day. (1415 Market St.; 303-800-2652)
Oskar Blues Ordeal
Oskar Blues will host a variety of events as part of the brewery's GABF Ordeal all over town and at the brewery in Longmont for a full weekend of fun. Here is the schedule:
Wednesday, October 5 – ORDEAL, The Oskar Blues Trolley will whisk visitors from Denver to Home Made Liquids & Solids in Longmont to enjoy an old fashioned pig roast with live music from 4-10 PM. Tickets are $60 per person with transportation from Denver and $30 without transportation. Closer to home the brewery will have a Tap Takeover at Blake Street Tavern 3 PM to close.
Thursday, October 6 – Tap Takeover and pre-session patio cookout at the Hyatt Regency in Denver and the Canwood Derby with Perrin, Squatters and Wasatch at Ale House at Amato's from 4-8 PM.
Friday, October 7 – More ORDEAL, The Oskar Blues Trolley will once again bus visitors from Denver to the Gospel Brunch at Home Made Liquids & Solids followed by a brewery tour from 9:30 AM-3:30 PM. Tickets are $60 per person with transportation from Denver and $30 without transportation.Tap Takeover at Lucky Pie from 12-3 PM and Tap Takeover and live music at Blake Street Vault from 10 PM-2 AM.
Saturday, October 8 – Beer Can Chicken and tap takeover at Highland Tap & Burger from 12-6 PM. Carnival from 12-6 PM and an After Party from 8 PM-12 AM both at Star Bar.
Summit Music Hall Concert with Great Divide and Jameson
Even more music can be found at Summit Music on Friday, October 7. Great Divide Brewing will host a post GABF concert featuring Brent Cowles, Garrett Lebeau and The Voice finalist Laith Al-Saadi. Great Divide has partnered with Jameson Whiskey for the Caskmates Drinking Buddies program. Great Divide sent some beer to Ireland where it was aged in Jameson Whiskey Barrels. The resulting beer is called The Smoothness. Tickets are $25 per person with all sales benefitting Levitt Pavilion Denver. Tickets allow guests to get a taste of The Smoothness, sample other Great Divide beer, small bites and wonderful music. (1902 Blake St.; 303-387-0111)
Tivoli Brewing Pre-GABF Shindig
Enjoy a free party on Wednesday, October 5, from 5-10 PM at Tivoli Brewing Tap House featuring live music by Carlos Washington and unlimited beer tastings for only $35 per person. Food will also be available for purchase. Meet the team at Tivoli and take a tour of this historic brewery. (900 Auraria Pkwy, Ste. 240; 720-458-5885)
The Corner Office GABF Brewer's Brunch
The Corner Office is pairing up with two of Colorado's best liquid manufacturers to create a tasty Brewer's Brunch for the Great American Beer Festival. Enjoy a 4-course brunch on Sunday, October 2, at 11:30 AM. All four courses will be paired with beers from Ska Brewing of Durango and Peach Street Distillers of Palisade. Beers include True Blonde Dubbel, Modus Mandarina IPA, ESB Special Ale, and Ten Pin Porter. Tickets are $40 per person with a portion going to support the No Kid Hungry initiative. (1401 Curtis St.; 303-825-6500)
What the Funk? Invitational
Celebrate all things funky at What the Funk Invitation at EXDO Event Center. Sponsored by Crooked Stave and Shelton Brothers guests will get the chance to taste the best barrel-aged beers from over 100 breweries from around the country. Tickets are $100 per person and a portion of the proceeds will benefit Water for the People. Tickets include unlimited pours and a souvenir tasting glass. (1399 35th St.; 303-468-5443)
Craft Beer Concierge at Hotel Teatro
Staying at Hotel Teatro for GABF? Then enjoy the hotel's Craft Beer Concierge service, which is complimentary to all guests. Get a map of Denver's breweries and free access to the property's vintage cruiser bikes for transportation to and from the breweries. The hotel also has a Bike & Brew Package during the festival that includes a welcome beer and charcuterie plate in The Study hotel bar along with a $40 breakfast credit. (1100 Fourteenth St.; 303-228-1100)
Photo © Brewers Association
Tags:
Beer
,
Dinner
,
Music
,
Parties
Recent Articles

Feedback
How are we doing? Tell us what you like or don't like and how we can improve. We would love to hear your thoughts!