Where to Host Your Fantasy Football Draft Party in Denver
I Want Winners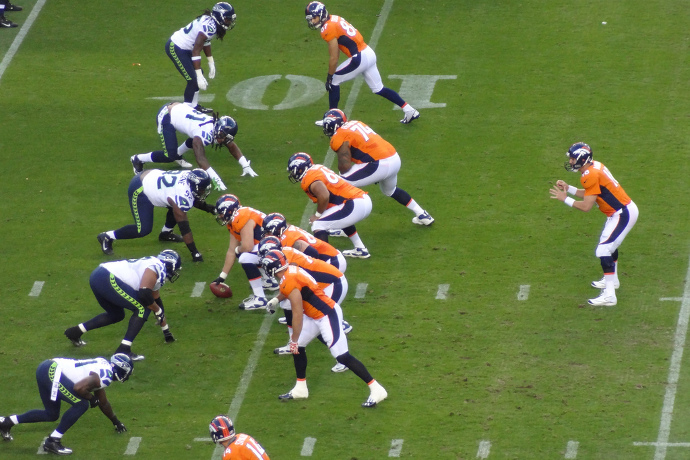 Get out your crystal balls, football fans. Fantasy Football is finally here! Whether you are a fair weather picker or a true film-studying addict, get your crew together and have a draft party. Here are some places in Denver that will provide the right atmosphere for you to pick the winners on your fantasy team.
All reserved draft parties at B-Dub's will receive a free Pepsi Fantasy Football kit, including a draft board and stickers, Brag Flag, pocket schedules, a Turf Drink sleeve, and coupons for future visits. (10 area locations)
Both locations of F&H are ready for a draft party. Groups of eight or more will get a Party Starter package, which includes two cheese pizzas and two dozen wings and a free draft kit. Commissioners will get $25 off a $50 reward card each month for the season, and league members will receive a $10 off $25 reward card each month during the season. You must be a member of Star Club to receive reward dollars. Call 303-464-7366 for Westminster or 720-875-9161 for Park Meadows to reserve. (4750 W 120th St., Ste. 900, Westminster; 9239 Park Meadows Dr., Lone Tree)
The Gov has three packages available for groups up to 10 people. The 1st and 10 is $99 and features six pitchers of Coors Light, one order of Nachos, Fried Pickles and Onion Petals, one entry in the "Free Beer for a Year" Card (to be given out at the end of the season), and First Beer Free Cards good for every Sunday of football season. The Field Goal is $175, with unlimited Coors Light, Breckenridge or Big Nose beers for the first two hours and one Nine Layer Dip, Chips and two Taco Platters, and the Touchdown package is $225 with well drinks added for two hours, two pounds of wings, two slider platters and Big Nose Pretzel Braids. All packages include entry into the "Free Beer for a Year" Card to be given out at the end of the season and "First Beer Free" cards good every Sunday of football season. Other prizes will also be announced. For groups over 10 people, there is an additional charge per person. To be eligible for prizes, parties must be booked in advance. Call Larron, Ken or Megan at 303-831-8605. (672 Logan St.; 303-831-8605)
Although it's located across the street from Coors Field, Jackson's is ready for football season. Reserve a table and for $10 per person, get bottomless Coors Lights, an official Draft Kit and VIP cards good for the entire NFL season. Call 303-298-7625 to reserve a spot. (1520 20th St.; 303-298-7625)
Hold a draft party at any metro area Old Chicago location and get Miller Lite, Coors Light and Blue Moon beer specials, and a sneak peek of the Tailgate Brews series. The party host will receive $25 in OC Bucks, and all members of the draft party will receive a coupon book with over $150 in discounts for the upcoming football season. (All metro area locations)
The Pub is ready for some football. Groups get a free 16 inch pizza, free Wi-Fi, and use of the exclusive back room. Email Bobby at BDerian@yahoo.com to reserve. (1101 S Pearl St.; 303-77-6768)
At the Social, draft party groups will enjoy unlimited wings and Old Man Cans (PBR, Bud, Coors Banquet and Rolling Rock) plus Wi-Fi for two hours for only $20 per person. Call the sales team at 720-428-2212 to book a party. (65 Broadway; 720-428-2212)
This popular sports bar has five kinds of packages for any size draft party. All draft parties include a private TV to show your draft board. The basic package is Hard Knocks for $12 per person, and members get two drink tickets and chips and salsa. On the other end, The League package is $25 per person and has three hours of unlimited Coors Light/Blue Moon beer and bottomless wings and chips and salsa. Add a bottle of Jack Fire or Jack Honey for the group, and the whole league will receive Jack shirts and koozies. Email cortney@stoneysbarandgrill.com to reserve a space. (1111 Lincoln St.; 303-830-6839)
Select Tavern locations are welcoming draft parties from August 1 through September 7 that book in advance. For $125 per group (of up to 12 people), there's unlimited draft beer for everybody for two hours. To reserve a table, call 303-226-1555. (These locations only: Uptown, Wash Park, Lowry, Tech Center, Littleton and Platte Park)
Both locations of the Thirsty Lion, Union Station and Cherry Creek, will offer all draft parties happy hour pricing and menus during the duration of the draft party. For Cherry Creek, email Mmcmaster@ceghospitality.com, and for Downtown, email Rstrothers@ceghospitality.com. (1605 Wynkoop St., Union Station; 201 Columbine St., Cherry Creek)
Both locations of the ViewHouse want to be your Fantasy Football headquarters. Take full advantage of the largest in TVs in the state — 195" at Ballpark and 200" at Centennial — and reserve a table today. For $150, your draft party will receive bottomless draft beer for two hours and one platter of 25 wings. More food and drink specials will be available. Private and semi-private spaces are available, and as always, the ViewHouse has free WiFi. Call the Ballpark at 303-250-0054 or Centennial at 303-790-8443. (2015 N Market St., Ballpark; 7101 S Clinton St., Centennial)
Photo via Flickr user deege@fermentarium.com
Tags:
Beer
,
Parties
,
Sports
Recent Articles

Feedback
How are we doing? Tell us what you like or don't like and how we can improve. We would love to hear your thoughts!