Where to Show Your Irish Pride on St. Patrick's Day 2016 in Denver
Erin go bragh!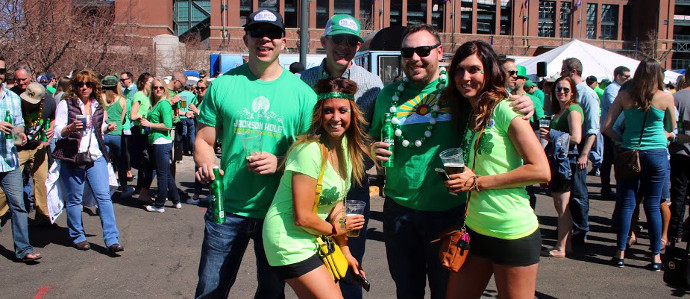 You don't need the luck of the Irish to have a good time in Denver on St. Patrick's Day. You just need to get up early. Here's where celebrate.
Denver's St. Patrick's Day Parade
Get up early and get your green on for Denver's famous St. Patrick's Day Parade on Saturday, March 12. This is the largest St. Patrick's parade west of the Mississippi River. Starting at 9:30 AM, the parade begins at 19th and Wynkoop, just like last year, and heads west two blocks to 17th, a street with plenty of bars and restaurants that will be open early for the event. The parade will go two blocks to Blake Street. From there the parade will head east all the way down 27th Street, past Coors Field. Blake Street is also full of bars and restaurants that will be opening early. (Lower Downtown and Ballpark)
Here's a list of downtown bars opening early for the parade, in order from route's start to finish:
Fado Irish Pub will open at 7 AM.
Icehouse will open at 8 AM.
Hopdoddy Burger Bar will open at 8 AM.
Machete Tequila + Tacos will open at 9 AM, but won't serve food or drinks until 11 AM.
Wynkoop Brewing Company will open at 8 AM.
The Celtic Tavern will open at 8 AM.
Falling Rock Tap House will open at 8:30 AM.
Hayter's & Co. will open at 8 AM.
Sports Column will open at 8 AM.
Breckenridge Colorado Craft will open at 8 AM.
Blake Street Tavern will open at 8 AM.
ViewHouse Ballpark will open at 8 AM.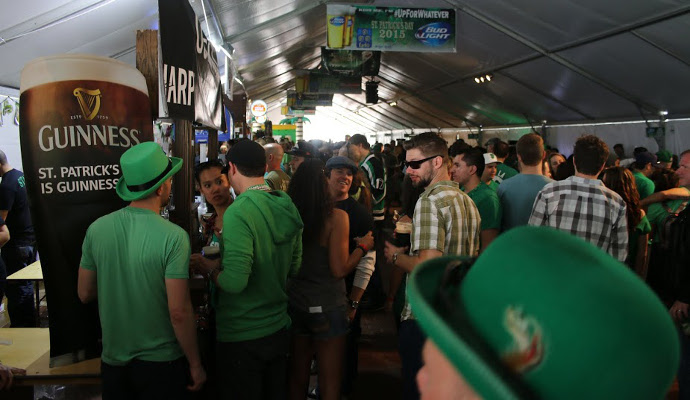 St. Patrick's Day Parties
Looking for an Irish party? We've got those too.
The Corner Office
The St. Patrick's Day cocktail of the day is the Drinking in the Parking Lot with Your Mother before Mass. The drink is inspired by Bartender Derrick Mund's family ritual of enjoying some Tullamore Dew before church on the Sunday before St. Patrick's Day back in Detroit. The cocktail is made with Tullamore Dew, cantaloupe puree, lemon, and simple syrup. (1401 Curtis St.; 303-825-6500)
Darcy's Bistro & Pub
Join Darcy's in the Denver Tech Center on Sunday, March 13, for St. Baldricks. This is a national event where people shave their heads and raise donations to support kids with cancer. Even if you don't cut your hair, you can still join the party and donate to a good cause. Then on March 17, the fun continues with Irish dancers, Michael Collins pipers, and plenty of Guinness and Jameson. (4955 S Ulster St.; 303-770-0477)
Denver Museum of Nature and Science
Learn about all things Irish at The Science Lounge at DMNS on March 17. Hunt for leprechauns in the diorama halls, appreciate all things emerald in the gems and minerals exhibit, and then grab a Guinness and do a jig while watching the sun set over City Park. Cost is $13 for members and $15 for non-members and the jigging starts at 6:30 PM. (2001 Colorado Blvd.; 303-370-6000)
Fado Irish Pub
After the parade on Saturday, head to Fado near the parade start for Denver's largest outdoor after party. Enjoy five bands, DJs, Irish dancers, outdoor bars, and a variety of food trucks. The party then heads indoors on March 17. Single day tickets for the Parade After Party are $20 per person or get a parade party pack for two that includes entry and two beers each for $56. Single day tickets for St. Patrick's Day are $10 each. Or go all out and get a two-day party pass for two for $74. The two-day pass includes entry and two beers each for the Parade Party and two tickets for the March 17 party. The party starts at 10 AM both days and tickets can be purchased online here. (1735 19th St.; 303-297-0066)
The Fainting Goat
The Goat will open at 7 AM on Thursday, March 17. Enjoy corned beef and cabbage and Jameson and Guinness specials all day. Michael Collins Pipes and Drums will perform at 5 PM. No cover. (846 Broadway; 303-945-2323)
Hopdoddy Burger Bar
Burgers can be Irish too, and the St. Patrick's Day burger is the Luck o' the Doddy made with a green bun. Don't worry, the coloring is all natural, just ask. The burgers come with a side of fries smothered in Green Beer Cheese sauce. The bar is pairing the burger with Ratio Beerworks "Dear You." (1747 Wynkoop; 303-446-2337)
The Irish Rover Pub
Enjoy three days of green festivities at The Rove. On Friday, March 11, the Mile Highlanders start at 7:30 PM. On Saturday, March 12, DJ Dub Shay will be around all day with appearances by stepdancers and pipe bands. Then on March 17, enjoy more dancers and pipes with a traditional Irish food and drink menu. No cover for any of these days. (54 S. Broadway; 303-282-4643)
The Irish Snug
The fun starts on Friday, March 11, at 6 PM. On Saturday and Sunday, enjoy the Capitol Hill Hooley. See Colorado's best Irish bands, stepdancers, and pipes. There will also be a magic show and balloon twisting for children on Saturday. Thursday will also feature bands all day and Denver's own Under a Blood Red Sky will close out the evening at 8:30 PM. See the full band schedule on the website. (1201 E. Colfax Ave.; 303-839-1394)
Keggs & Eggs at LoDo's
Sponsored by radio station KTCL, the 11th annual Keggs and Eggs just keeps getting hotter. This year's lineup of bands includes Amzy, Saint Motel, and Nathaniel Radcliff & the Nightsweats. Tickets are free, but you have to sign up for a chance to win passes on the radio station website. The kegs, eggs, and music start at 8 AM on March 17. Listen to the radio station for a chance to win guaranteed passes to the event. (1946 Market St.; 303-293-8555)
Marlowe's
St. Patrick's Day at Marlowe's is all about simplicity. Dine on Corned Beef, Jameson, and Guinness while enjoying bag pipes and Highland Dancers. (501 16th St.; 303-595-3700)
Second Home Kitchen + Bar
Enjoy a St. Patrick's Day Bash starting at 11 AM with small bites, unlimited Guinness, and assorted desserts for $50 until 5 PM. Imbibe $5 Jameson drinks all day long. Bash tickets can be purchased in advance online. (150 Clayton Ln.; 303-253-3000)
Slattery's Irish Pub
Slattery's will feature family fun all weekend long, starting Friday, March 11. Enjoy live music and entertainment all weekend long with Denver's best Irish band, dancers, and pipes. See the website for the full schedule. (5364 Greenwood Plaza Blvd.; 303-741-2115)
Tavern Downtown
Calling all Leprechauns! Enjoy DJs and prizes all evening long, including tickets to Rockies Opening Day every hour from 5 PM to Midnight. Drink $4 Car Bombs and $3 Bud and Bud Light drafts all day. (1949 Market St.; 303-299-0100)
Thirsty Lion Gastropub
Do some good on Saturday, March 12, at this St. Baldrick's Fundraiser. Shave your head for the kids from 1 to 5 PM. Be sure to register before the event. Then, from March 17-19, enjoy a special Irish menu with Irish cocktails like the Irish Mule and specialty beer flights. (1605 Wynkoop St.; 303-623-0316)
Punch Bowl Social
Get your Irish on with a special menu on St. Patrick's Day featuring battered sausage, sautéed kale, Irish Cheddar Boxty, and Irish Potato & Leek Soup. The punch of the day will be the Wearing of the Green made with Irish whiskey, orange vodka, kiwi syrup, lime juice, and green tea. (65 Broadway; 303-765-2695)
ViewHouse
The fun starts on Friday, March 11, at both locations. Enjoy the Shamrock & Roll with giveaways starting at 6 PM. There is also a parade after party on Saturday, March 12. On the big day, enjoy Shamrock Shenanigans starting at 4 PM. Michael Collins Pipes and Drums, Irish dancers, and other fun will start the day off right and a DJ will take over at 6 PM. The following food and drink special will run March 12-17 at both locations: Enjoy Jameson shots for $4, pints of Green Beer for $4.75, $5 Guinness pints, and $8 Irish Car Bombs. Irish dishes include Guinness Irish Cheddar Potato & Bacon Soup, Rueben Triangles, Irish Grinders, and Shepherd's Pie. (2015 Market St.: 720-282-1548; 7101 S. Clinton St.: 303-532-1821)

Photos by Carrie Dow
Tags:
Beer
,
Holiday
,
Music
,
Parties
,
Whiskey
Recent Articles

Feedback
How are we doing? Tell us what you like or don't like and how we can improve. We would love to hear your thoughts!