Where to Host Your Denver Holiday Office Party
Pre-party party planning guide
by
Carrie Dow
on Nov 30, 2015 in
Roundups
for
Appaloosa Grill
,
Denver Beer Co
,
Fado Irish Pub
,
Govnr's Park
,
Highland Tap and Burger
,
LoDo's Bar & Grill
,
LoDo's Bar & Grill Highlands Ranch
,
LoDo's Bar & Grill Westminster
,
Lola
,
Punch Bowl Social Food & Drink
,
Southern Hospitality BBQ
,
Stoney's Bar and Grill
,
Tavern Downtown
,
Trillium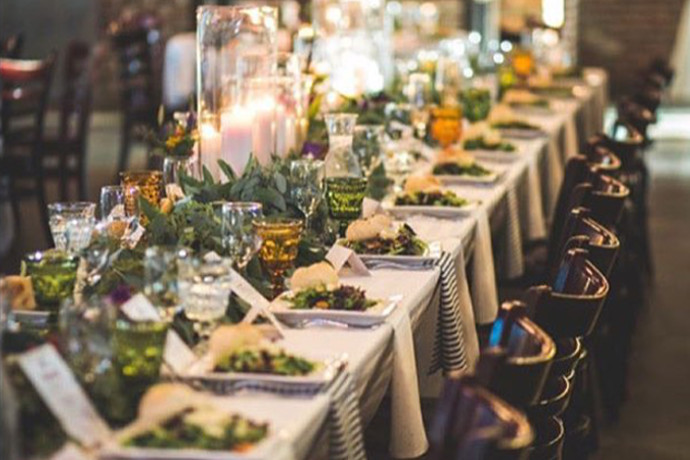 When it comes to office holiday parties, Denver has a variety of options. From small get-togethers to formal dining rooms, there is something for every business of every size. However, so many choices can make things confusing for party planners. What place is best for your office? Well, it's Drink Denver to the rescue. Below are not only some cool places for an office holiday party, but where to find all the information you need to pick your perfect place: who to talk to, where to find pricing and menu options, and even virtual tours so you can see what the space looks like. Consider this your pre-party party planning guide.
Appaloosa
Located on the 16th Street Mall, the Appaloosa Grill has expanded their event space to 1,200 SF and is ready to host any size party from a formal sit-down dinner to evening cocktails. Minimum group size is 20 people and drink prices are posted on the website. There is no room reservation fee, but there is a required minimum event cost. Audio/visual equipment is also available. To book, email or call Megan Matthews at events@appaloosagrill.com or 303-503-4470. (535 16th St., #110; 720-932-1700)
The Barrel Room at Denver Beer Company
Is beer the preferred drink in your office? Filled with reclaimed barn wood and whiskey barrels stuffed with aging beer, the Barrel Room by Denver Beer Company is a relaxed place to host a party. The room features a rustic bar, and parties can have beer served by certified cicerones. Capacity is 55 people seated, and DBC works with several local catering companies to provide the cuisine you prefer from formal dinner to casual beer and food pairing. Tours of the brewery can also be arranged. Use the online event submit form for more information and estimates. (1695 Platte St.; 303-433-2739)
The Berkshire
This meat-centric eatery in Stapleton offers good ol' American comfort food and fine wines in a warm atmosphere. For a fully private dining experience, reserve "The Pig Pen," a room that holds 10-40 seated guests and up to 50 standing guests. There is also the semi-private area at the front of the restaurant called "The Pig Sty," which seats 18 people or holds 25 people standing. Restaurant buy-outs are also available. View the Private Dining Guide for menu options and pricing. Contact Susan Weiser at 303-321-4010 for more information or to reserve. (7352 E 29th Ave.; 303-321-4010)
The Briarwood Inn
A Wine Spectator Award of Excellence winner, this historic restaurant with European styling in Golden has several elegant private dining areas that will make your holiday party special. The Grand West Room can seat up to 120 guests. Parties can choose an "open menu" where each guests orders from the main menu, or parties can arrange a selection of 3-5 entrees printed on customized menus. Alcoholic beverages are either open bar or cash bar. (1630 8th St.; 303-279-3121)
Fado Irish Pub
Give the gift of Irish at your office holiday party at Fado's Irish Pub. You can peruse the event menu posted online to get an idea of food and pricing options, complete with mouth-watering photos, however, the restaurant can customize the menu if needed. Party planners have five choices of venue from the intimate Snug Room that seats 12 to renting out the entire restaurant for groups of 300 or more. Take a virtual tour of the spaces on the website. For an estimate, use the online booking form. (1735 19th St.; 303-297-0066)
Govnr's Park
For a more casual get together, this neighborhood hangout near the Governor's mansion can host up to 100 people in the private Pool Room complete with banquet dining, bar service, and its own restrooms. There is never a reservation fee. Contact larron@govnrspark.com to learn more or make reservations. (672 Logan St.; 303-831-8605)
Henry's Tavern
Located in the Denver Pavilions, this newly opened tavern is ready to host your office holiday party. The private dining room features exposed brick walls, full bar, big screen TVs, shuffleboard tables, and can accommodate between 40-50 guests for a private affair or up to 200 as a shared space. Rent out the entire tavern for groups of up to 400. Parties can choose from full-service buffet dinners or simply order from the regular menu, which is available for browsing on the website. For more information or to get an estimate contact Henry's by phone at 720-399-8466 or email eventsindenver@henrystavern.com. (500 16th St., Unit 184B; 720-399-8466)
Highland Tap and Burger
Over in the Highlands, this neighborhood tavern has two separate rooms that can hold 100 people each. The rooms also have three discrete sound zones, audio/video capabilities, access to an outdoor patio with a large firepit, and customizable menu options. Check out the holiday catering menu or small bites menu on the website. Fill out the private event form on the website for estimates. (2219 W 32nd Ave.; 720-287-4493)
Mile High Station
Looking for a unique place to hold your office party? Mile High Station near Sport Authority Field offers beautifully restored interiors inside a former ironworks plant that was built in 1897. Think exposed brick, steel beams, wrought iron chandeliers, and cherry wood chairs. The building can host events for groups of 100 to 1,200 guests and has complimentary parking for over 200 vehicles. A full list of catering vendors is available along with other vendors, such as music, photography, and lighting design are also listed. To request estimates and more information, email mhs@pouringiton.com or call 720-946-7721. (2027 Lower Colfax Ave.; 720-946-7721)
LoDo's Bar and Grill
All three locations of LoDo's will offer a variety of party options no matter where your business is located. The Downtown LoDo's has three spaces, The First Floor, The Rox Room, and The Bull Pen which can hold from 40 to 500 guests. The Westminster location has The Dance Floor, The Penalty Box, and The Booth Hub for 40 to 80 guests. The Highlands Ranch location can enclose the rooftop bar for up to 60 guests with incredible views of the mountains. Highlands Ranch also has indoor spaces that seat up to 80. The banquet menu with pricing is available online and there is an online form for estimate requests. (Locations: Downtown, Westminster, and Highlands Ranch)
Lola's Mexican Fish House
Also in the Highlands, this contemporary Mexican restaurant has a variety of settings to create your perfect party. From the intimate Belola space, a private dining area downstairs, to the enclosed patio, there are many options for parties of any size. Group sizes with pricing options are available on the website. There is no room rental fee, just food and beverage minimums, but a deposit needs to be made in advance to reserve. Contact Erica for more information at 720-570-8686. (1575 Boulder St.; 720-570-8686)
Punch Bowl Social
The office that plays together stays together, and Punch Bowl Social is the place to play. PBS offers shuffleboard, ping pong, darts, skeeball, billiards, and bowling. There are even private karaoke rooms for the truly adventurous. This gigantic fun palace can host small businesses of only 10 people to companies of up to 1,000. All of these options with pricing and virtual tours are available on the easy to peruse event webpage. Not only are food and beverage options available, but bowling alley, other games, and room rental prices are shown as well. To reserve, contact either Jason or Deanna at 720-428-2212 or submit your group information online. (65 Broadway; 303-765-BOWL)
Southern Hospitality
Enjoy a touch of the South in the Mile High City. Southern Hospitality offers tasty southern BBQ in a relaxed atmosphere at this rustic restaurant located in the historic Elmo Hotel. The restaurant has a variety of rooms available, such as The Bourbon Room for small gatherings, the VIP and Lower Seating rooms for up to 50 guests, or reserve a combination of rooms for up to 150 guests. Restaurant rent outs for up to 300 people are also available. Find pricing and menu options on the website or email events@shdenver.com. (1433 17th St.; 303-298-5398)
Stoney's Bar and Grill
Putting a casual spin on the office holiday party, Stoney's on south Lincoln can accommodate groups from 15 to 600 people. The restaurant also makes it easy for party planners to organize with the Holiday Menus options from $26 to $38 per person. A variety of appetizer platters and bar packages is also available. No rooms fees, just a minimum food and beverage cost. Contact the manager at 303-830-6893. (1111 Lincoln Ave.; 303-830-6893)
The Tavern
The Tavern has six locations throughout the Denver Metro Area so no matter where your business is located there should be one nearby. The Tavern also makes it easy for party planners by putting all its event information in one place. Find menus and event space photos on the TavernHG website. There is even a private event brochure you can download or print with information and photos from each location. Once you have settled on a location, contact the manager directly for reservations or fill out the online Banquet Request Form for estimates. Anyone who needs a little extra help planning their event, such as special floral arrangements, table linens, or even live music, contact one of the Tavern's special Event Coordinators, Jen, Claudine, or Amy at 303-226-1555 or email events@tavernhg.com. (Locations: Downtown, Uptown, Lowry, Tech Center, Wash Park, and Littleton)
Trillium
For an office full of foodies, enjoy fine, unique dining with a dinner party at Trillium in the Ballpark neighborhood. The restaurant can arrange a private space for 35 seated guests and up to 100 standing guests, or for larger groups, rent out the restaurant for up to 100 seated or 150 standing guests. Parties will receive a custom culinary and beverage menu and a full service staff. Call 303-379-9759 or email info@trilliumdenver.com for more information. (2134 Larimer St.; 303-379-9759)

Photo via Mile High Station
Tags:
Holiday
,
Parties
Recent Articles

Feedback
How are we doing? Tell us what you like or don't like and how we can improve. We would love to hear your thoughts!