Festive Denver Cocktails for the Holiday Season
Season's Greetings
by
Carrie Dow
on Dec 22, 2014 in
Roundups
for
Corner Office, The
,
Humboldt
,
La Guera Gastro Cantina
,
Punch Bowl Social Food & Drink
,
Session Kitchen
,
Tamayo
,
ViewHouse Eatery, Bar & Rooftop - Ballpark
,
Wayward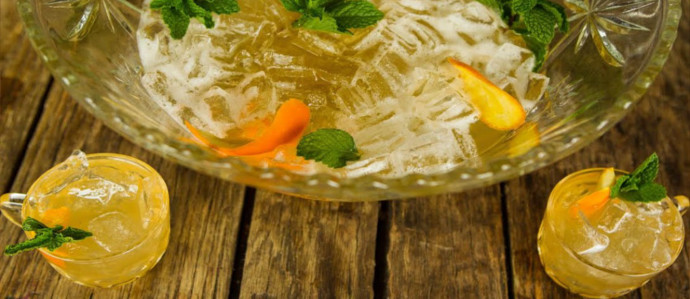 'Tis the season for holiday cocktails. Much like we dress up for holiday parties, cocktails also get dressed up this time of year. Festive ingredients like peppermint, cinnamon, cranberry and chocolate show up in our glasses. Whether we're heading out to a fancy establishment or if we need something special to create at home, these cocktails from Denver's best bars will add a bit of seasoning to your holiday.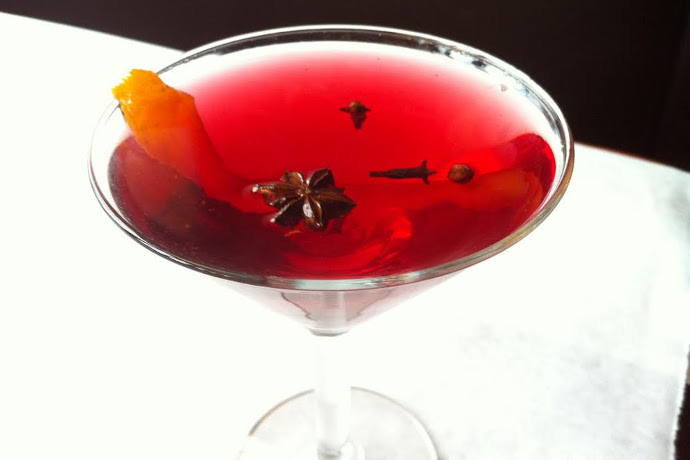 Cranberry Sauce Cocktail
Jax Fish House
This fun, festive cocktail will be available at Jax Fish house in Fort Collins this holiday season. The Cranberry Sauce Cocktail is made with cranberry and spice-infused Mell Vodka by Peak Spirits, Citronge, cranberry juice and fresh lemon juice. Tastes like holiday dinner in a glass. Here is the recipe if you can't make it to FoCo:
2 oz. of infused vodka (infused with cranberries, orange zest, cloves and cinnamon), 1/2 oz. Citronge orange liqueur, 1/2 oz. cranberry juice and 1/4 oz. fresh lemon juice. Shake all ingredients and then strain into a martini glass. Garnish with burnt orange peel and two cloves. (123 College Ave., Fort Collins; 970-682-2275)
Coco Press
Hard Rock Cafe
Warm up this season at the Hard Rock with the Coco Press, a mix of Amaretto, Barcardi Oakheart and hot chocolate. This winter warmer is served in a coffee-press vessel over whole marshmellows. Happy holidays indeed! (500 16th St. Mall, Ste. 120; 303-623-3191)
Ginger Sidecar
Humboldt
Humboldt's Ginger Sidecar takes a different approach to the holidays with this bold flavored mélange. Made with brandy, Cointreau, fresh squeezed lemon and the bar's own ginger/nutmeg simple syrup, this cocktail offers a lighter, more flavorful treat for the holidays. Have one for $10. (1700 Humboldt St.; 303-813-1700)
Koyona Holiday Cocktail
Kachina Southwestern Grill
The Koyona means Hopi Turkey Kachina and is full of holiday flavor with a southwestern twist. Made with Lunazul Blanco Tequila, triple sec, agave and cranberry puree, the name is a nod to Kachina's roots. This beautiful red cocktail will definitely lift your holiday spirits. Here is the recipe for those who want to make it at home:
One and a half ounces of Lunazul Blanco Tequila, half ounce of triple sec, half ounce of agave and two ounces of cranberry puree. Put all ingredients in a shaker and shake vigorously. Rim a martini glass with cinnamon sugar, pour drink into glass and garnish with candied cranberries. (10600 Westminster Ave.; 303-410-5813)
The Parcita & The Winter Cocktail
Parce Rum
When the weather gets cold, drinking rum helps remind us of warmer climates. These cocktails are made with Parce Rum, a Columbian-made rum with a Colorado connection. One of the company's founding partners lives in Denver and the rum is available in many bars and restaurants around town.
The Parcita is made with 2 oz. of Parce 8-year rum, half ounce of Allspice Dram, half ounce of agave, two ounces of fresh grapefruit juice and Star Anise and grapefruit garnish. To keep warm this warm this holiday, The Winter Cocktail made with 2 oz. of Parce 12-year rum, Americano coffee, fresh whipped cream and cinnamon. Parce, which means Friend, is perfect for celebrating with friends this holiday.
Peppermint Godiva Chocolate Martini
ViewHouse
Sweeten up the holidays with this decadent cocktail from the ViewHouse. The martini combines Godiva Chocolate Liqueur, Grey Goose vodka and splash of crème de menthe with heavy cream. The glass is rimmed with crushed peppermint for a little holiday pizzazz. Enjoy for $12. (2015 Market St.; 720-878-2015)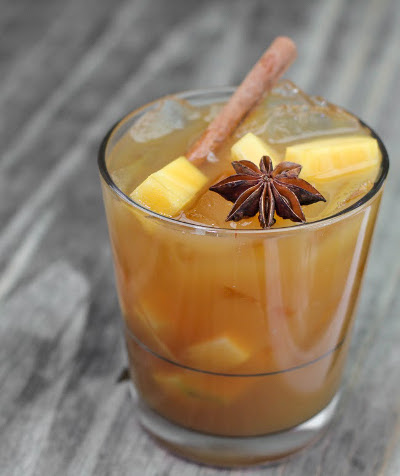 Ponche Navideno
Richard Sandoval Restaurants
One may not think of tequila as a holiday drink, but when mixed in the right cocktail, the flavors of the season come through. Both Zengo and La Biblioteca in Riverfront Park and Tamayo in Larimer Square will be serving up the Ponche Navideno this month. Made with Monte Alban Reposado tequila, apple, mango, raisins and cranberries, this drink will put any Scrooge in to the holiday spirit. Enjoy it through New Year's Eve for $9 or sip it non-alcoholic for $5.
Royal Hutch Punch
Punch Bowl Social
Holidays are a time for friends and family and what better way to celebrate than with a bowl full of holiday goodness from our friends at Punch Bowl Social. The Royal Hutch Punch is made with Bacardi 8 aged rum, St. Germain, Fee's Peach Bitters and White Tea. A single serving is $8, a bowl for four is $32 and a bowl for eight is $64. Check it out during a night of bowling at the pub or make some at home for a fun holiday party:
1 oz. of Barcardi 8 Rum, 1/2 oz. of St. Germain, 1/2 oz. lime juice, 1/2 oz. simple syrup, 1 1/2 oz. of white tea and 2 dashes of Fee's Peach bitters. Combine all ingredients, pour over ice and garnish with fresh mint and orange peel. (65 Broadway; 303-765-2695)
The Snow Cap
Argyll Whisky Bar
This spicy number features Buffalo Trace Bourbon, Argyll's own warming holiday spice syrup and a bit of Benedictine with a squeeze of fresh lemon. This potation is topped with whipped egg white and bitters that remind us of the snow-covered peaks of the Rocky Mountains. (1035 17th Ave.; 303-847-0850)
The Sugar Plum Cocktail
The Corner Office
Seeing The Nutcracker Ballet at the Denver Performing Arts Center is a holiday tradition. To get ballet patrons in the spirit, The Corner Office, conveniently located across the street from the complex, is offering The Sugar Plum Cocktail this December. Paying homage to the Sugar Plum Fairy, the cocktail includes Bombay Sapphire East, ginger liqueur, plum, Asian pear sake, orange bitters and lemon. For only $12 enjoy one before or after the show, or both. (1401 Curtis St.; 303-825-6500)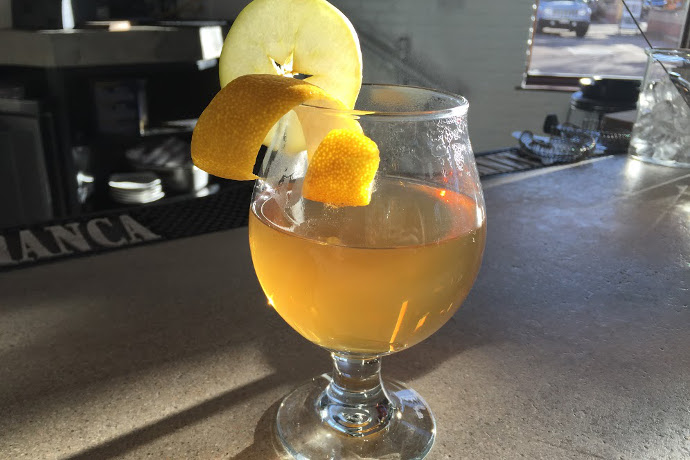 Toddy Jack from
Session Kitchen
Created by Les Baker, the Toddy Jack is warm and toasty on a cold December day. Enjoy it at the restaurant for $10 or try it at home on a cold, snowy night.
1 oz. Apple Jack, 1/2 oz. Apricot Liqueur, half clove shrub (recipe below) and 2 oz. of hot water. Heat the Applejack, liqueur and clove shrub in a sauce pan. Lower heat just as it starts to boil. Remove from stove and pour into a mug. Add 3 oz. of hot water and garnish with apple slices and fresh cinnamon.
Shrub recipe: One part Apple Cider Vinegar, three parts water, three parts sugar, 20-30 cloves, 1/2 a cinnamon stick and 1/2 a vanilla bean. Bring all liquid ingredients to a boil in a pot, then add spices and sugar and reduce heat, simmering for 30 minutes. (1518 S Pearl; 720-763-3387)
Photos from the top: Royal Hutch Punch, Cranberry Sauce, Ponche Navideno, Toddy Jack
Tags:
Cocktails
,
Holiday
Recent Articles

Feedback
How are we doing? Tell us what you like or don't like and how we can improve. We would love to hear your thoughts!