What to Drink with Your Summertime Barbecue
Go whole hog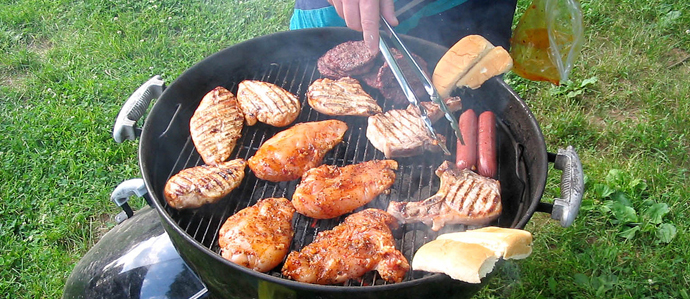 Summer is in full swing and so is barbecue season. But what to serve your thirsty guests? Drink Denver is here to assist with a little help from our friends. No matter if you are grilling up hot dogs or roasting a whole hog, we've gotcha covered.
Beer: Beer is a no-brainer for a backyard BBQ. With all the different styles of craft beer we have in Denver, there is something for everyone and for every dish. Try these at your next feast.
Our friends over at Odell Brewing Company have these recommendations for your next grill out. If you're roasting a chicken, the brewery suggests the Odell IPA. Our favorite beer, 90 Shilling, goes great with rib eye. The 5 Barrel Pale Ale pairs perfectly with Pork Tenderloin or try the Easy Street Wheat with grilled Halibut. The brewery even has easy marinade recipes that include these beers on the brewery website. Try pairing some beers with hot dogs, such as St. Lupulin with a Chicago-style dog, the Cutthroat Porter with a chili cheese dog or 90 Shilling with a classic dog. However, if you are looking for a simple go-to beer for the afternoon, Amanda Johnson-King, Odell Branding Manager, suggests the Loose Leaf American Session Ale.
"It's light and delicate with a crisp refreshing hop character, and at 4.5% ABV, you can enjoy more than one in the backyard," Johnson-King told us. We couldn't agree more.
Over in Arvada, the guys at Odyssey Beerwerks have these suggestions. For lighter dishes, such as salads or fish, try the Heliocentric Hefeweizen, while the Ghost Drifter Pale Ale pairs well with heavier meats. For dessert try the Perpetual Darkness Belgian Black, which pairs well with chocolate. For an afternoon of drinking, we suggest the Palm Tree Caribbean Lager at 4.7% ABV. It will turn your backyard into an island paradise.
Perhaps you'll be having some backyard sporting events at your barbecue — say Cornhole or Pipes or Lawn Darts. Hey, it's all fun and games until someone loses an eye. Until then our buddy and the owner of Stoney's Bar & Grill, Stoney Jesseph, has these simple recommendations: If it's super hot that day, drink Dos Equis, if it is just plain hot, hit the Coors Lights and if there is a chill in the air, grab a Sierra Nevada. That's how you stay hydrated while playing in a heated game of Washers.
Cocktails: Perhaps you want to upgrade your barbecue to something a little more sophisticated. Denver's bartenders have some great cocktail ideas for you.
The Corner Office specializes in punch bowls and the staff has offered up this bowl you can make at home. The Summer of Sam Punch Bowl features Sam Adams Summer Ale, aperol, fresh squeezed lemon juice and pineapple juice. The great thing about this drink is you can customize it to your taste or the tastes of your guests. It's a fun punch for those who don't want mess around with measuring.
Humboldt Bar Manager Ryan Corey and GM Kellen Sullivan have a patio pounder you can serve all summer long. The Cucumber-Mint Cooler uses two ounces of Leopold Bros. Gin, three slices of crisp cucumber, one sprig of mint, half ounce of simple syrup, quarter ounce of lemon juice and soda water. Lightly muddle the mint and cucumber and then add ice with remaining ingredients. Shake well, pour into a Collins glass, and top with soda water. How good is this drink?
"Boom! Delicious!" says Corey.
The Wazee Super Club has a great combination for a backyard BBQ. They have combined everyone's favorite outdoor cocktail, the margarita, with delicious summer watermelon. The Watermelon Rita uses 1.5 ounces of silver tequila, half ounce of triple sec, four ounces of watermelon puree and a splash of sweet and sour. Combine ingredients in a mixing tin with ice and shake. Strain mixture into a sugar-rimmed glass with ice and garnish with an orange slice. Easy peasy!
Vodka is an easy summer spirit to work with and Charles Kollman, Bar Manager at P17, has this summery vodka cocktail. The Ruby Kiss is one and half ounces of your favorite vodka, half ounce of lemon syrup and one and a half of ruby red grapefruit juice (or fresh squeezed if you are so inclined). Combine all the ingredients in a martini shaker, shake and strain into an ice filled glass and top with a splash of soda water and garnish with a slice of grapefruit. To make the lemon syrup combine equal parts of lemon juice and granulate sugar in a saucepan and bring to a boil. Reduce heat and simmer for 2-3 minutes. Remove from stove and let cool or you can use also simple syrup and lemon juice.
Photo: Flickr user befuddledsenses
Tags:
Beer
,
Cocktails
,
Dinner
,
Food
,
Outdoor Seating
,
Spirits
Recent Articles

Feedback
How are we doing? Tell us what you like or don't like and how we can improve. We would love to hear your thoughts!