2014 Punch King (Actually Queen) Crowned in Denver
Bacon and Bourbon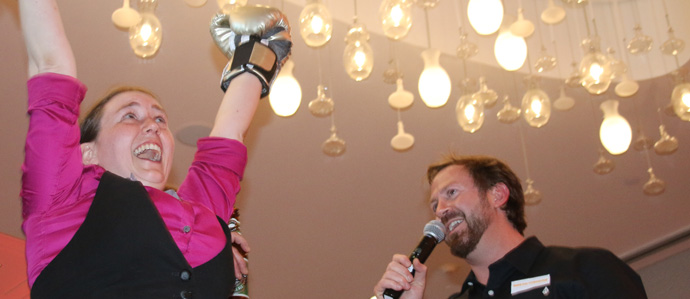 The 2nd annual Punch King Competition sponsored by Cochon 555 and hosted by Breckenridge Distillery crowned its winner on Sunday, June 29 in Denver. The competition was fierce and only one prevailed, but everyone who attended came out winners.
Breckenridge Distillery set the stage for this incredible event featuring ten bartenders from around the country, seven local bartenders also duking it out and four incredible chefs from four excellent restaurants all vying for the tastes buds of patrons. The event was held at The Curtis Hotel in downtown Denver.
For the second annual event, Breckenridge Distillery Founder and Owner Bryan Nolt said that this year "is all about the bartenders. We wanted the bartenders up front."
To keep the punch the focus of the event, guests were treated to a hallway of punch leading to the entrance. Four different punches, Strong, Acid, Sweet and Spice were set up in the hallway for guests to taste as they walked to the doors. Once inside the senses were assaulted with the sights, smells and tastes of pork at its finest. The four restaurants, The Curtis, The Corner Office, Kachina Southwestern Grill and Second Home Kitchen + Bar were each given an entire heritage breed pig to roast and prepare in as many delicious dishes as they could. Nose to tail porcine pleasures included roasted snout with jalapeno, BBQ pork sliders, pork tenderloin, pork jerky, pork pate, candied pork skin, fries fried up in pork fat and everyone's favorite, bacon, bacon and more bacon.
In the local punch competition, nine bartenders made fabulous punch using an entire bottle of Breckenridge Bourbon. They were Raquel Tully of Old Major, Haylee Ortiz of Session Kitchen, McLain Hedges of The Proper Pour, Topher Hartfield of Deveil's Thumb Ranch Resort, Derrick Mund of The Curtis Club, Derek Lewis of Kachina, Jon Feuersanger of Second Home, Danielle Soloano of The Corner Office and Nick Synder of The Curtis Hotel. The winner was Nick Synder of The Curtis who received a snow board, a $1000 reserve bottle of bourbon and will be able to host a private party for ten friends at the Breckenridge Distillery.
For the grand finale, ten bartenders duked it out for top honors and "best punch." They were:
Maria Polise of Ela (PHL) and her Porcine Pick-Me-Up Punch; James Menite of Crown Restaurant (NYC) and the Phats Comino Blueberry Hill Punch; Paul Sanguinetti of Patina Group (LA) and the Cold-Blooded Devil's Punch; Joshua Holliday of Khong River House (MIA) and the In Like a Lion Punch; Michael Jack Pazdon of Goose & Gander (NORCAL) and his Breckenridge Buck Punch a la Maroc; Denver's own Justin Lloyd of Star Bar and his Howdy Partner Punch; Erin Goodman of Roofers Union (WDC) and her Lei Me Down Punch; Sean Woods of Ribelle (BOS) and his Munson Punch; Jennifer Fink of Fat Rice (CHI) and her Jazzy Teler Punch; Andrew Meltzer of 15 Romolo (SF) and the Improved Whiskey Cola. Recipes for all the punches can be found on the Punch Kings website if you want to try them at home.
And the winner is…Maria Polise of Ela in Philadelphia! Her Porcine Pick-Me-Up Punch was made using one bottle of Breck Bourbon, one bottle of Dolin Rouge Vermouth, 2 bottles of Marquis de la Tour Champagne, oleo Saccharum and tea, orange peels with tubinado sugar, Lapsang Souchong tea, Lemon Hart 151 infused with cinnamon sticks allspice and cloves and citric acid with water. She received her gloves, her $1000 reserve bottle and she receives a 3-day trip to the Cochon 555 Heritage BBQ city of her choice were she gets to recreate her winning punch. Polise can now take her place in history as the best puncher in the business.
Bartenders should start dreaming up their punches for next year now.Until then we are all punched and pigged out.

Tags:
Bourbon
,
Food
,
Parties
,
Prizes
,
Spirits
Recent Articles

Feedback
How are we doing? Tell us what you like or don't like and how we can improve. We would love to hear your thoughts!