Boulder Spotlight: The Corner Bar and License No. 1 at The Hotel Boulderado
What's new in Boulder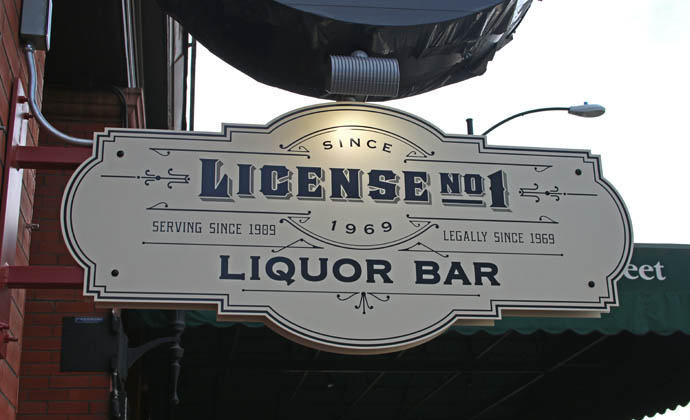 In 1905 Boulder, Colorado, wanted to change its reputation from a Wild West frontier town to something a little more sophisticated. The town council decided that having a first class hotel downtown would be a great way to do that. To raise construction funds, the city sold $100 shares to the community. When it finally opened in 1909, they named it the Hotel Boulderado, combining the names of Boulder and Colorado so that no guest could forget where they stayed. Rooms could be had for $1 to $2.50 per day.
Interestingly, at the same time the hotel was being built, the city, which was overrun with saloons, breweries, distilleries and gambling halls, decided to become a dry county. All liquor was banned within city limits. Not a drop to be had in the luxurious confines of the Hotel Boulderado for the first several decades.
With changes to the law in 1969, the hotel purchased Boulder's first liquor license and opened the Catacombs Bar, located in the basement. That license is in effect today as the Catacombs Bar and Grill has now been turned into the License No. 1 Speakeasy. After a huge renovation, this once dark and dank dive is now one of Boulder's slickest hangouts. Upstairs, The Corner Bar on the corner of Spruce and 13th Streets also had a complete renovation and both are now open to guests and locals to enjoy drinks in this historic hotel.
To celebrate the grand reopenings of these historic bars, the hotel held an open house in May for guests to sample the new drink and food menus. Each bar had two signature cocktails served through ice sculptures just for the occasion. All the bar's new cocktails were created by Allison Widdecombe of Williams & Graham in Denver.
Watched over by a giant moose head above the bar, The Corner Bar had the floors and walls redone as part of the renovation. A set of wood steps takes guests to a small quiet loft of tables and chairs above the room. The Corner Bar also expanded the outdoor patio farther down Spruce Street and filled it with soft furniture, lights and its own bar area.
Thirteen new cocktails grace the menu. For the Cinco de Mayo open house, the featured cocktail was the CB Margarita. The margarita featured roasted pineapple infused tequila. The Strawberry Basil Martini is unique because it's like a garden in a martini glass. The sweetness of the cocktail is tempered by a cherry tomato and mozzarella cheese garnish, which really bring out the savory of the basil finish. Kinda like drinking a summer salad.
License No. 1, while in the basement, has a refined air provided by the new furniture and décor. Before the remodel, there was a reason this bar was called the Catacombs. However, all those references to the deceased have disappeared. The bar is now an inviting space with comfy bar stools, a beautiful wood bar top, and new lighting so guests can actually see each other. Like a traditional speakeasy, there isn't too much light, just enough. Scattered throughout the bar's many rooms, nooks and niches are soft seating arrangements, old time liquor signs and handcrafted cocktails to enjoy.
Bring out your inner Don Draper with the No. 1 Old Fashioned featuring Buffalo Trace Bourbon, sugar, luxardo cherry, and lemon peel garnish. The smokiness of this cocktail will transport the taster to the elegant bars of Colorado's past. License No. 1's Brown Derby features Buffalo Trace Bourbon, honey, muddled grapefruit. Served in a martini glass, the mélange has a smoky finish with a touch of honey. For those who prefer vodka the Spring Forward features Spring 44 vodka, honey, basil and lemon. The basement bar will have about 14 specialty cocktails on the menu and a full assortment of national and international scotches.
Both bars have an interesting mix of Colorado and international beers. Colorado favorites include River North, Dry Dock and Upslope. Other beers include Peroni, Lagunitas and Imperial. Happy hour at License No. 1 is every day from 5 to 7 PM.
The menus at each bar are unique and so are the experiences. The Corner Bar has an after work happy hour vibe with large windows and seating area making it fun for large groups of people to hang out. License No. 1 is more intimate with an air of mystery making it perfect for date nights or late night rendezvous. So if a visit to Boulder is in your future, get a room at the Hotel Boulderado and grab some cocktails at The Corner Bar or License No. 1.

Tags:
Beer
,
Bourbon
,
Cocktails
,
Fireplace
,
Food
,
Outdoor Seating
,
Scotch
,
Spirits
,
Whiskey
,
Wine
Recent Articles

Feedback
How are we doing? Tell us what you like or don't like and how we can improve. We would love to hear your thoughts!