Stone Vertical Epic: A Beer Tasting to Remember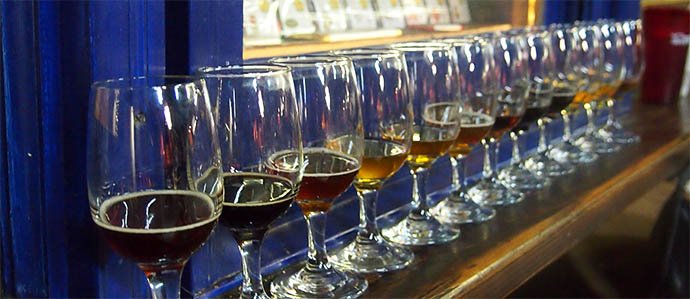 An epic beer journey finally came to an end this past December with the release of 12.12.12, the final installment of Stone Brewing Co.'s annual Vertical Epic series. Stone first released 02.02.02 in 2002 and continued each year (with 03.03.03, 04.04.04, and so on). The idea was that beer fans could cellar each of the creative Belgian style beers until December 2012, when they could finally open and try all eleven of them at once in a 'vertical tasting' to see how they have changed over the years.

Back in 2002, the idea of cellaring and aging beers wasn't new, but it wasn't exactly prevalent, even among fairly knowledgeable beer aficionados. Many people were skeptical that the beers would be worth drinking after even one or two years. Of course, the other obstacle to aging beers is resisting the temptation to drink them before their time. Many a planned Vertical Epic has fallen in this fashion over the last decade, making the opportunity to try all of them together very rare indeed.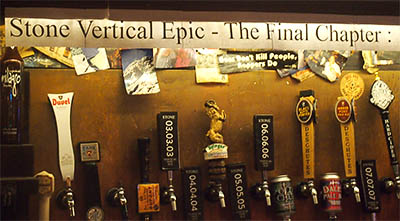 Luckily, Stone thought ahead for all of us and, in addition to throwing a giant party at the brewery in Escondido, CA, organized tasting events in specially selected beer bars across the country. Falling Rock Tap House was chosen to host one such celebration and offered eager beer drinkers flights of the 03.03.03-12.12.12 Vertical Epics (there wasn't enough 02.02.02 to make outside the brewery walls). FRTH also had special barrel aged versions of four of the releases, which were served with the other 10 beers at an exclusive VIP food pairing downstairs.

In general, beers that age will show some signs of oxidation and slight cardboard or musty flavors. While this may sound bad, it can be pleasant and interesting in small doses and combine well with a mellowing of hop bitterness and increase in fruit and spice flavors. So how did the beers hold up and what stories did they tell? Read on for our impressions and tasting notes.

03.03.03: Belgian Dubbel with Coriander and Alligator Pepper

The oldest offering holds up amazingly well and showed flavors of caramel and molasses, fruity banana and peppery spices. The aging produced some amazing sherry wine qualities. It's so smooth that it melts in your mouth. All of the complexity is still there and the ingredients just flow like a Zen Master in a glass.

04.04.04: Hybrid Saison/Biere de Garde With Kaffir Lime

One of the best beers we've ever had, this is a flavor thrill ride that just kept going. An amazing range of herbal spice, grapefruit citrus and lime aromatics flourish into a surprising note of white creme de cacao. The creamy mouthfeel is amazing for a beer this strong.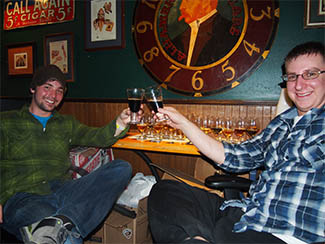 05.05.05: Belgian Strong Dark Ale

One of two Vertical Epics not brewed with actual spices or fruit, much of the complexity comes from special yeast. This has flavors of plum and fig with some chocolate and roasted notes and a distinct bit of anise. It reminds of a holiday cookie smoothed into a velvety fireside sipper.

06.06.06: Belgian Strong Dark Ale

The 2006 release has flavors of dark malt and spice similar to the prior year but an earthy, woodsy note of cedar on the finish that could have been from the aging, and was a bit misplaced. Overall, it is somewhat muddled and medicinal and a bit like what you might have to eat if you were lost in the forest.

07.07.07: Tripel with Ginger, Cardamom and Peel of Grapefruit, Lemon, and Orange

The list of creative ingredients seems like something you might see in a face wash, but all are prominent in the flavor. There's the the normal fruit and spice you'd expect but also some heat from the ginger, a breath-freshening effect from the cardamom and a citrus crispness that makes it highly drinkable. Delicious and unique.

08.08.08: Belgian Golden Ale with U.S. Hops

This was a beer ahead of it's time — in 2008 the Belgian IPA style was not prominent — and it's even better now. After aging the hops are still fresh and bright and meld beautifully with the notes of melon, white fruit and the sweetness of honey. We wish we had a case of this at home.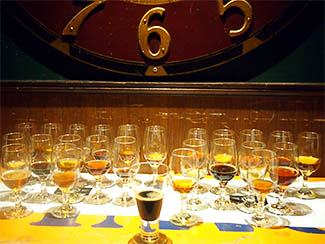 09.09.09: Belgian Strong Dark With Vanilla Beans and Tangerine

When this was brewed, the concept was to mix the flavors of orange citrus and chocolate like many artisanal desserts have done. The chocolate is prominent and smooth after a few years and the citrus and tropical fruit essences provide a great accent without being overpowering.

10.10.10: Tripel with Chamomile and Muscat and Sauvignon Blanc Grapes

This beer is one of the most unique in the series and remains outstanding with some age. It has flavors of fruit drizzled with honey, floral aromas and the creaminess of a good white wine. Wine drinkers that normally don't enjoy beer would love this.

11.11.11: Belgian Strong Dark with Anaheim Chilis and Cinnamon

A great beer when it was released, this is not a bad beer now, but it does taste a bit watered down even after only one year of aging. The dark roasted malts and cinnamon spice are still nice but the heat from the chilis, one of the best parts of this brew, have unfortunately faded like the memory of Al Bundy's four touchdowns in one game.

12.12.12: Belgian Quad with Holiday Spices

A delicious beer on any normal night, the 2012 Vertical Epic really shows its youth in this crowd. This is definitely a holiday beer with bready dark malts, clove, and cinnamon, but when compared to the older editions, it has the depth of a junior high romance. Let it get some life experience and in a few years it will be true love.
Photos by Dan Imdieke
Recent Articles

Feedback
How are we doing? Tell us what you like or don't like and how we can improve. We would love to hear your thoughts!