Behind the Bar: Kat Corbo of The Study & Winner of Speed Rack 2019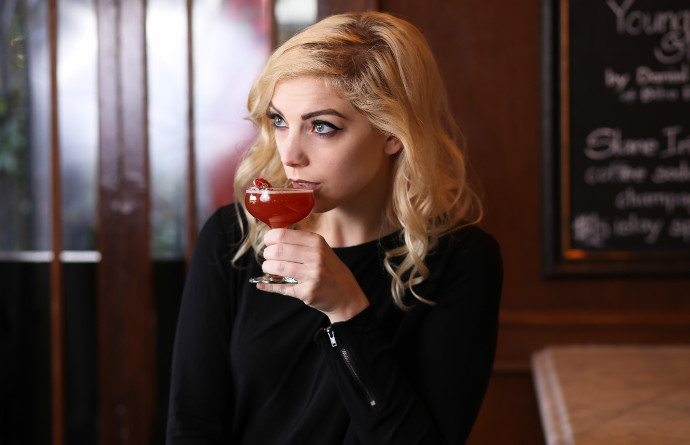 This time on
Behind the Bar
, we spoke to
Kat Corbo
of
The Study
, who recently won
Speed Rack 2019
. Kat, who normally goes by Kitty, grew up outside of Chicago and attended the University of Wisconsin-Madison for two years before moving to Nashville and joining the service industry. After a year, she ended up out West to make her way in Los Angeles, where she's lived for four years. We talked to Corbo about her best Speed Rack advice, why she loves St-Germain, and P!nk.
Drink Philly (DP): Tell us about The Study.
Kat Corbo (KC):
The Study
is a small bar in the back of
Arts District Brewing Co.
, and we're a part of
213 Hospitality
, so now I feel like I have family at so many bars across the country. We actually just soft opened the bar a few days before I left for Speed Rack. It was my first time developing a cocktail menu, and it totally helped prepare me for the dealer's choice round in the finals. I learned so much about every spirit we decided to carry, and challenged myself to understand the characteristics of a lot of different ingredients and how they meld together.
DP: Where did you work before this?
KC: I worked at
Prank
in downtown LA for over 2 years. It was hard to leave because that's the bar where I really came into my own style of bartending, but movement is always necessary for growth.
DP: Tell us about Speed Rack.
KC: It was created by Ivy Mix and Lynnette Marrero to help raise money for breast cancer research and awareness while giving female bartenders a platform to stand on. [Editor's Note: Speed Rack is a competition for female bartenders only.] I know when they started it about 8 years ago, there weren't nearly as many women in head bartending roles or even many women being taken seriously behind major bars. It's helped us shatter that ceiling as well as the notion that men are better or more knowledgeable behind a bar. Now when someone hears that you competed in Speed Rack, they take notice and want to know more about you. It's given female bartenders national recognition and "badass status" to help level the playing field.
DP: What bartending competitions have you participated in leading up to or after Speed Rack? Have you won other titles?
KC: Speed Rack is the first and only competition I've ever been a part of! I feel like it encompasses every skill a bartender should have. You need to know how to set a well quickly and efficiently and how to round build, you need immense spirit knowledge and creativity for the dealer's choices, you need to memorize almost 100 classics, and you need to keep your calm and stay composed on stage just like you would on a busy Friday night behind any bar. To me, it's the ultimate bartending competition.
DP: What was it like to prepare for and participate in Speed Rack? What were your final stats?
KC: Both the regional and the national competitions were two of the most stressful days of my life. What the crowd doesn't see is the preliminary competition, where we go from 20 or so women down to the 8 that compete on stage, and that is actually tougher than the on-stage competition, in my opinion. I free-poured for prelims, but in real life and on stage I use a jigger, so learning counts, and how to think with both hands and two bottles at a time instead of one was a challenge. My mentor and former SR alum, Cari [Hah], practiced with me solely for prelims. Whenever we were free, we'd be at a bar with dummy bottles that I carried around in my car for weeks to do fake rounds. We probably practiced at least 2-3 times a week for 5 months in total, along with countless hours spent memorizing the 100 classic cocktails on the list (thanks to all of the bars across LA that let me do Speed Rack happy hours so I could practice prelim cocktails!)
I think my final time was right around 2 minutes. The one that surprised me was the second round on stage where, after penalties, I was at one minute and thirty seconds. I know my competitor was close to that time as well, and it was a total nail-biter. You sort of black out on stage and then realize it's over, so I had no idea about my times until they announced it later on.
DP: What's so special about Speed Rack?
KC: The relationships we all develop because of it are absolutely the best part. I barely knew anyone in this industry a year ago, and now I know people at major bars all across the country. I've gotten jobs because of it and made very close friends because of it.
DP: What advice would you have for someone who wants to participate in Speed Rack?
KC: Do it! And don't get discouraged. Just keep going and put yourself out there. And most importantly, find a mentor! I could not have gotten this far without Cari. It's just as much their win as it is mine.
DP: Has anything changed for you since winning Speed Rack? What's next? Would you do Speed Rack again?
KC: I think the way I view myself has changed. I feel more confident in my abilities behind the bar and in overcoming life's challenges. I think there's a lot of travel on the horizon for me over the next year! I'm going to get to go on some rad trips with all the finalists, and I can't wait to build relationships with them that will hopefully last a lifetime. I also hope to be involved on the other side of Speed Rack next year by volunteering my time and resources to this amazing competition that's changed my life.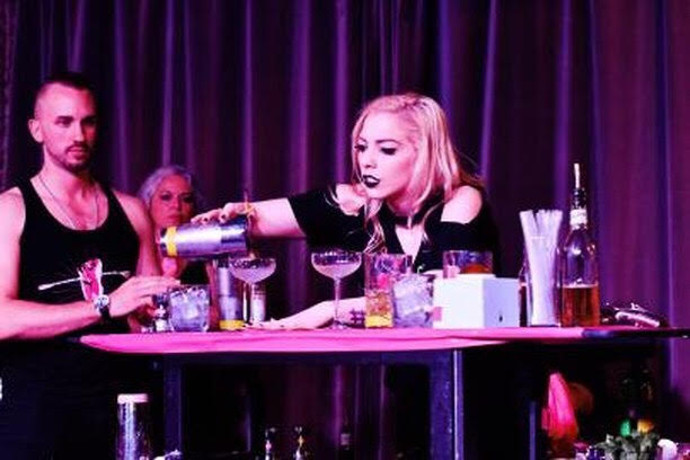 DP: You're a part of St-Germain's L'equipe program. Can you tell us about your role there? When did you become a part of St-Germain?
KC: A friend & mentor of mine who was diagnosed with breast cancer after the SF regionals used to also be with L'equipe. When she heard there was a spot opening up, she recommended me, and after a lot of interviews, I began on April 1, 2019. It's a dream job. I get paid to educate people in and out of the industry about St-Germain and spread the wonderful #spritz lifestyle.
DP: What's trendy right now?
KC: That's a good question! I don't know much about trends. I would say competitions are trending. There's more being created all the time to showcase bartenders' abilities, and I think that's super rad.
DP: What are some trends you wish would die?
KC: Extra long spoons to mix cocktails. Someone is going to poke an eye out and nobody wants to burn bloody ice on a busy Friday night. But some are pieces of art, so I really can't judge.
DP: Any predictions about where the industry might go next?
KC: I think the crazy, homemade tinctures and ten-ingredient classic cocktail scene is calming down and we're getting back to our roots of simple but extraordinary. I think simplicity will start coming back just by virtue of the practicality of sustaining these intense, multi-ingredient cocktail menus.
DP: One unexpected fact about you?
KC: I do aerial dance! It's my creative outlet outside of the bar, and it tires my body and mind so that I can deal with everyday stressors.
DP: Favorite beer?
KC: Arts District just pulled some of this amazing dark sour and I'm obsessed with it. I only carry it in my back bar, and it makes me feel special because it's so delicious and is everything I want from a beer. But to be extra honest, the Midwest chick in me loves an ice cold PBR tallboy.
DP: Favorite liquor, to work with or to drink?
KC: I mean, St-Germain, of course! And any agave spirit. Sienna Hembrooke-Mann, one of the competitors at Speed Rack, was my "mezcal fairy" all night and helped keep me even-keeled throughout the competition with Del Maguey sips after each round.
DP: Favorite cocktail?
KC: I really enjoy a vodka rocks with lime juice. It's always there when I can't make up my mind or just want something to sip while I decide what I'm feeling that day. I also love cocktail shots because I can try a lot of different cocktails without committing to an entire drink (because I always feel bad if I can't finish it).
DP: What's your favorite kind of customer?
KC: Someone who is respectful and interested in what I'm making throughout the night. I love entertaining people that are interested in what I do and how I do it.
DP: What do you think the essentials are for a good home bar?
KC: Ice! Citrus, soda, bitters. A good sipping scotch, a good mixing gin, and a good shooting tequila.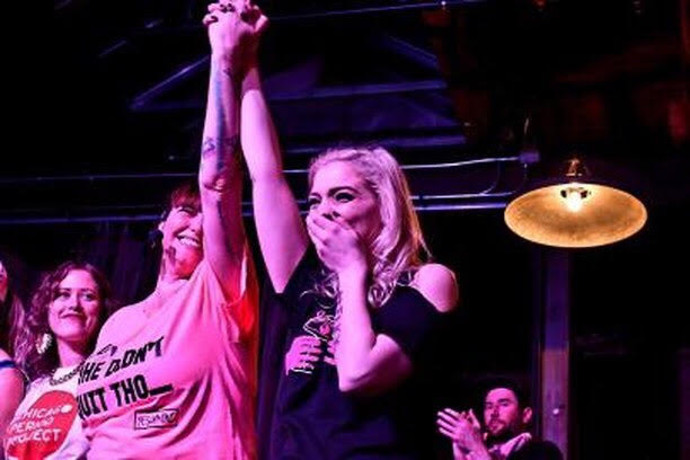 DP: What's the secret to being a great bartender?
KC: There's not any one secret to being great because everyone does things in their own way. I think it's important to be passionate about the drinks you're serving and always making the experience about the guest. The best advice Cari ever gave me was to leave my emotions outside of the bar. Bartending is bigger than yourself – it's about creating an experience for the other person and helping them have a meaningful time at your bar.
DP: If you could have a drink with any famous person, living or dead, who would it be, what would you drink, and why?
KC: Oh! I think it would be P!nk. She is the ultimate badass bitch. She is powerful and carefree and inspires me every day. Her music has saved my life. I think we would drink Jameson because that's her baby boy's name, and it makes for a great shot if you top it with angostura bitters.
Photos via Kat Corbo
Tags:
Behind the Bar
Recent Articles

Feedback
How are we doing? Tell us what you like or don't like and how we can improve. We would love to hear your thoughts!