Happy Hour Means Sushi at Uchi Denver
Sips and Sushi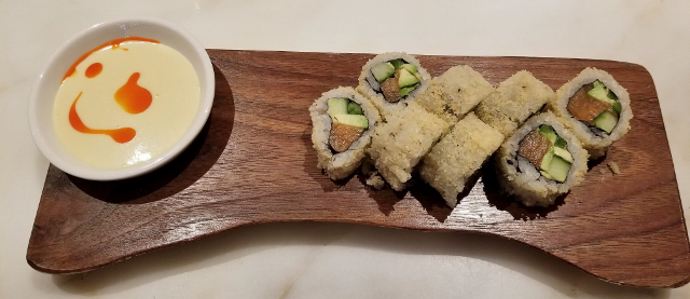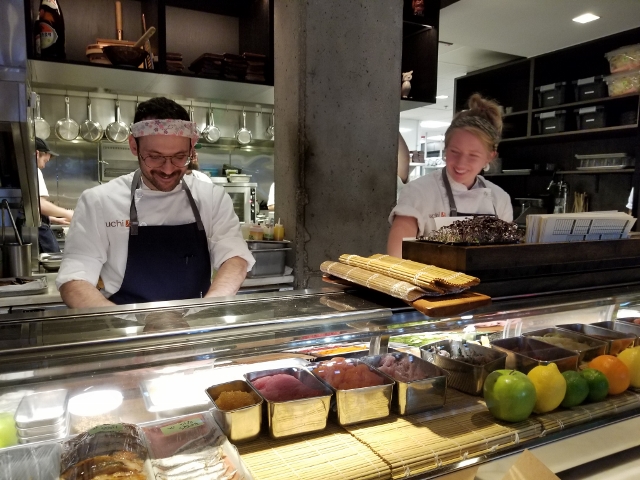 When arrived for my 5 pm reservation at Uchi in RiNo, there was already a line of patrons at the door. Considering it was a random Wednesday afternoon, the fact that this half-year-old restaurant had a line for those who didn't have reservations, is surprising and refreshing, a sign of tasty things inside. Uchi, which means house or home in Japanese, came to Denver by way of Austin, TX, and is welcome addition to our dining scene.
With my reservation, I could have had a table, but chose to sit at the bar which takes up a long subtly lit corner of the sushi kitchen. If you love sushi and enjoy engaging with those who make it, this is the way to go. Sitting at the bar gets you a personal sushi chef to walk you through the menu and dedicated drink server to handle the beverages. My drink server Val hands me a small bowl with a hot towel to wipe my hands and then gives me a small cup of Coconut and Curry Soup. Val says it is a palate cleanser, but its savory warmness is quite tasty on its own.
Happy Hour at Uchi is a great way to learn what flavors you like without digging deep into the pockets. Since I know little sushi eating etiquette, my sushi chef, Matt, helps me out by letting know what to eat with chopsticks and when using hands is ok so I don't look like a total idiot. He also says Uchi only uses the freshest foods possible and flies in seafood every day from the Fukuoka and Toyosu markets in Japan.
Matt starts me off with a tasting of Hama Chili which is Japanese yellowtail, ponzu, Thai chili and orange supreme. While spicy, the dish is also fruity sweet with the orange supreme on top. I had to look this up, but orange supreme is a way of cutting the orange to get the best, juiciest pieces. Because it's served in small strips in a bowl, the bottom pieces of fish have a chance to soak in the tangy ponzu making each bite more flavorful as you go.
I drink a malty Echigo Red Ale to start. It's a pricey Japanese import and not featured on the happy hour menu, but the roasted malt flavor pairs well with the savory and spice encountered in the sushi. If you want to keep to the happy hour menu, Kirin Ichiban lagers run $4 each.
Makimono is a form of sushi that most people recognize because of the roll of rice and fish in seaweed nori, soy paper, or shiso leaves. The roll is then cut into bite size pieces. Uchi has two makimono sushis for happy hour, Spicy Crunch Salmon and Negihama. The Spicy Crunchy Salmon is just that with a layer of tempera flakes covering the outside to give it that crunch. Inside is tasty avocado, spicy jalapeno and cooling cucumber to go with the spicy.
Nigiri sushi, Matt tells me, features two parts, cold fish and hot rice with the fish placed on top. However, I went with the Avocado, which substitutes two thick, creamy slices of avocado instead of fish on top of rice with yuzu, kosho, and tamari. These larger pieces of sushi were more difficult to grasp with the chopsticks, but totally worth the struggle.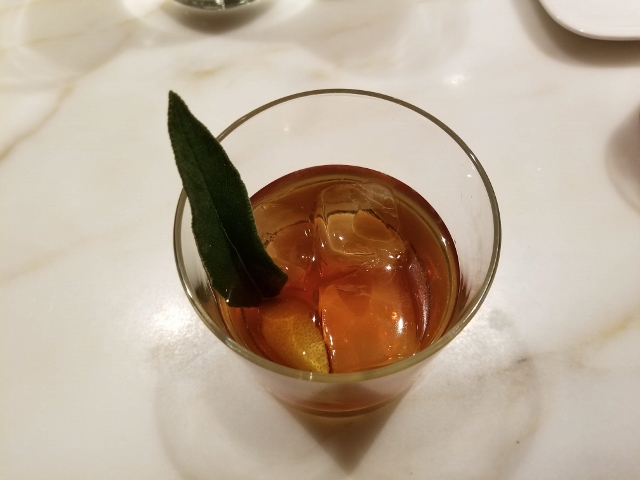 Ready for another drink, Val recommended the High Noon Old Fashioned made with High West American Prairie Bourbon, lemon, roasted barley, sage, and walnut bitters. The scent was sweet maple and nuts while the taste had a nice balance of sage and citrus up front with a smoky finish. Val says this is one of the bars most popular cocktails along with the Uchi G&T and the House of Suntory whiskey cocktail.
For something different Matt suggested the Walu Walu, which is a soup of oak-grilled escolar, ponzu, yuzu marmalade, and Myoga ginger. In case you were wondering, it comes with an Asian spoon. The white fish and marmalade made a sweet contrast to the ponzu.
Next up I requested Beer Tartare Gunkan. Wagyu beef is served on top of rice, nigiri style, with an egg yolk custard spooned on top. Not only did I taste the juxtaposition of the slightly salty beef and soft yolk, but it was most sublime to have the comforting texture of the hot rice mixed with the cool wagyu.
There is always Okashi, or "sweet snack," on the happy hour menu and I couldn't turn down Frozen Candy Bar, which was two long pieces of frozen chocolate ice cream sandwiched with peanut pretzel crunch and salted caramel held together by a crunchy outer shell of dark chocolate. I paired the dish with Gekkeikan hot sake, served in a small bottle for $4 for happy hour. The chocolate bar was as decadent as they come and the sake had the scent and taste of honey, cinnamon, and booze, which worked perfectly with the chocolate and caramel.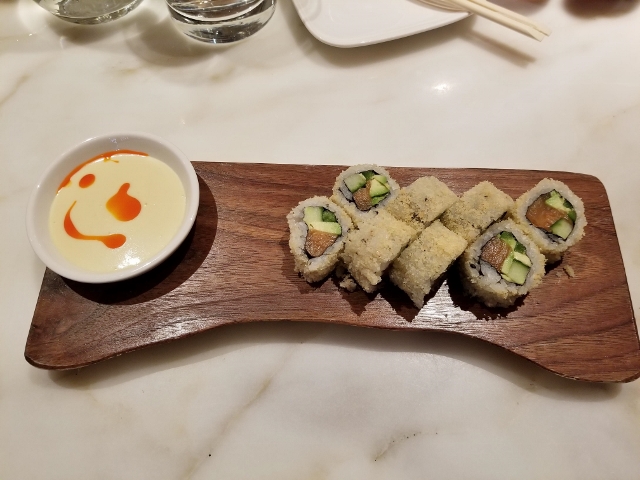 Uchi is open Sunday through Thursday from 5 to 10 PM and Friday and Saturday from 5 to 11 PM and is located at 2500 Lawrence St. Happy Hour at Uchi is daily from 5 to 6:30 PM and features a variety of sushi and small plates and a small selection of sake, beer, and wine to wash it all down.
Tags:
Happy Hour
,
Sake
,
Sushi
Recent Articles

Feedback
How are we doing? Tell us what you like or don't like and how we can improve. We would love to hear your thoughts!