Heat Things Up with these Denver Winter Warmers
Hot toddys and more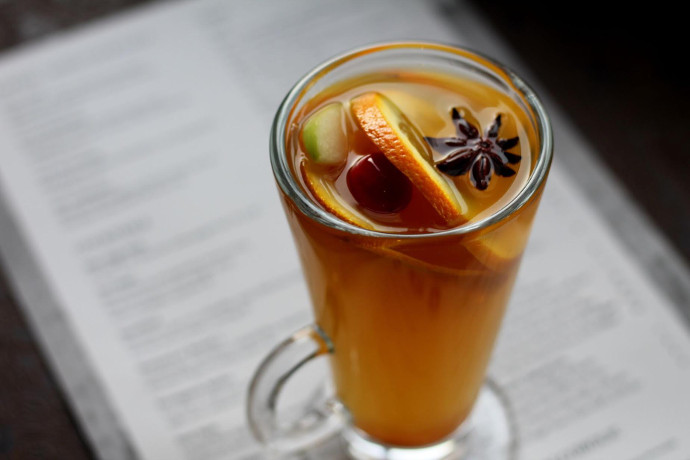 When the temperatures drop and even the dog doesn't want to go outside, what better time to stay indoors and sip a hot, delicious beverage. Those beverages taste even better when warm spirits are added. Here is a list of Denver's hottest Winter Warmers just in time for the full swing of ski season. Whether you are hitting the slopes, enjoying a night on the town, or hanging out at home, there is a Winter Warmer for you.
Chai-tro Wasted, Carbon Beverage Café
Warm up with a spiked chai this winter. Carbon Beverage Café's Chai-tro Wasted features foamy nitro chai tea with both a splash of rum and bourbon. Mixed in are vanilla simple syrup, almond milk, and a topper of Cocchi Americano. (1553 Platte St., #130; 720-428-8565)
Tanuki Sake, Ace Eat Serve
A warm cup of sake is a great way to shake the winter chill and Ace Eat Serve is featuring Tanuki, a popular Japanese brand with a cute raccoon on the packaging. This is a junmai sake brewed with select domestically-produced rice and has a dry, crisp finish. Regularly $6, you can enjoy it for $4 per glass during happy hour, which is from open until 6 PM daily. (501 E. 17th Ave.; 303-800-7705)
Classic Hot Toddy, Del Frisco's Double Eagle Steak House
When in doubt, go with a classic. This Hot Toddy is made with Makers Mark, honey, hot water, and fresh lemon for only $12. It will match any hearty meal at Del Frisco's. In the winter months when the patio isn't open, guests might want to make reservations in advance. (8100 E. Orchard Rd.; 303-976-0100)
Danger Monkey Hot Toddy, Pablo's Coffee
For those wanting to create a sweet Irish coffee at home, Pablo's Coffee offers up Danger Monkey, a unique blend of roasted beans with a balanced flavor. Combine one cup of freshly brewed Danger Monkey, one and half ounces of your favorite bourbon, one tablespoon of brown sugar, and top with heavy cream for a tasty treat at home by the fire. Find Danger Monkey at select stores around the Metro Area or order online. (7701 E. Colfax Ave.; 303-333-1917)
An Apple a Day, Flagstaff House Restaurant
Over in Boulder Flagstaff offers this hot seasonal sipper from General Manager Adam Monette. An Apple a Day is made with house-infused apple cinnamon bourbon, which the bar ages for several days, mixed with Calvados brandy, allspice, dram, fresh ginger, house-made orange simple syrup, and topped with star anise and cinnamon stick garnish. This will warm your tootsies before or after the meal, whichever you prefer. (1138 Flagstaff Rd., Boulder; 303-442-4640)
Hot Buttered Rum, Dry Land Distillers
Dry Land Distillers makes a fabulous Hot Buttered Rum in the Longmont tasting room with the distillery's own island-style Pure Cane Rum. You can also purchase a bottle and make your own at home. Mix two-thirds cup packed brown sugar, 1 stick of room temperature butter (the distillery uses European-style high butterfat butter), quarter cup honey, half teaspoon ground cinnamon, quarter teaspoon ground nutmeg, an eighth teaspoon ground cloves, and a pinch of salt in a mixer. Transfer to a 4-cup measuring cup. Add 1.5 ounces of Pure Cane Rum and two cups boiling water. Stir until butter mixture dissolves. Divide among four mugs and garnish with a cinnamon stick. The distillery tops theirs with lightly whisked heavy cream and a dusting of nutmeg for more creamy sweet goodness. (471 Main St., Longmont; 720-600-4945)
Mexican Hot Chocolate, Nomad Taqueria & Beer Garden
Over in Golden, spice up your hot chocolate with Nomad's adult version. Mexican Hot Chocolate features Ghost Tequila and Amaro Nonino liqueur with a hint of cayenne pepper. Topped with whipped cream and two cinnamon sticks this toddy will keep you warm well into April and is available for $8. (18485 W. Colfax Ave.; 303-215-0100)
House Cider, Vesta
During the dark winter months, this warm cider will break through the cold. House Cider features organic cider from Ela Family Farms in Hotchkiss, CO. Vesta than adds a proprietary mix of spices and citrus with a healthy dose of 39 North Colorado spiced whiskey. This warm sipper is $12 all winter long. (1822 Blake St.; 303-296-1970)
5 O'clock Toddy, The Corner Office
This restaurant across from the Denver Performing Arts Complex is serving up a hot toddy twist with cinnamon-infused Applejack Brandy, lemon, toasted clove, apple cider, and St. Elizabeth Allspice Dram. This concoction is normally $9, but any day the temperature dips below 20 degree Fahrenheit or it is snowing outside, guests can enjoy it for only $3. Now that's a winter deal. (1401 Curtis St.; 303-825-6500)
Winter Warmer Lager, Seedstock Brewery & Goldspot Brewing
This pleasant winter beer came about by accident. One of Goldspot's interns was supposed to add cranberries to another beer, but put them in the Winter Warmer Lager instead and the results are delicious. This beer is a gorgeous ruby red with a tart aroma and the tasting notes of rich cherry, plum, and cranberry. At 9.5% ABV, this beer will warm you up quick this winter. Enjoy at both Seedstock and Goldspot tasting rooms. (Seedstock, 3610 W. Colfax Ave.; Goldspot, 4970 Lowell Blvd.)
Nutty Irishman, Olive & Finch
This classic hot toddy evolves into nuttiness at both locations of Olive & Finch. Owner Mary Nguyen makes her toddy with fresh brewed craft coffee, a dash of hazelnut syrup, and a good measure of whiskey. Available any time so you can begin or end your day with warm deliciousness. (Cherry Creek, 3390 E. 1st Ave.; 303-955-0455: Uptown, 1552 E. 17 Ave.; 303-832-8663)
Bachelor Gulch Gluhwein, Buffalo's at The Ritz-Carlton
If you are hitting the slopes of Beaver Creek this winter, you can enjoy a mug of Bachelor Gulch Gluhwein for après ski at Buffalo's bar at The Ritz-Carlton Bachelor Gulch. This cozy cocktail features Hennessey VS, house tempranillo black grape wine, turbinado sugar, and winter spices garnished with a cinnamon stick. (0130 Daybreak Ridge, Avon; 970-748-6200)
Photo via Kari Cummings
Tags:
Cocktails
Recent Articles

Feedback
How are we doing? Tell us what you like or don't like and how we can improve. We would love to hear your thoughts!