Denver's Smok Serves Bold BBQ and Cocktails
Cocktails & 'Que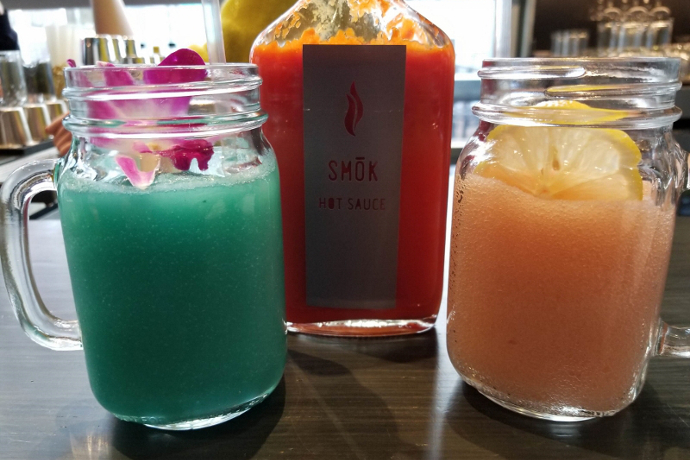 When Smōk Bar Manager Alexis Osborne creates a new cocktail, she does things differently.
"I don't start creating a cocktail by choosing the spirit first. It'll be by color or a smell. I have a drawing board in my head and I check off boxes of smells and colors."
The results of that creative thinking can be found in the both beautiful and delicious drinks found at the newly opened Smōk in The Source Hotel in RiNo. This BBQ and smoked meat joint by Chef William Espiricueta, formerly of Acorn, tugs at the saliva glands with rich, enticing slow cooked meats and vegetables, house-made sauces, and comfort side dishes. This isn't your uncle's backyard BBQ. Osborne, who Espiricueta worked with at Acorn, has a way of matching the kitchen's dishes with brightly colored and sip-able cocktails that hang with the food without over or under powering the flavor.
Something unique that Osborne serves is a series of blender cocktails she calls Frozens that stay on the menu all year long, not just the hot summer months. Osborne says that even in the chill of winter, people order them all the time.
"Here's the thing with [Frozens]," she says. "It's taking someone to a different place. Once they're sitting in here and it's warm in here and they're getting all the smells from the smoker, it gets to them. It's going to take them to a different place."
The Medieval Mastermind Frozen features Tra Kal, Aperol, Contratto Bianco Vermouth, New Belgium Dry Hopped Sour, lemon, and guava. This bright orange sunshine of a cocktail is earthy and hoppy with a hint of citrus that pairs well with the beef and pork dishes and the spicier sauces. The Cuckoo for Blue features Brugel Rum, Blue Curacao, vanilla and lime. The shocking neon color makes for a unique looking drink that will transport guests to Caribbean climates with tastes of spiced rum and hints coconut and vanilla. All Frozens are served in hearty Mason jar mugs.
For something not so chill, 'Bout Thyme cocktail is made with Skyy Vodka, Greenbar Grand Poppy Amaro, Barrows Ginger Liqueur, Winship Wormwood Bitters, blood orange, thyme, and lemon. Its soft orange color deceptively looks like a fruity juice, but has a peppery, slightly woody, scent and the taste of thyme that pairs wells with Espiricueta's Cheddar Jalapeno Cornbread.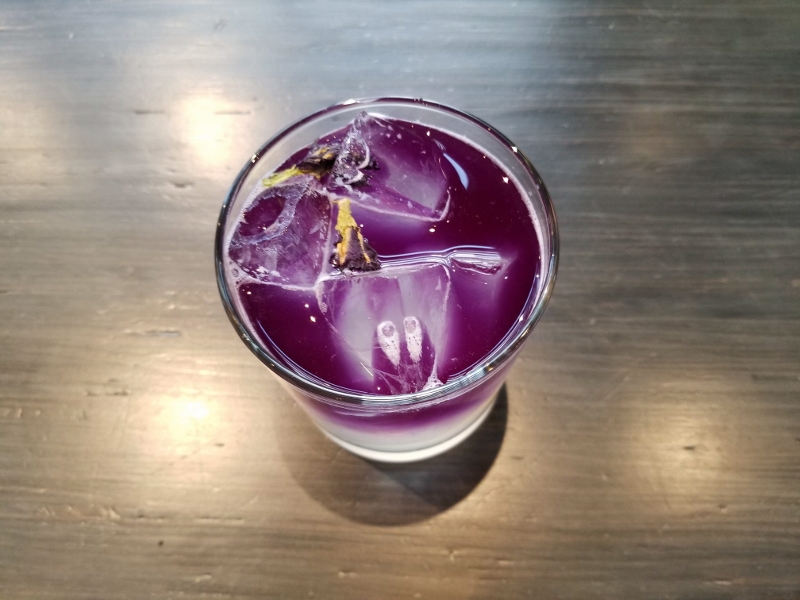 Another unique cocktail from Osborne features a unique spirit. The Kal It Magic features Tra Kal spirit from Patagonia, St. Germain, CapRock Pear Brandy, lemon, coconut water, Arbol chili, and garnished with butterfly pea flower. This gorgeous cocktail is icy grey on the bottom and electric purple on top. As you sip the mélange, it slowly changes color as the purple permeates the rest of the drink. The taste is fruity apple and tart pear with a citrus finish. Colorado is one of only a handful of states that distributes Tra Kal spirit from South America so you can sample it in this cocktail before the rest of the country will.
The Naughty & Spiced cocktail features Funky Rum, yuzu, eggwhite, lemon juice and pineapple. Served in a coupe glass, Osborne stencils the Smok logo on top of the egg foam. While on the menu for the winter season, the taste of this cocktail is tropical pineapple with a light creamy texture. Great for warming up the tastes buds for the meaty dishes to follow.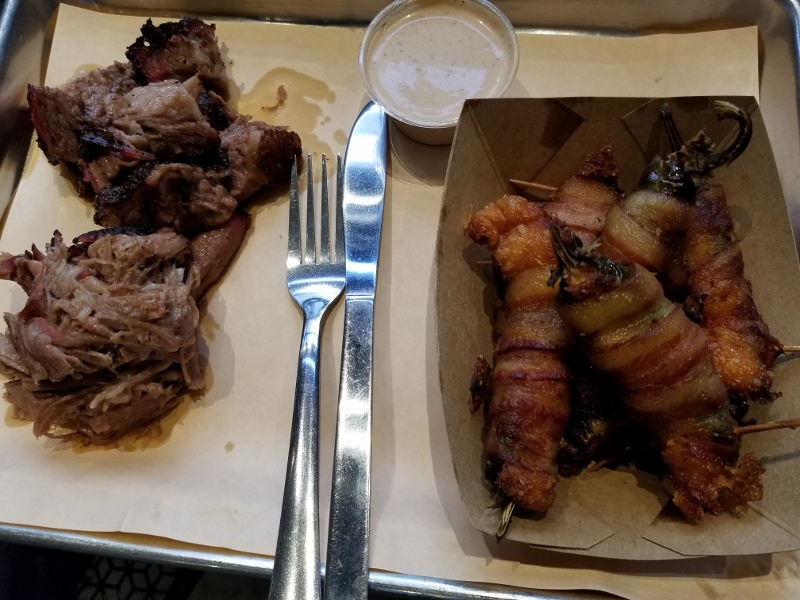 Happy Hour at Smōk is from 3-6 PM daily and features $5 small bites including decadently delicious Boudin bites made with brisket that is spiced up and fried in cornmeal. The bacon-wrapped cheese-filled Crispy Fried Jalapenos are served with ranch dressing and have just the right amount of savory and spicy kick, perfect for pairing with one of Osborne's cocktails. On the menu soon will be Totchos, nachos made with tater tots and smoke meats. Can't wait!
Open for lunch and dinner Wednesday through Sunday from 11 AM to 10 PM, Smōk is located at 3330 Brighton Blvd. and has off-street parking. Smōk is also open for breakfast from 8 to 10:30 AM.
Photos via Carrie Dow
Tags:
Cocktails
,
Spirits
Recent Articles

Feedback
How are we doing? Tell us what you like or don't like and how we can improve. We would love to hear your thoughts!