Experience Barrel Aged Beer and More at Denver's Banded Oak Brewing
From wine to beer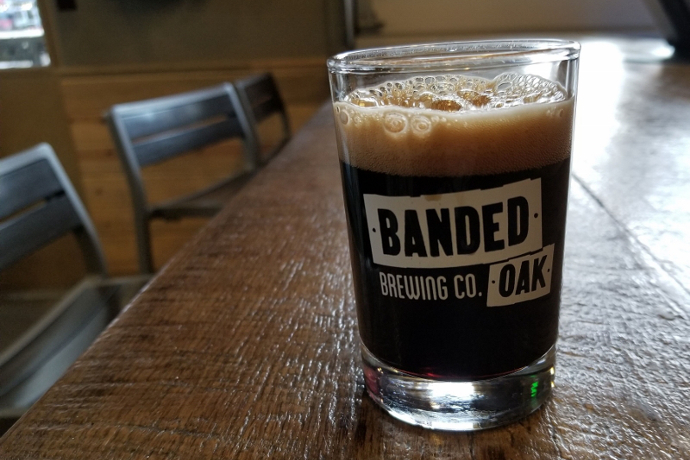 In this city full of double and triple IPAs, souped-up sours, and other trendy beers, where can you go to find new and interesting tastes? The kind of beers that will test your palate? Banded Oak Brewing on Broadway has beers for you. When he started the brewery in 2016, Founder Will Curtin had an idea for big flavorful barrel aged beers using mostly wine barrels.
"[Wine barrels] give it a really unique character. Not too many [brewers] use wine," says Chris Kirk, Banded Oak's Head Brewer. "It adds kind of a different depth and complexity to it. Since we get ours so fresh, the barrels are still wet when they get here, a lot of that character works its way into the beer."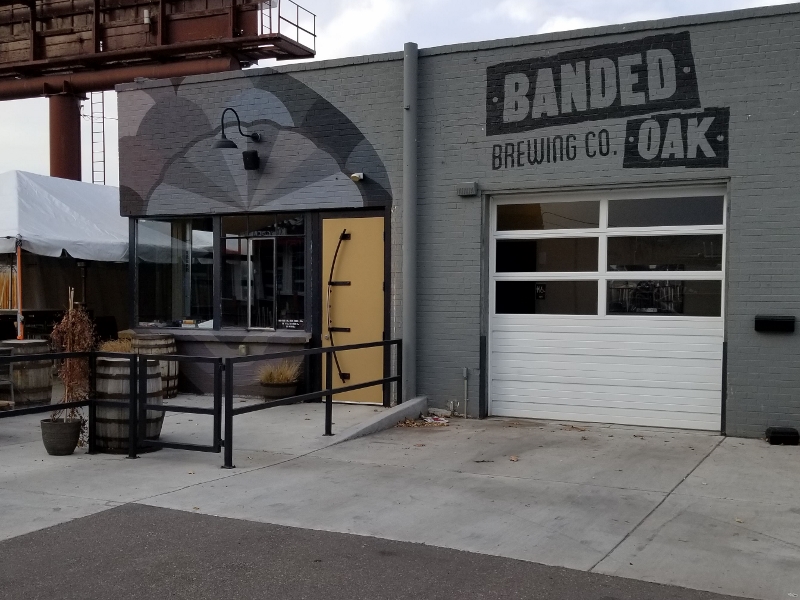 Through some family connections, Curtin procures his barrels from a vineyard in California. Curtin uses mostly pinot noir, cabernet, and sometimes syrah barrels instead of the usual spirit barrels like bourbon or rum usually associated with barrel aging beer. Why is that?
"More complexity," says Curtin. "That's what we're going for. As I've gotten older, I definitely prefer more flavor."
Barrel aged beers are not new, but they can be infrequent. That's because it can take four to 12 months before a beer rested in a barrel is ready to drink. As a new business trying to make money selling beer, it can be a lot of profit just sitting on a shelf.
"It's not the get-rich-quick way to do beer," says Curtin.
The hard part about barrel aging beer is knowing what type of beer should go into what barrel. For Curtin, Belgian beers are a better fit for his wine barrels, while stouts work better in whiskey barrels, which he gets from Mile High Spirits. Curtin has tried chardonnay barrels, but says they don't impart as much flavor as red wines do. However, he did have a mini-hit with a gose that he soured in chardonnay barrels and served at the brewery's anniversary party. The brewery is best known for its barrel aged Drunkard's Cloak because it won a gold medal at the 2018 Great American Beer Festival in the Old Ale/Strong Ale category. The brew is made from a seasonal favorite called Ye Olde Ale that uses Madagascar vanilla beans. The brewery aged it for ten months in pinot noir barrels bringing out even more of the malty, oaky goodness. The award caught everyone by surprise.
"When we released Drunkard's," says Curtin, "I loved it and we did one of the largest case runs for it, 14 cases. It was on sale for a while, but when it won GABF we had seven bottles left. People were like, 'when can we get more?' and we're like, 'you can't'!" Curtin adds they just filled several pinot noir barrels in preparation for next year's Drunkard. Kirk adds the brewery also barreled Oktoberfest and the French Lager.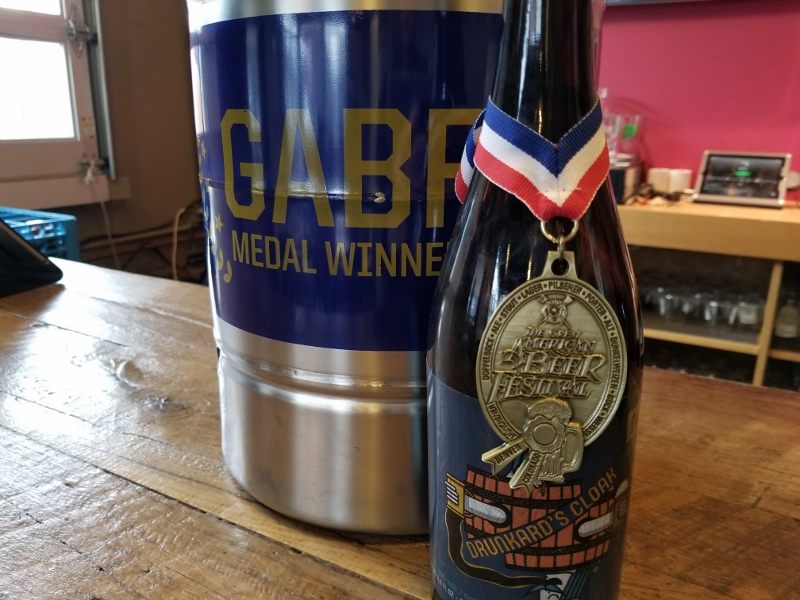 While you won't see Drunkard's for a while, the brewery still has a variety of unique aged and un-aged beers to sip. The Atomga Imperial Stout is aged in whiskey barrels. It is 10.5% ABV with a hit of whiskey up front and a soft oak finish. The brewery just tapped the cabernet-aged Belgian Dark Strong this month, which clocks in at 12.5% ABV, certain to keep drinkers warm this winter.
The brewery makes a tasty alcohol-free root beer, but not the sweet syrupy stuff your kids might enjoy. The root beer is as complex as the beers Curtin brews and perfect for adults who want flavor without the alcohol. For those who can't live without an IPA, the brewery has an American IPA, which Curtin says is a traditional two-hop style. The Crenshaw Melon IPA is made with Colorado-grown Crenshaw melons from Rocky Ford and features the melons' sweetness while still allowing the hops to show through. Curtin also has a Marzen on tap because that is one of his preferred beer styles. For a brewery known for barrel aging, guests can find a surprising amount of variety.
"Being called Banded Oak, a lot of people assume that everything is out of barrels. I love IPAs. A burger and an IPA is my flavor version of experiencing summer, but people get stuck in these styles. When people walk into the bar I'll say, 'hey man, can I talk you into something?' or 'give you some free samples?' It's nice when people are open like that."
Whether you want to broaden your beer palate or just hang out after work, Banded Oak is located at 470 Broadway in the Baker Neighborhood. Along with a small inside bar, outdoor covered patio and food trucks, there are several off-street parking spots.
Tags:
Beer
,
Wine
Recent Articles

Feedback
How are we doing? Tell us what you like or don't like and how we can improve. We would love to hear your thoughts!