Denver's Most Festive Holiday Beverages
Merry & Bright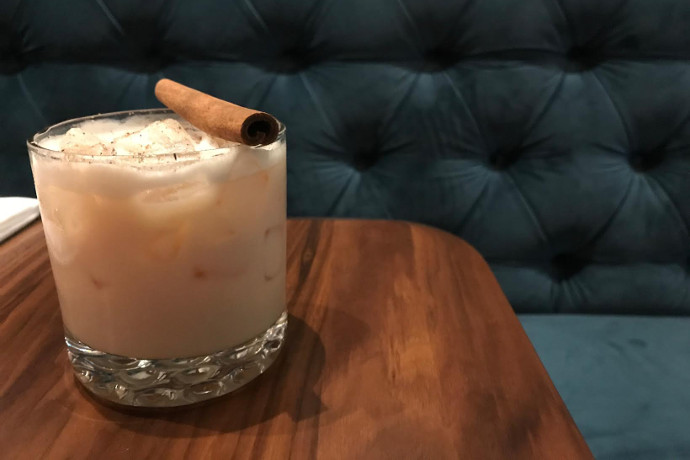 The holidays are a time for gathering with friends and family and time for celebration and reflection. The holidays are also a great time to drink! However, you can skip grandma's gooey eggnog and your uncle's watery beers for some more refined holiday beverages this year. Here are some of Denver's most amazing beers, wines, and cocktails to enjoy this December whether you're going out on the town or enjoying an evening at home. Happy holidays, Denver!
Seasons Greeting, Dead Battery Club
This delicious drink will put you in the holiday spirits with some holiday spirits. Made with candy cane vodka and Bailey's Irish cream, Lead Bartender Noah Engbrecht then spices it up with orange and cinnamon. This newly opened speakeasy is near Commons Park off of Platte St. (2420 17th St.; 303-377-2444)
Luminous Cranberry Orange Sour, Odyssey Beerwerks
Part of the brewery's Lite Brite Series, Odyssey in Arvada is introducing this taste of the holiday season in draft and cans. This classic Berlinerweisse beer has a touch of the tart with fall harvest cranberries and hint of orange. At just 4.7% ABV you can enjoy more than one glass at your next holiday party. (5535 W. 56th Ave., #107; 303-421-0772)
Salted Caramel Moroccan Coffee, Thirsty Lion
This winter warmer features 151 Rum, Kahlua, Irish cream, buttershots, caramel, coffee and a Kosher salt rim. It also goes well with the bar's new winter menu featuring Grilled Shrimp and Butternut Squash Risotto and Bing Cherry Bread Pudding. (1605 Wynkoop St.; 303-623-0316)
Holiday Who-Be, What-Ee? Denver Flea Holiday Market
Sip while you shop at Denver Flea Holiday Market at Union Station on December weekends. As you peruse the locally made crafts and foods, you can also sip on special holiday cocktails. The Holiday Who-Be features Tito's Vodka, pomegranate juice, orange juice, lime juice and vanilla syrup with spoonful of Bhakti Chai concentrate. Other iced and hot cocktails at the market are $10 each. (1701 Wynkoop St.; 303-592-6712)
Gingerbread Man, Strange Craft Beer Co.
This seasonal favorite is available once again at the brewery near Mile High Stadium. Made with wintery spices such as ginger, cinnamon, cloves and allspice, this American brown ale packs all the punch of Grandma's gingerbread cookies. Enjoy at the brewery or take a crowler home while supplies last. (1330 Zuni St., Ste. M; 720-985-2337)
Peach Bellini 4-pack, Infinite Monkey Theorem
'Tis the season! Bring home a 4-pack of your favorite cocktail in cans with Peach Bellini from Infinite Monkey Theorem in Denver made with Palisade peaches. Only $15 for four 250mL cans and they 'can' be found in liquor stores all over the Front Range. (3200 Larimer St.; 303-736-8376)
Steamboat Sipper, Pablo's Coffee
This is a cocktail you can make at home with Pablo's Coffee's Crawdaddy Labrew's Chicory Coffee Blend now available at all three Pablo's locations. In a Collins glass, add 5 ounces Crawdaddy's Cold Brew (recipe to follow) over crushed ice, 1 ounce sweetened condensed milk, 1.5 ounces of your favorite bourbon and a dash of orange bitters. To make the cold brew, put one third pound of Chicory Coffee inside a double layered cheesecloth that is tied off so no grinds can escape. Place the bundle in a gallon jar, jug, or pitcher filled with cold water and steep for 24 hours. Can add cream and sugar, if you prefer. (Colfax and Syracuse, East Colfax location; 6th and Washington, Alamo Placita location; 13th and Pennsylvania, Capitol Hill location)
The Farolito, Carbon Beverage Café
On Christmas Eve in Sante Fe, New Mexico, the streets are line with paper bags filled with sand and candles that light the way for Santa while he is on his annual journey. Bartender Daniel Martinez created The Farolito cocktail with visions of brightly lit streets in mind and the Santa Fe holidays he from his youth. Made with dark run, clove liqueur, a dash of eggnog, citric acid, and a bit of red hot simple, it's topped with Cinnamon Fire and Secret Carbon Fire Bitters. This cocktail shines with a flame garnish of torched s'more. (1553 Platte St.; 720-428-8565)
Chocolate Manhattan and S'Moretini, Chocolate Lab
Chocolate lovers, this is your bar. Chocolate Lab is a full service restaurant, cocktail bar, and dessert emporium all under one roof and chocolate is in everything, especially the cocktails. The Chocolate Manhattan is a simple, but decadent cocktail featuring Ballotin Chocolate Whiskey and sweet vermouth. Want even more chocolate-y goodness? The S'Moretini features Marshmallow Vodka, chocolate, coffee, cream and toasted marshmallow to get you through this holiday season. (2504 E. Colfax Ave.; 720-536-5037)
Santa's Naughty Helper, Max's Wine Dive
Get bubbly for the holidays with this champagne cocktail at Max's Wine Dive. Made with an aromatic aperitif wine, allspice and fresh lime, the sipper is topped with Prosecco to make you merry and bright. Enjoy now through the holiday season. (696 Sherman St.; 303-593-2554)
Photo via Dead Battery Club
Tags:
Beer
,
Cocktails
,
Holiday
Recent Articles

Feedback
How are we doing? Tell us what you like or don't like and how we can improve. We would love to hear your thoughts!