Red Spot Whiskey Has Returned after 50 Years Out of Production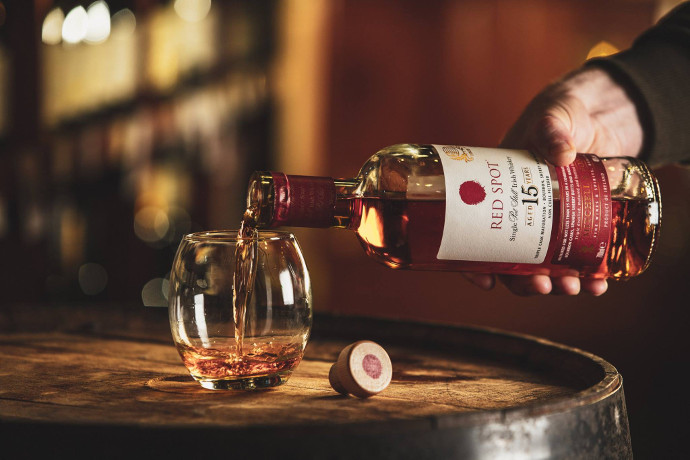 After 50 years out of production, Red Spot Whiskey has returned to join the Spot Whiskeys family once again, thanks to a few assists from other Irish distillers and producers, according to The Manual.
Joining Green Spot and Yellow Spot, which made their debuts in the past couple of decades, Red Spot was revived in a partnership between by Irish Distillers and Mitchell & Son, the latter of which is an old family name who made their way into the Irish whiskey scene in 1887. With a background as wine merchants, they were perfectly suited to age whiskeys, and rather than cut corners like many other merchants, they decided to focus on maturation. With the help of the nearby Jameson distillery, they sent their barrels there to be aged, and each age was marked with a different spot to represent how long it had been in the barrel — green for 10, yellow for 12, and 15 for red.
However, since Mitchell & Son is no longer producing whiskey, another Irish distillery stepped in to help: Midleton, which also produces Jameson. Using the original Mitchell & Son recipe, Midleton makes a triple-distilled, single-pot Irish whiskey, and then matures it in a combination of casks, which include marsala, sherry, and bourbon varieties, which ends up creating a sweet, spicy whiskey at 46% ABV.
The bottle retails for €115 in Ireland but will arrive in the United States in 2019, so unless you find yourself across the pond before then, start saving now for its January release.
Photo via Spot Whiskeys on Facebook
Recent Articles

Feedback
How are we doing? Tell us what you like or don't like and how we can improve. We would love to hear your thoughts!