Come to Call for Your Day Drinking Needs
For a good time...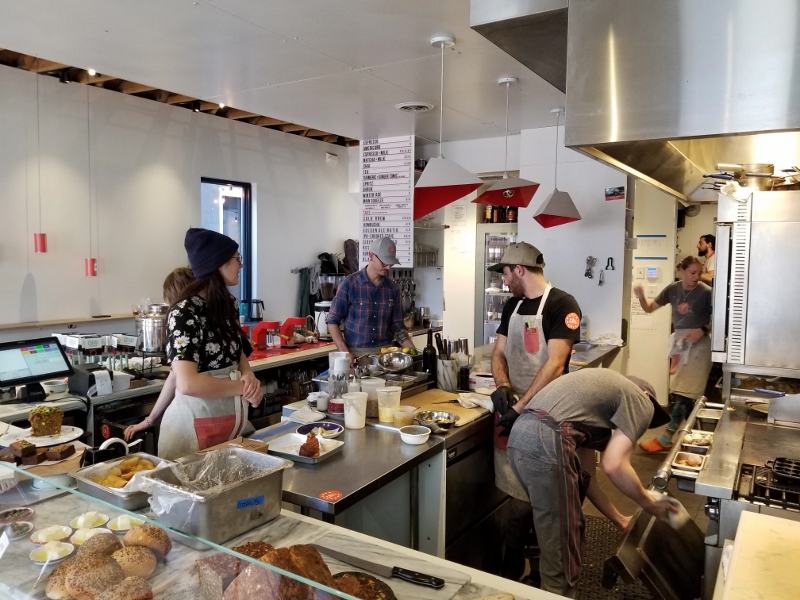 Call in the Ballpark neighborhood is getting ready to celebrate one year of filling Denver bellies with yummy baked goods, sandwiches, and salads. Call serves the kinds of healthy meals that guests can take their time and dine in or grab and go out the door with them during a busy workday. Call is only open during daytime hours, but that doesn't stop this joint from serving up some boozy concoctions that can take your day from good to great. DrinkDenver made a call on Call to try out the bar menu.
The food menu at Call is small, but mighty, and changes frequently depending on the seasonal foods available. The kitchen prides itself on using the finest of wholesome ingredients and bakes all breads and desserts in house. The restaurant is only open from 8 AM to 2 PM daily (opens at 10 AM on Sundays) and even manages to squeeze in an early happy hour. Regular menu items include the satisfyingly large Chicken Salad Sandwich on sourdough bread and on the lighter side there is the "Furi-cado," a bowl with half an avocado topped with savory Japanese furikake spices and herbs. The kitchen also serves daily tartines, slices of bread with either sweet or savory toppings. Toppings change with the harvest seasons, but there is always a taste for every palate.
What to drink with all this freshness? The sky is the limit with beers, wines, and even sakes on the menu, but the kitchen really shines with its cocktail menu by Beverage Manager Joe Buckley. Like the food, the cocktail menu changes with the seasons to emphasize the freshest ingredients available, but don't worry traditional drinkers, there are always a few staples ready for your glass, such as day drinking friendly spritzes, a fruity G&T and boozy Manhattans. Then menu is even divvied up into a section of lower ABV cocktails and the boozier gonna-need-an-afternoon-nap cocktails. The bar also serves "Share-a-Bowl" punches for two people.
Start your day off with Smoke Signals, which features a smoky Mezcal up front mixed with turmeric, ginger, lime, aperol and soda. With a Star of Anise garnish, the scent is smoky earthiness and the taste is orange aperol, citrus, which makes the perfect semi-sweet complement to the salty Furi-cado. The cocktail even looks sunny with its bright daytime orange hue in a Collins glass.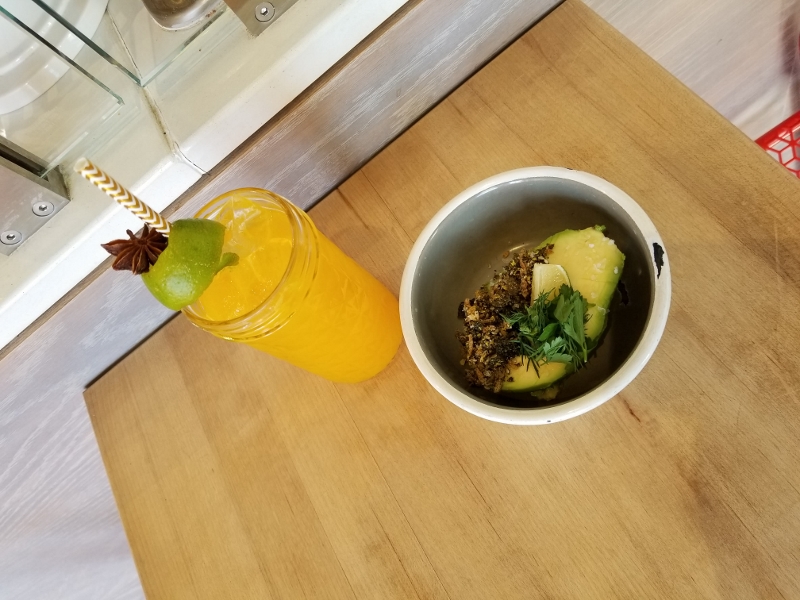 Winter Made is a new cocktail featuring locally distilled Family Jones vodka, pear, fennel, and lemon. The sip has the scents of fall with fennel and pear and a creamy mouthfeel that provides a decadence to the drinker.
On those chilly Denver days consider a warming Hot Buttered Rum, which Buckley makes his own way with a port wine for extra warmth and booziness. It also has spiced butter batter, fennel, whipped cream, and hot water with a cinnamon "C" sprinkled on top. This sipper is not overly sweet, as you would expect, but has a simple sweetness that makes it a great liquid dessert.
The Hot Buttered Rum helps to wash down the kitchen's rich, delicious dessert dish Aebleskiver, a bowl of lightly fried Danish pancake puffs with seasonal fruits and ricotta cheese. Buckley says this dish is the least efficient the kitchen could possibly make because the puff balls of dough are hand-turned with a crochet hook inside a cast iron Aebleskiver pan. The dish comes with six puffs, which is enough for two people, but you'll want to keep these little doughy pieces of goodness all to yourself.
Buckley also has cocktails on tap including the popular Black Manhattan. Made with Old Grandad, Averna and bitters, the drinks looks like a harmless Coka Cola and has a caramel sweetness that smooths out the whiskey. Buckley says it makes a great after dinner digestif.
If you prefer your afternoon buzz to come from caffeine , there are plenty of hot and cold brew coffee drinks to enjoy along with Matcha tea and non-alcoholic spritzers and shrubs.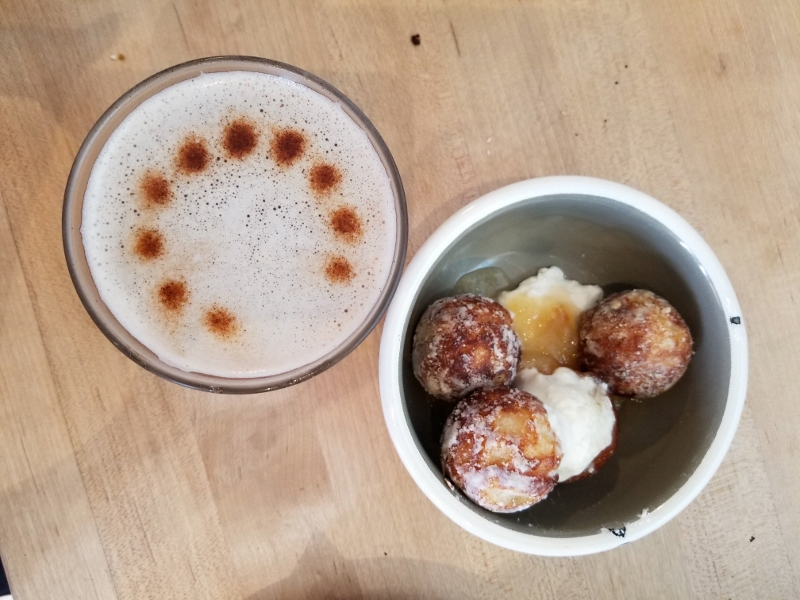 While the cocktails regularly cost $10 each, happy hour at Call runs from noon to 2 PM Monday through Saturday and features the "Good Call" cocktail (cocktail of the day) for only $6 and bottled beers for $3. The happy hour specialty is the Tap & Tasty featuring your choices of wine, Prosecco, beer, or Kombucha to drink and marinated olives, potato crisps, pickles, or spiced nuts to eat for only $6. Not a bad way to spend a day. Who are you gonna Call?
Photos via Carrie Dow
Tags:
Best Happy Hours
,
Cocktails
,
Food
,
Outdoor Seating
Recent Articles

Feedback
How are we doing? Tell us what you like or don't like and how we can improve. We would love to hear your thoughts!