Drink Locally at These Denver Distilleries
Drink at the source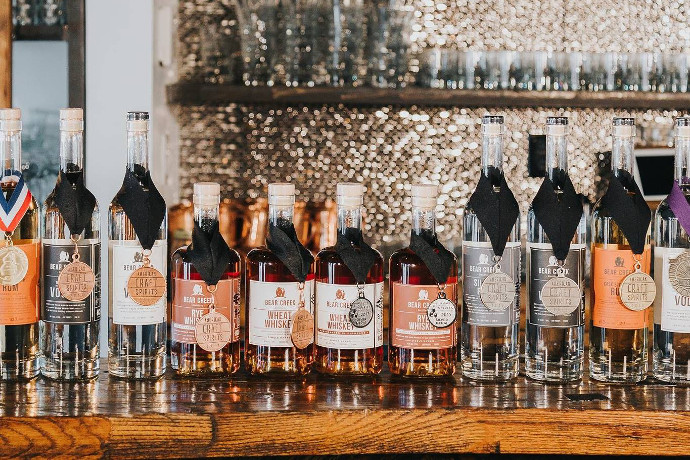 In the spirit of the traditional speakeasy, local distilleries have opened up their own cocktail tasting rooms, and Denver drinkers have taken notice. Oftentimes these usually small and sometimes out-of-the-way locales make great places to have a drink with co-workers and friends or enjoy a date night. While the digs may be small, the flavors behind the bar are well thought out and often made with local and hand crafted ingredients. This weekend you can skip the bar and head to the source. Here are some Denver area distilleries that have great tasting rooms.
Bear Creek Distillery
Don't let the location in a warehouse district fool you. Created by three guys who went to Bear Creek High School, Bear Creek Distillery is located amongst the warehouses of Overland Park, which has a few other distilleries in the area if you want to make a bar crawl out of a visit. Bear Creek produces handcrafted and unique spirits and the cocktail bar in the historic print shop building on Acoma has a seasonally changing menu with creative and delicious drinks. Food trucks are always available and the place is family-friendly and pretty lively with mid-week after work crowds. TRY – Wheated Bourbon and Wheated Vodka. (1879 S. Acoma St.; 303-955-4638)
Devil's Head Distillery
This award-winning distillery in Englewood specializes in what are normally referred to as clear spirits, gin, vodka, and aquavit, however, with barrel-aging, these spirits you would normally use as a base in cocktail take on a flavor all their own. Named for Devil's Head Mountain southwest of town, visit the tasting room to learn more about these cocktail favorites or try them in the bar's cocktails made with fresh fruit and vegetables, hand-squeezed juice and house made syrups. The tasting room also features a Bloody Mary Bar all day long on Sundays. TRY – Aquavit, which is Scandinavian for "Water of Life." (3296 S. Acoma St.; 720-668-8770)
Downslope Distilling
Over in southeast Denver, Downslope has been making award-winning spirits since 2009, one of Denver's earliest distilleries. Only open from Friday to Sunday, guests can take distillery tours or enjoy tastings and cocktails in a cozy tasting room. For large groups and tours outside of business hours, call the distillery because they are happy to accommodate. Not only can you drink fine spirits at Downslope, the distillery offers two-day distilling workshops and training courses throughout the year for those who want to take their love of spirits to the next level. TRY – Double Diamond Whiskey and Ould Tom Gin (6770 S. Dawson Cir., Ste. 400; 303-478-0228)
Laws Whiskey House
Calling itself a temple of whiskey, Laws Whiskey House does one thing. Can you guess? The distillery prides itself on making a traditional craft spirit using Colorado ingredients. Specializing in heritage whiskies that adhere to strict standards of aging, Laws' whiskies are some of the best in the country. Join a Thursday through Sunday tour for $10 and receive a $10 credit toward the purchase of whiskey or merchandise in the distillery tasting room. Reservations recommended. TRY – A.D. Laws Four Grain Bourbon. (1420 S. Acoma St.; 720-570-1420)
Leopold Bros.
Located a little northeast of downtown, Leopold Bros is a family-owned distillery with award-winning spirits. Known for its large variety of spirits, the distillery has a large and welcoming tasting room serving a seasonal cocktails. Distillery tours need to be reserved online in advance, however, the tasting room is open from Wednesday through Friday 1 to 5 PM and Saturday from 12-5 PM for those just wanting a cocktail. The tasting room is also available to rent for private events. TRY – The 5-by-5, a flight of five samples of your choosing for only $5. (5285 Joliet St.; 303-307-1515)
Mile High Spirits
This distillery in the Ballpark neighborhood is well known for its large cocktail lounge with live music and dance parties. However, the distillery specializes in small-batch spirits including bourbon, vodka, gin, rum and they even make a tequila with a partner distillery in Jalisco, Mexico. The lounge is the place to be with a weekday happy hour and parties almost every weekend. Check the lounge's music calendar to find out who's playing when. This is also the first distillery in America to produce a canned Moscow mule called Punching Mule and made with the distillery's Elevate Vodka. TRY – Cuidado Blanco Tequila made with Blue Weber Agave in Mexico and filtered in Colorado. (2201 Lawrence St.; 303-296-2226)
Rising Sun Distillery
This small distillery located in a strip mall next to I-25 specializes in locally-sourced organic ingredients. So if you like your spirits without artificial additives or pesticides, this is the place. The distillery makes vodka, gin, brandy, liqueurs, and whiskey and you can sample them individually or try them in the tasting room's cocktails. The distillery just released a rye whiskey and there is a barrel club program is you want to try your hand at aging. TRY – Lavender Hibiscus Liqueur or Colorado Chili Liqueur. (1330 Zuni St., Unit J; 303-534-1788)
Stranahan's
Colorado's oldest modern distillery makes one spirit, Stranahan's Colorado Whiskey, a single malt whiskey that has been made the same way since the distillery opened in 2004. The distillery is also word-of-mouth famous for its rare blended releases including Diamond Peak, Sherry Cask, and the annual Snowflake that people from all over the world camp outside in the cold temperatures of December for the chance to purchase a bottle or two. The tasting room at Stranahan's is open Thursday through Monday from noon to 9 PM and offers craft cocktails and food trucks for the hungry. TRY – Sherry Cask, the newest release that was aged in Oloroso Sherry Barrels from Spain. (200 S. Kalamath St.; 303-296-7440)
GOLDEN
Golden Moon Speakeasy
This classic, dark speakeasy in downtown Golden is an extension of the distillery serving Golden Moon products in creative and classic cocktails. This is the perfect place for a date night by enjoying pre-prohibition style punches and drinks with live music while snacking on small bites, charcuterie, and desserts. The distillery concentrates mostly on Old World liqueurs and gins, perfect for mixing and cocktails. However, the adventurous drinker might try them neat to get the full flavor experience of these herb and botanical spirits. Open at 4 PM daily. TRY – Redux Absinthe in a classic French drip fountain. (1111 Miner's Alley; 720-638-1155)
State 38
This boutique distillery focuses on agave based spirits and has a friendly tasting room with free tours. The company uses only Fair Trade, Colorado Department of Agriculture Certified 100% Organic raw blue agave in five agave spirits. The distillery also makes small-batch bourbon and Scottish peat smoked whisky. The tasting room is open Tuesday through Saturday from 4-6 PM and serves up cocktails featuring these unique spirits. TRY – The Pious Queen agave vodka. (400 Corporate Cir.; 720-242-7219)
BOULDER
Deviant Spirits
Deviant Spirits in Boulder creates rice-based vodkas, gins, and liqueurs. If that's not deviant, we don't know what is. Using American-grown rice and Rocky Mountain spring water, these rice-based spirits are distilled 13 times to offer something not found in other area distilleries. Check them out for yourself Wednesday through Saturday from 4-10 PM and happy hour is from 4-6 PM featuring $2 off select cocktails. TRY – DV8 Vodka and DV8 Gin. (2480 49th St., Unit E, 719-440-4477)
Vapor Distillery
The distillery formerly known as Roundhouse still makes great tasting, award-winning spirits with Rocky Mountain glacier water from Arapaho Glacier. The company makes traditional spirits such as Boulder Bourbon and Boulder Vodka, but also some creative spirits such as Boulder Ginskey, what the distillery calls a Botanical Bourbon, barrel-aged for over two years. The Vapor Distillery Bar is open Tuesday through Sunday until 9 PM for sampling spirits and cocktails. The bar is also available for private events. TRY – Pumpkin King, a cordial made from organic Baby Bear Pie pumpkins grown just five miles away from the distillery. (5311 Western Ave., #180; 303-997-6134)
Photo via Bear Creek Distillery on Facebook
Tags:
Cocktails
,
Distilleries
,
Spirits
Recent Articles

Feedback
How are we doing? Tell us what you like or don't like and how we can improve. We would love to hear your thoughts!