Denver's Best Sports Bars
Where the food and drink equal the action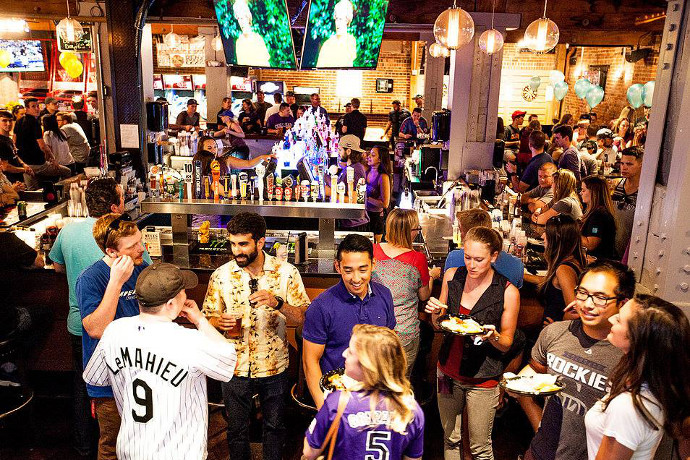 Fall is the best time of year for sports fans. Baseball is getting ready for the World Series and NFL football is in mid-season form. Basketball and hockey are gearing up to start. Denver is a sports town and we have plenty of teams to root for and no better place to watch those teams than at a classic sports bar with a group of friends. Whether it's college or professional, Denver is loaded with places that show a variety of sports and teams, even teams from far away. Did we miss your favorite neighborhood sports bar? Let us know. Go Team!
Blake Street Tavern
Consistently voted as Denver's Best Sport Bar for over 15 years, Blake Street Tavern is located a half block from Coors Field. Even though the Rockies' season is over, Blake Street is still the place for college and pro football and NBA and NHL action. With over 18,000 square feet and three bars to order from, there is always room for your sports crew. The bar has weekend drink specials that run all day no matter the sport. There is even a 20% military discount with valid ID. Blake Street is also home to these college alumni groups: Arizona State, Creighton, Indiana, Michigan State, Northwestern, Notre Dame, Syracuse, Central Florida, Colorado, Southern California, and Wichita State. And careful Broncos fans, this bar is also home to Patriots, Redskins, and Seahawks fans. (2301 Blake St.; 303-675-0505)
Cap City Tavern
Located in Denver's Museum District, Cap City has a full schedule of college and pro football games every weekend displayed on 18 HDTVs. This family-run tavern covers all sports from the Super Bowl to the World Cup so you know your favorite sport is shown here. However, warning to Broncos fans, Cap City is home to the Minnesota Vikings watch parties every weekend and guests have to make reservations to get a table during those games. (1247 Bannock St.; 720-931-8888)
Chopper's
This historic sports grille is named after Robert "Chopper" Traviglini who was the trainer of the Denver Nuggets. During his tenure, his swagger and style, along with a big heart, made him a Denver favorite and before he passed away in 1999, he and some friends opened Chopper's Sports Grill in Cherry Creek in 1995. With over 30 TVs including a 165-inch HD video wall, no game is left un-shown. The bar prominently features Colorado beers and the kitchen serves up classic pub food in large portions. Chopper's is also the game day headquarters for Texas Longhorns and Baltimore Ravens. (80 S. Madison St.; 303-399-4448)
Milo's Sports Tavern
So if you call yourself a sports tavern, you must show a lot of sports. Milo's in east Denver does just that in a classic style with lots of TVs and tacos, burgers and wings to chow down on. The bar even has some classic arcade video games to play in between matches. (6495 E. Evans Ave.; 303-691-3391)
Ogden Street South Sports Bar
Located on the corner of Bayaud and Ogden, this place has 20 HDTVs to keep you involved in every game happening every weekend. The bar also has a pool room and outdoor patio in case you need a break from all that action. They have BBQ Night every Monday and brunch specials both Saturday and Sunday. (103 S. Ogden St.; 303-722-0592)
Reivers Bar & Grill
Over in Wash Park on South Gaylord Street, Reivers has been serving food, drinks and sports since 1977. This neighborhood bar and grill supports all the home town teams and when the weather cooperates, the patio is open. Reivers also has one of Denver's longest happy hours running from 2 to 6 PM Monday through Friday. (1085 S. Gaylord St.; 303-733-8856)
Society Sports and Spirits
Hurray sports! That is what guests will find at Society. Enjoy your favorite college and NFL team. The restaurant also has private booths that allow groups to have sound for the games they are watching, up to seven at the same time. There are gameday giveaways and a tailgate atmosphere at Society. The bar is also home to alumni from Texas, Iowa State, and Arkansas and Houston as well as becoming the local Pittsburgh Steelers bar on Sundays and home to both the Houston Rockets of the NBA and Houston Astros of the MLB. However, the bar promises to always have the sound up for our hometown Denver teams. (1434 Blake St.; 720-465-9830)
Sports Column
Located in LoDo near Coors Field, this historic sports bar has been serving customers for over 23 years. There are a number of HDTV screens showing a variety of sports including NFL, NBA, NHL, MLB, UFC, MLS, college football, and more. Patrons can also enjoy lots of food and drink specials daily. With a large rooftop patio and huge indoor bar there is something for every fan here. (1930 Blake St.; 303-296-1930)
The Stadium Inn
Broncos fans unite! This old school college bar features our beloved Broncos every Sunday and other sporting events all week long. Open for over 33 years this classic brick building bar was originally named for where the now defunct Denver University football program used to play. Located in the DU neighborhood fans will find daily drink specials ($2 Evan Williams all day, every day!) and an eclectic crowd of students, barflies, university faculty, and neighborhood families watching their favorite sports teams. (1701 E. Evans Ave.; 303-733-4031)
Stoney's Bar & Grill
Stoney's is home to football, soccer, basketball, X Games and so much more. There are 31 HDTVs and two 120-inch projection screen showcasing the most popular games of the week. There is even a calendar on the bar's website. Click on a day and it will show every televised sporting event in the world happening on that day including sports such as Cricket, NASCAR, PGA and La Liga. Stoney's is also home to alumni groups from Louisiana State, Butler, Kansas, and Oklahoma. (1111 Lincoln St.; 303-830-6839)
Swanky's
Not sure how this happened, but Swanky's is a taste of Wisconsin in Denver. Featuring sausages and cheese curds prominently on the menu this is Denver's place for Rockies, Nuggets and Avalanche pre-game specials starting two hours prior to game time with discounted drinks and 2-for-1 apps. This is also Denver's best-known Green Bay Packers, Milwaukie Bucks, and Wisconsin Badgers bar. Enter at your own risk. (1938 Blake St.; 303-297-2399)
Tavern Downtown
With a location one block from Coors Field, the Tavern is all about sports. With multiple HDTVs and an 11,000 square-foot rooftop patio, the bar offers lots of food and drink specials all year long while you watch your favorite team. Tavern Downtown is also home to alumni groups from Baylor, Miami, Clemson, Tennessee, Colorado, and TCU and NFL teams NY Giants and SF 49ers. (1949 Market St.; 303-299-0100)
Thirsty Lion Gastropub
Consider this Denver's upscale version of a sport bars. With multiple HDTVs throughout the facility, Thirst Lion features an extensive beer, wine, and cocktail list for the discerning drinker. The Union Station location is centrally located four blocks from both Pepsi Center to the west and Coors Field to the east. Saturdays and Sundays feature a gameday brunch with $1 off featured beers and $5 Bloody Marys and Mimosas. (1605 Wynkoop St.; 303-623-0316)
Three Lions Pub
Sometimes when we say football, we mean fútball. If the beautiful game is what you watch, you can watch it at Three Lions Pub on East Colfax. You will also find a proper pint and British comfort food. This place opens on weekends at the early hour of 7 AM to take in European soccer leagues and there is a football happy hour from 7 to 11 AM with $4.50 Bloody Marys and $4.75 Mimosas. The bar does allow patrons to request any sporting event because they have enough TVs to showcase a variety of sports. (2239 E. Colfax Ave.; 303-997-6886)
Photo via Blake Street Tavern on Facebook
Tags:
Beer
,
Food
,
Outdoor Seating
,
Sports
Recent Articles

Feedback
How are we doing? Tell us what you like or don't like and how we can improve. We would love to hear your thoughts!