Denver's Most Instagrammable Drinks
Pretty Drinks
by
Carrie Dow
on Aug 21, 2018 in
Roundups
for
Adrift Tiki Bar
,
Low Country Kitchen
,
Marcella's
,
Ocean Prime
,
Punch Bowl Social Food & Drink
,
Punch Bowl Social Stapleton
,
Steuben's Uptown
,
Tupelo Honey
,
Vesta
,
ViewHouse - Littleton
,
ViewHouse Eatery, Bar & Rooftop - Ballpark
,
ViewHouse Eatery, Bar & Rooftop - Centennial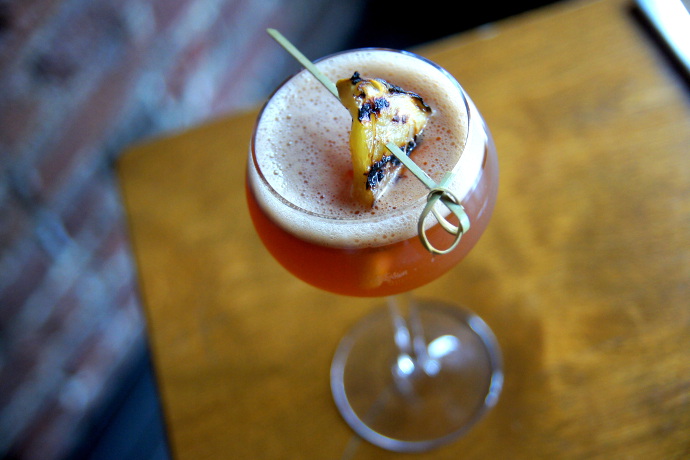 Not only do we like our drinks to taste delicious, but they need to look good too. In this age of Instagram, Denver is off the charts with attractive, photographic drinks. Where to find these beauties? DrinkDenver, of course! Have a cocktail we missed? Share it with us. We'd love to see your pretty drinks, Denver. Hit us up @ #drinkdenver.
B.B. Alexander, Punch Bowl Social
This adult milkshake looks dreamy and delicious. Made with muddled banana, banana-infused brandy and topped with crunchy banana chips, this salted caramel and vanilla milk shake tastes as indulgent as it looks. (South Broadway and Stapleton locations)
Berries and Bubbles, Ocean Prime
One of the bar's most popular and beautiful cocktails, Berries and Bubbles features Belvedere Citrus Vodka, marinated berries, and house-made sour topped with Domaine Chandon Brut and - the visual part - dry ice smoke. Available all year around, this bubbly cocktail is perfect for an Instagram video story. (1465 Larimer St.; 303-825-3663)
Build-your-own Gin & Tonic, Steuben's Uptown
Get creative and build your own beautiful cocktail with this G&T kit featuring Leopold's Summer Gin and Fever Tree Tonic poured in the bar's gorgeous glassware. Then when you post your photo, you can brag you made it yourself. Available at the Uptown location only. (523 E. 17th Ave.; 303-830-1001)
Cherry Bomb Frosé, Tupelo Honey
With this pretty in pink frozen cocktail, you can't take a bad Insta photo if you tried. Made with rosé, Leopold's Cherry Liqueur, lime, mint, and cherry served frozen is a unique way to drink rose. Take those photos quick before it melts. (1650 Wewatta St.; 720-274-0650)
Fortune Cookie Mai Tai, Big Trouble
Change your Instagram fortune at this new bar in Zeppelin Station with a fancy drink made with Fancy Rum, sesame, Curacao, vanilla, and garnished with a colorful fortune cookie. The Lucky Cat ceramic is cute too and will definitely appeal to the cat followers on your feed. (3501 Wazee St.)
Grapefruit Basil Fizz, Marcella's
This frothy, fruity drink not only tastes great, but that cute little clothes pin holding the Italian basil garnish will take your Insta photos to a new level. Made with Finlandia Grapefruit Vodka, Italian basil and hand-squeezed lemon, this cool and refreshing drink will satisfy your eyes and taste buds. (1801 Central St.; 720-484-5484)
Loaded Root Beer Float, ViewHouse
Set your Insta on overload with this over-the-top adult root beer float at ViewHouse. Featuring two large scoops of ice cream, caramel candy root beer, Lucky Charms, tiny marshmallows, and a drizzle of dark chocolate, this is already a fantastic photo op. Add a strip of maple and black pepper bacon to the top and your Instagram followers will swoon. (Three locations: Downtown, Centennial, Littleton)
Pickled Whiskey Sour, LOW Country Kitchen
How about a smoky and savory cocktail for spicing up your Instagram feed? This pickled sour has Wild Turkey 101 Rye, lemon, thyme syrup, and bread and butter pickle brine. Add a spicy, salty rim with a pickle and thyme garnish and your Instagram followers will be briny with envy. (1575 Boulder St. A, 720-512-4168)
Mama Tiger, Vesta
Make your Instagram followers jealous with this good looking drink from Vesta. It features Plantation 5-year rum, Oblong tea, passion fruit syrup, Amaro Sfumato, smoked rubarb, Amaro di Angostur and that gorgeous grilled pineapple garnish. (1822 Blake St.; 303-296-1970)
Tiki Cocktails, Adrift Tiki Bar
If you want to see Denver's prettiest drinks online, look no further than Adrift Tiki Bar's Instagram account. Almost every single cocktail they serve is gorgeous because of the tropical flower garnishes and Tiki glasses in every color of the rainbow. Head over to this South Broadway bar, order any drink, and post your own envy-inducing photos. (218 S. Broadway; 303-778-8454)
Photo via Vesta
Tags:
Cocktails
Recent Articles

Feedback
How are we doing? Tell us what you like or don't like and how we can improve. We would love to hear your thoughts!