Denver's Best Whiskey Bars
Where to drink whiskey and rye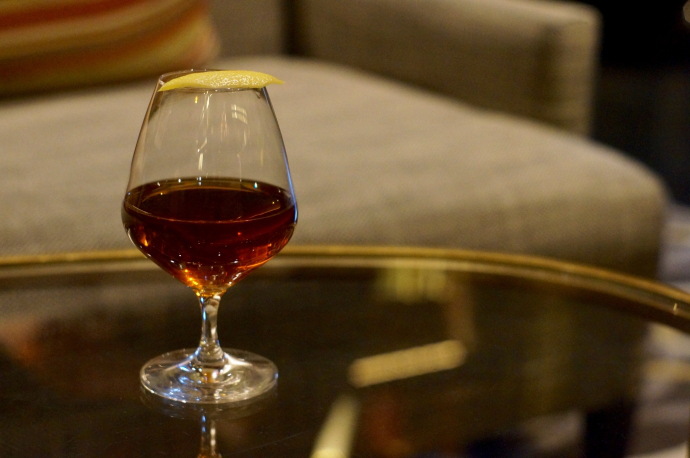 This town is flowing with dark spirits. Whiskey, bourbon, rye, whatever you prefer, Denver not only serves it and loves it, we make it too. If you need a place to share your love of whiskey spirits, here are some places where you can find home grown and around the world whiskeys to enjoy.
Churchill Bar
This classic hotel bar inside The Brown Palace Hotel has served dignitaries from all over the world with its extensive list of single-malt scotches, small-batch bourbons, and other specials spirits. There is even a collection of 'rare and interesting' spirits, ports, and fine wines that if you have to ask, you can't afford. The bar also has a customized humidor with a selection of 60 cigars. (321 17th St.; 303-297-3111)
Hearth & Dram
This new bar in Union Station holds over 450 varieties of whiskey from around the world, staking its claim as having Denver's largest whiskey selection. We won't argue. The bar loves whiskey so much, it has whiskey on tap and a custom-made bar cart featuring reserve whiskeys that can travel to your table. (1801 Wewatta St.; 303-623-0979)
Interstate Kitchen & Bar
This delicious, but unassuming diner in the Santa Fe Arts District also has a large selection of whiskeys. Too many for us to count, but you will find bourbon, rye, and even white whiskeys. It also has a large selection of Colorado brown spirits if you want to travel the state without leaving your bar stool. (1001 Santa Fe Dr.; 720-479-8829)
Izakaya Ronin
This hidden Japanese gem in RiNo showcases not just the best in American whiskeys but the largest selection of Japanese whiskeys in Denver. The whiskeys at the restaurant bar are lovingly displayed upon the wall and used in creative craft cocktails, but there is more to this place that meets the eye. Down a staircase into the building's boiler room is a second bar featuring a traditional Japanese speakeasy with even more bottles of famous Japanese whiskeys and sakes. (3053 Brighton Blvd.; 303-953-1602)
Pints Pub
This pub near Civic Center Park has a collection of unique single malt whiskey including what are known as Lost Stills and Silent Stills bottles. Lost Stills are former distilleries that were demolished, or "lost," since 1945 and will never produce any more whiskey. However, bottles from these distilleries still exist and Pints Pub has 'em; bottles like Glen Flagler, Killylock, Ben Wyvis, and Kininivie. Pints also offers whisky from so-called Silent Stills, distilleries that still exist, but not currently producing. Look for these special bottles on Pint's whiskey menu denoted with either LS or SS. (221 West 13th Ave.; 303-534-7543)
Tap Fourteen
For those who like to drink local, both locations of Tap Fourteen have a 100% Colorado-made spirits list including whiskey from Colorado's best distillers. Distilleries include 10th Mountain, A.D. Laws, Dancing Pines, Leopold Bros., and Woody Creek. (1920 Blake St.; 303-297-8279)
Whiskey Tango Foxtrot
With whiskey in the title, you can be sure the spirit is a large part of the menu. Over 90 whiskeys, organized by place of origin, are available and there are 30 beer taps so you can sip a dram and a pint. The bar also barrel ages their whiskey cocktails. (2907 Huron St.; 303-226-1540)
Photo via The Drink Nation
Tags:
Whiskey
Recent Articles

Feedback
How are we doing? Tell us what you like or don't like and how we can improve. We would love to hear your thoughts!