Denver's Best Summer Sips
What to sip where
by
Carrie Dow
on Jun 11, 2018 in
Roundups
for
Bittersweet
,
Citizen Rail
,
Corner Office, The
,
Del Frisco's Grille
,
Fort, The
,
Low Country Kitchen
,
Marco's Coal-Fired Pizzeria - Ballpark
,
Mister Tuna
,
Ocean Prime
,
Olive and Finch
,
Parry's
,
Que Bueno Suerte!
,
range
,
Rhein Haus
,
Satchel's on 6th
,
Steuben's Uptown
,
Thirsty Lion Cherry Creek
,
Vesta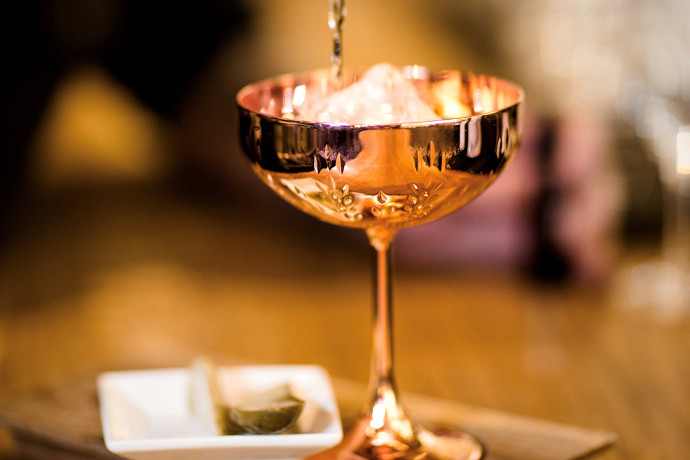 While summer officially arrives on the calendar next week, the hot temperatures say summer is here now. What better way to cool down then with a tasty and unique summer cocktail? Denver is fully of crafty bartenders making delicious drinks that go down easy on a hot summer day. Let's take advantage of that. Here is a list of tasty sips to chill you out on steamy summer days.
Alaska, The Corner Office
Heading to Alaska in the summer sounds cooling. However, if you can't swing the plane ticket, head downtown instead to enjoy The Corner Office's summer version of the Martini. Made with Plymouth Gin, Yellow Chartreuse, H&G Sherry and orange bitters, it will take you away from a hot Denver day. (1401 Curtis St.; 303-825-6500)
Baby It's Warm Outside, Mister Tuna
The folks at Mister Tuna will cool you off with this fruity cocktail made with Reyka Vodka, St. Germain, Briottet Peach Liqueur and grapefruit. (3033 Brighton Blvd.; 303-831-8862)
Beet Cosmo, Parry's Pizzeria & Bar
Parry's Beet Cosmo features Ketel One Citroen, Solerno Blood Orange Liqueur, beet juice and fresh lime. Enjoy one and then you can say you drank your veggies today. (9567 S. University Blvd.; 303-683-0600)
Cool as a Cucumber, Olive & Finch
Made with gin, fresh lime, a just-juiced cucumber and topped with soda, it's a cocktail with simple ingredients that tastes like summer itself. It's also healthy, but we won't tell. Enjoy at both locations of Olive & Finch. (1552 E. 17th Ave.; 303-832-8663)
Crimson Rye, Ocean Prime
Enjoy a sophisticated summer sip that is extra red and rosy. Crimson Rye is made with George Dickel Rye, Langley's Gin, Lillet Rose, fresh lemon, and house-made Grenadine. (1465 Larimer St.; 303-825-3663)
Death Valley, Rhein Haus
This Bavarian-inspired restaurant downtown has a unique beer cocktail for summer. Death Valley features Suerte Tequila, ginger, lime, Cassis and berlinerweisse beer. Think of it as a bit of Colorado and Germany mixed together. (1415 Market St.; 303-800-2652)
Deep South Limeade, LOW Country Kitchen
Lay low this summer with this tasty treat in the Highlands. Featuring Monopolowa Gin, lime, house made mint and thyme simple syrup and soda, this cocktail will keep you quenched on LOW's rooftop patio all summer. Bonus – this concoction is only $6 during happy hour. (1575 Boulder St.; 720-512-4168)
Ginger's Revenge, Satchel's on 6th
Get even with the heat this summer by sipping this bubbly mélange featuring vodka, ginger liquor, simple syrup, Ciociaro, and Prosecco float. (1710 E. 6th Ave.; 303-399-2560)
The Hailstorm, The Fort
According to research done by the original owner, Sam Arnold, The Fort serves what is Colorado's first cocktail. The Hailstorm was originally served at Bent's Fort in the 1830s and features bourbon or scotch, sugar and mint and has been served in a Mason jar since The Fort opened in 1963. Sam's daughter and current owner, Holly Arnold Kinney, has kept this summer blast from the past on the menu for us to enjoy today. (19192 Highway 8, 303-697-4771)
Iron Lotus, Citizen Rail
This cocktail isn't as tough as it sounds. Made with Bombay Sapphire, plum and lemongrass syrup, lime, rhubarb bitters and plum wine, this drink will go down easy after tough day at work. (1899 16th St.; 303-323-0017)
Margarita Frutero, Que Bueno Suerte!
Enjoy a spicy sweet margarita this summer. Made with Milargo Blanco, Dry Orange Curacao, lime juice, mango simple syrup and jalapeno this margarita will make you move to the mariachi band. (1518 Pearl St.; 720-642-7322)
Punch in the Mouth, Steuben's Uptown
While the name may not sound refreshing, Steuben's Punch in the Mouth features locally made Leopold Bros. Gin and Leopold Bros. Cranberry, Domaine de Canton, lime juice, sugar and mint. You can enjoy it on either one of Steuben's two patios. (523 E. 17th Ave.; 303-830-1001)
Raspberry Mint Mule-jito, Thirsty Lion Gastropub
Leave it to the creatives at Thirsty Lion to put together a Mule and Mojito combo. Made with Barcardi Rum, Malibu Rum, simple syrup, and Reed's Ginger Beer poured over muddled mint, lemon, and lime, enjoy on the patio at either location. (201 Columbine St.; 303-377-7000)
Rocky Mountain Float, range
Not only will you cool off, but you'll reminisce about summer days' past with this adult version of the root beer float. Sip on Elevate Vodka, vanilla extract, house whipped cream and root beer soda shaken and served on the rocks. (918 17th St.; 720-726-4800)
Sunset Punch, Bittersweet
This punch packs a punch with Cardamom Chile Vodka, orange, lime, Orgeat, bubbles and Angostura Bitters. Enjoy the Sunset Punch while watching the sunset from Bittersweet's patio. (500 E. Alameda Ave.; 303-942-0320)
Venetian Spritz, Marco's Coal-Fired Pizzeria
Summer is the time to enjoy that ultimate in European beachside sips, the Aperol Spritz. Marco's version features Aperol, Naonis Prosecco, and Blood Orange Pellegrino. (2129 Larimer St.; 303-296-7000)
Watermelon Frozé, Del Frisco's Grille
Take on summer with this smooth and fruity frosé served in Cherry Creek. Made with Jean-Luc Colombo Rosé, Monin Watermelon and fresh watermelon puree, this adult slushy will keep you chill while you're chilling. (100 St. Paul St., Ste. 140; 303-320-8529)
Weekend at Bernie's, Vesta
Who wouldn't want to spend a weekend at Bernie's? You can at Vesta downtown with this drink made with Plymouth Gin, Lillet Blanc, spiced Combier, lemon juice and Leopold Bros. Absinthe. (1822 Blake St.; 303-296-1970)
Photo via The Corner Office Denver on Facebook
Tags:
Cocktails
Recent Articles

Feedback
How are we doing? Tell us what you like or don't like and how we can improve. We would love to hear your thoughts!