Wynkoop Creates Unique Beer for February's Charity Tap
Colorado Haiti Project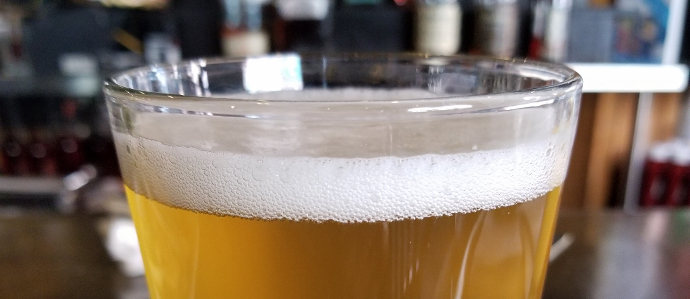 Wynkoop Brewing Company in LoDo has been offering a select beer for its monthly charity partner for a few months now. For February, Denver's original craft brewery created a unique beer just for partner charity Colorado Haiti Project. That brew is a tropical-style pale lager called Moringa Lager.
Wynkoop's Charity Tap of the Month pairs one special Colorado charity each month with an existing Wynkoop beer and $1 of every pint goes to the charity. On February 1 Wynkoop will tap a beer made by Assistant Brewer Charles McManus just for this charity.
McManus began developing this beer after his mother, a Colorado Haiti Project Board Member, introduced him to Gretchen Berggren M.D. who has been volunteering and working in Haiti for decades. McManus says when he met Berggren she gave McManus a pamphlet that described Haiti's agriculture and nutrition. McManus read that Haiti grew a lot of corn, rice and millet.
"I thought, I can actually use this stuff in beer," laughs McManus. The unique ingredient is Haitian Moringa.
The leaves of the Moringa tree contain many vitamins and minerals and are used in herbal medicine, usually as a tea. Haitians also use it in stews and other foods. The Colorado Haiti Project uses Moringa to supplement diets because of its nutritional value and is setting up Moringa farms and agricultural programs. McManus says Wynn Walent, Executive Director of the Colorado Haiti Project, procured the leaves from Haiti for the beer.
"We can make a purposeful beer that's maybe a tad healthier than normal beer," says McManus, "but also it's a style you would have if you were down there, like a Red Strip or the Haitian beer is called Prestige. Pale lagers for a beach setting."
McManus brewed the leaves into a tea adding a gallon and half of tea to the brew tank. McManus also used toasted rice and flaked maize to give the beer an earthiness along with its tropical citrusy flavor that will transport you to the coastal shores of Haiti's Petit Trou in one sip. At only 4.7% ABV and 10 IBU, this beer will be a refreshing addition to February's chilly days.
The Colorado Haiti Project has been working with community leaders in the Haiti for over 28 years supporting education, health, water, agriculture and women's rights.
You can try this beer for yourself at a special tasting at 10 AM Saturday, February 3, at the brewpub before it opens to the public. This free event includes samples of Moringa Lager and small bites from the kitchen. While the event is free to attend, guests should register in advance on Wynkoop's Facebook page. Those who RSVP will receive a free pint card.
Tags:
Beer
,
Charity
Recent Articles

Feedback
How are we doing? Tell us what you like or don't like and how we can improve. We would love to hear your thoughts!