Upgrade Your Drinking Experience at Bar Helix
Negroni love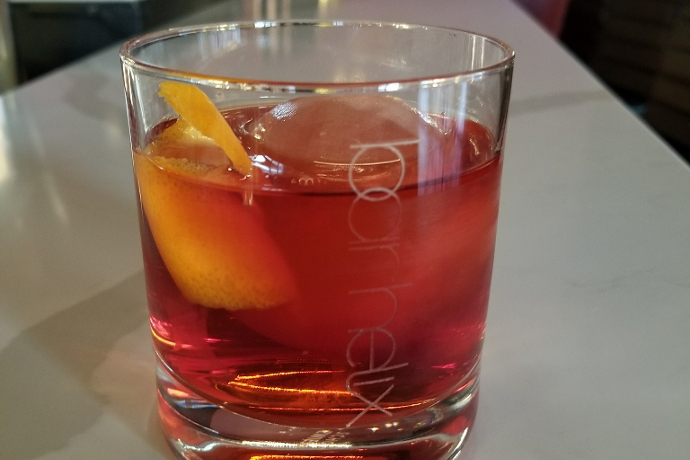 Denver's "Swirl Girl" Kendra Anderson just launched her first bar and lounge and Denver imbibers are taking notice. Bar Helix opened in October with a focus on killer cocktails, fine wines and unique small plates. While Anderson, a sommelier and wine consultant, loves wines, she wanted her place to be more than just a "wine bar."
"I purposely designed a bar that would be equally dedicated to spirits, apertifs, vermouth, beer, whatever, and not just wine. Anyone who came in would find something they loved," she says. Anderson describes the menu as elevated bar food and she believes in an interactive experience where guests can see the food and drinks being made and be a part of the action.
Around the corner from the bar and past the tiny open kitchen is an intimate space with high top tables and a quiet lounge area with soft seating and slightly dimmer lighting than the window-filled front bar. Anderson says she was inspired by 1970s lounges and wanted to create a space where people who may not know each other can get to know everyone.
The bar menu has several versions of the Negroni. The Negroni is Anderson's favorite cocktail and she compares it to her love of wine.
"A negroni can have as many as two grape distillates as their components," she explains. "The only thing that wouldn't be is gin. Vermouth is essentially wine, or starts out as wine. And then the amaro or bitter apertivo that go into a negroni can also be made from grapes. So I'm blurring the lines there."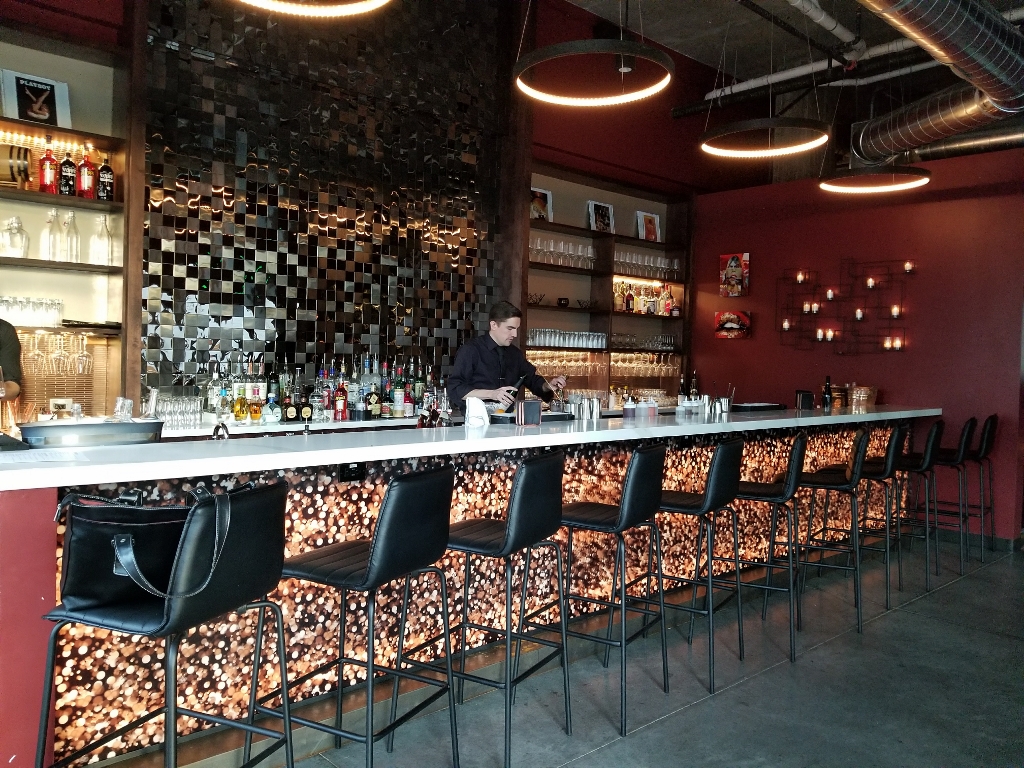 The Bar Helix Negroni is made with Barr Hill Old Tom Gin, Montanaro 6 PM Aperitivo, Carpano Antica Formula vermouth and has a sweet scent. After hearing Anderson talk about the similarities of wine and vermouth, you can taste the sweet grapes of the vermouth in this smooth and rich cocktail.
Again capitalizing on the use of grapes, Anderson uses Campari, sparkling wine and Casa Mariol Vermut Negre in the Brokedown Palace Negroni. Blurring those lines between wine and cocktail, Casa Mariol is a dark vermouth made by Spanish wine producers. This amber jewel-toned cocktail is also very smooth with a hint of citrus and grapes.
Safe Word is a tequila cocktail made with Espolon Blanco Tequila, Bruto Americano and Cointreau. Bruto is a bitter aperitivo made in California. With its pink color and grapefruit rose peel garnish, the scent is delicate grapefruit and citrus. However, the taste is bold, botanical and bitter. Quite a contrast.
The wine room next to the bar can hold over 450 bottles of wine and since Anderson knows her way around the bottle, they are guaranteed to be fabulous. Something local beer connoisseurs might notice is that there are no Colorado beers on menu. Anderson did that on purpose for two reasons. She has many brewer friends around Denver and didn't want to choose one brewery over another. Also, since Denver is overrun with traditional tap houses she assumes the discerning beer drinker has already had those local favorites and wants to sample other beers from around the country and the world.
The food menu is titled Collation and the definition of the word is printed at the top; Noun, a light, informal meal [preferably consisting of sensual bites]. The food is an eclectic mix of past and present and all of it refined.
The Chips and Dip is a plate of Ruffles potato chips with a paté of house smoked salmon topped with caviar. It's decadent and whimsical all at the same time. Anderson says that if you order the full caviar service guests will get Pringles chips and tater tots.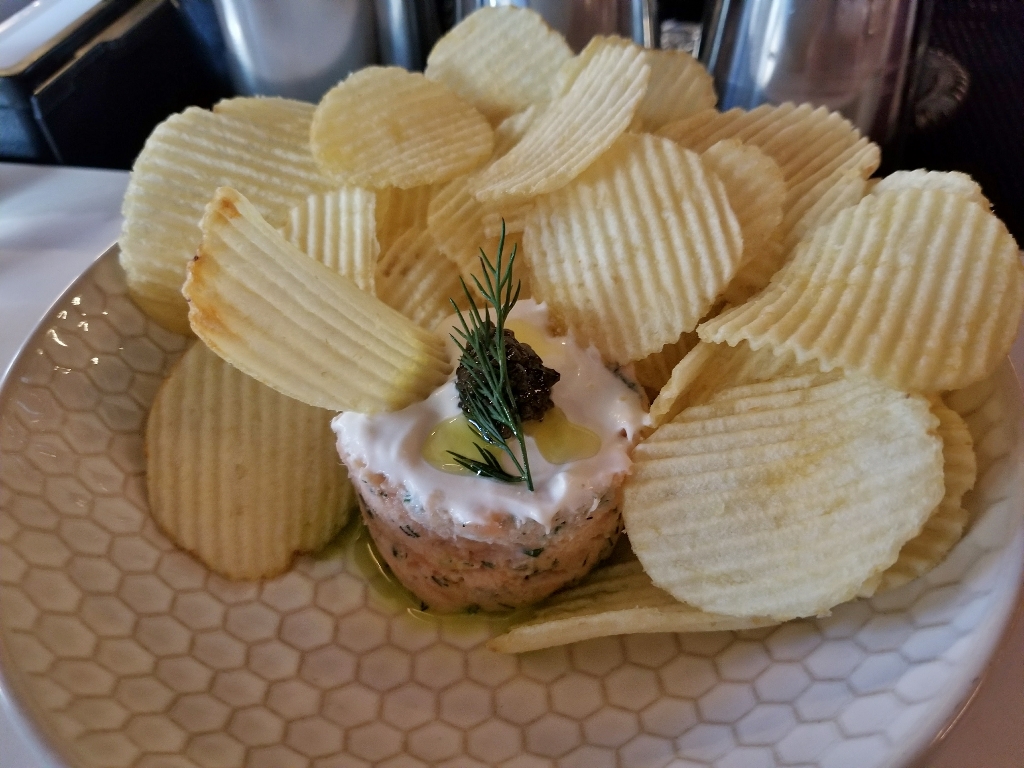 Pop that P****, features pickled pipparas peppers with a panko crust and house-made pimento cheese. Try saying that three times fast. The peppers are spicy without the burn and have a nice crunch to go with whatever you are sipping.
"big mac* pierogies" are a throwback to Anderson's childhood love of a certain hamburger. Featuring a tangy house-made "special sauce," these ground ribeye pierogies come on a bed of lettuce and the perogi dough is dotted with sesame seeds. Get three for $12.
Bar Helix hits all types when it comes to drinking; spirits, wines, cocktails and beers. For those wanting a quick before or after drink while painting the town or for those who would rather lounge the night away while treating themselves to something unique, Bar Helix is a place that defies Denver bar convention. Bar Helix is located at 3440 Larimer St in RiNo.
Photos by Carrie Dow
Tags:
Beer
,
Cocktails
,
Food
,
Wine
Recent Articles

Feedback
How are we doing? Tell us what you like or don't like and how we can improve. We would love to hear your thoughts!