Marcella's Brings an Italian Happy Hour to Denver
Salute!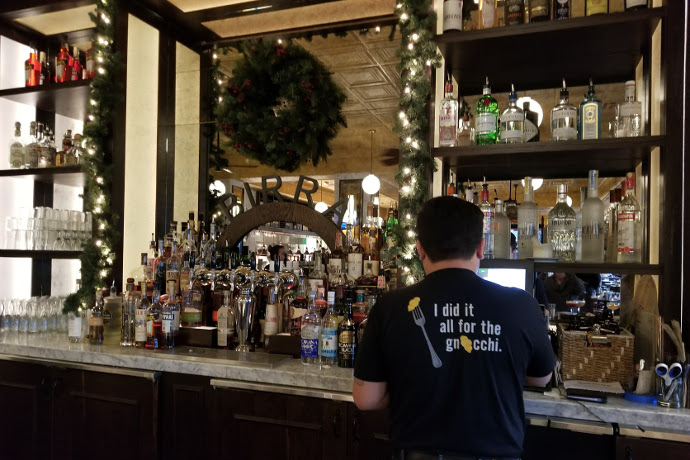 Marcella's in the Highlands brings a happy hour as big as an Italian grandmother's kitchen into Denver. It's the happy hour you didn't know you needed.
Originally started in Columbus, OH, Marcella's was founded by Ohio restauranteur Cameron Mitchell after a trip to Italy where he dined in Marcella's actual kitchen. Yes, Marcella (pronounced Mar-chella) is a real person. He flew her to the states where she taught the restaurant's staff her Italian methods. Now Denver gets to taste the results.
Meals at Marcella's, including happy hour dishes, are meant to be shared and if you look closely you will notice that not all the chairs or dishware match. That is because when you dine in Marcella's home, she grabs whatever plate is handy and there is always an extra chair for unexpected guests.
There are eight specialty cocktails on the bar menu and each has an Italian twist. The Italian Rye features an Italian liqueur not seen much around Denver, Cynar. Cynar is primarily made with artichoke and other botanicals and used as a digestif in Europe. It features George Dickel Rye, Cynar and Cointreau garnished with a lemon twist for a lemony and rye scent. This amber cocktail has a smooth taste with a hint of lemon and earthy herbals. This cocktail is so smooth, you wouldn't know that one of the liqueurs is made of artichoke.
The Milan Manhattan is made with Old Forester Bourbon, Noilly Prat Vermouth, Sweet Vermouth, vanilla and bitters. While the scent teases the oaky boozy goodness contained inside, this dark amber jewel-toned cocktail has a silky vanilla taste that smooths out the smoky bourbon.
For a frothy, fun cocktail, try the Grapefruit Basil Fizz made with Finlandia Grapefruit Vodka, Italian Basil and hand-squeezed lemon. This gorgeous concoction has a soft citrus scent and fizzy top layer that is light and airy. This is one of those cocktail that is easy to drink more than one. Notice the basil garnish is clipped to the coupe with a tiny clothes pin.
Another good looking drink is the Strawberry Balsamic made with Absolut Vodka, hand-squeezed lime, fresh strawberries, balsamic, and lemon verbena foam. The lemon verbena foam looks like gelato sitting on stop of the ruby red drink. This creamy strawberry delight leans more towards tart than sweet in taste, which is a pleasant surprise. The lemon verbena foam melts like gelato, but it taste so good you'll have it gone before that happens.
Another surprising sip is the Tequila Apertif made with Herradura Silver, Lillet Rose and hand-squeezed lemon. These three different flavors blend perfectly, but you do notice a soft lavender scent before sipping the mélange. No tequila burn here.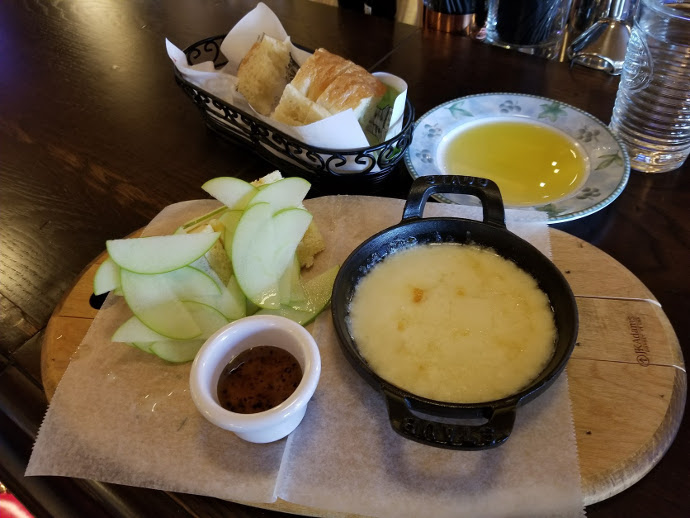 Happy Hour at Marcella's is meant to be enjoyed with friends and family because a majority of the menu is half priced including meat platters, appetizers, antipasti and pizzas along with sangria, draught beers and all the specialty cocktails. Wines by the glass that are $9 and under are also half off. The most popular menu item is the Braised Veal Meatball made with half veal and half beef. This giant hunk of meat is smothered in red sauce and parmesan and comes in a cast iron pot. It could easily be a meal on its own, but it also comes with the fettuccine and spaghetti dinners (pasta dinners are not on the happy hour menu). The Melted Pecorino Cheese appetizer features sliced crostini bread and green apples to dip in an Italian fondue of pecorino cheese and a small, but remarkable mini-bowl of sweet truffle honey.
There are ten pizzas on the menu and one pizza can feed two people. The Crispy Potato is topped with house-cured pancetta, parmesan onions, taleggio cheese and arugula and cooked to toasty perfection in a wood fire oven. The restaurant also has a separate gluten-free menu and all gluten-free items, including pasta and pizza crust, are made in house and gluten-free pizzas are cooked in their own dedicated oven.
Enjoy happy hour at Marcella's Monday through Friday from 4 to 6:30 PM. All the wines are Italian, but the beers are all Colorado. If the weather cooperates, enjoy the heated patio with wide views of the downtown Denver skyline. Marcella's is located at 1801 Central St.
Photos via Carrie Dow
Tags:
Cocktails
,
Food
,
Happy Hour
,
Outdoor Seating
Recent Articles

Feedback
How are we doing? Tell us what you like or don't like and how we can improve. We would love to hear your thoughts!