What's Happening at the 2017 Great American Beer Festival
Things to taste, see, and do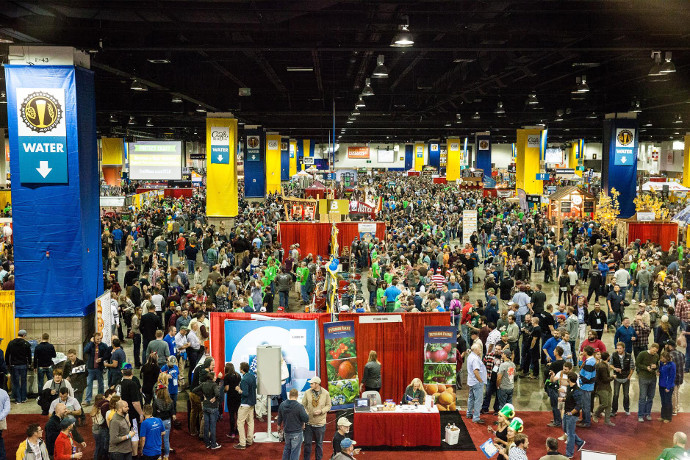 The Great American Beer Festival is about happen in Denver. For those who have tickets, congrats! You get to attend one of the world's premier beer festivals. Not just a festival for tasting beer, but one where beers are judged to see which beers are the best of the best. However, with some 60,000 people attending and over 800 breweries pouring thousands of beers, it can be a bit overwhelming when you enter that cavernous convention hall. Here is a breakdown of what will happen at the festival so you can decide in advance what you want to do while you're there. Are you a home brewer? There will be activities for you. Do you like to talk to people who make beer? You can do that. Just wanna dance? Gotcha covered. Just about everything you can think of having to do with beer is at this festival. For the full schedule, visit the GABF website.
EDUCATION AND PRESENTATIONS
Get your brain engaged by learning and talking about beer at these special events. These events allow visitors gain even more appreciation for the folks who produce beer, what the industry does, and how you can get involved.
Beer & Food Pavilion
Sponsored by Red Robin, this area allows visitors to learn about beer and food pairings as expert chefs and brewers get together to present delicious demonstrations. The demos are 30 minutes so attending one won't take much time away from beer sampling. However, events are first come, first served. Demos include the Beer and Ice Cream Social, Palate Trip, and No Cook Pairings. The Pavilion is located in the Meet the Brewer Hall near Island W.
Brewers Studio Pavilion
This is a chance to see some of the most interesting and innovative people making craft beer today. Hosted by the folks from The Brewing Network, these sessions are your chance to hear people explain your favorite breweries and beers. These 30-minute seminars include Wood- and Barrel-Aged Experiments, From Garage to Brewery, Recreating Ales of Antiquity and How to Make Session Beers. The Studio Pavilion is also in the Meet the Brewer Hall near island W.
CraftBeer.com Pavilion
This interactive area is where beer lovers can fully immerse themselves in all things beer and even get a behind the scenes look at what goes on at the festival. Sit & Sip is way to relax while trying new beers and hang out with the people making those beers. You Be the Judge is a chance for general public to live out their dream of being a GABF judge. Learn from official certified judges to see what it takes to evaluate hundreds of different beers. New this year the Beer Travel Pavilion will show visitors the best in beer tourism around the country. This pavilion is near the entrance between the Brewpub Pavilion and the Homebrew Marketplace.
Meet the Brewer Hall
The Great American Beer Festival dedicates almost 30,000 square feet of hall space to a special section called Meet the Brewer. At this location each brewery's booth is staffed entirely, exclusively by their employees, making it way for beer drinkers to connect with beer makers on a personal level. It's one of the things that make GABF so unique. It's a chance for a fan to tell a brewer why they love their beer or to ask how the brewer came up with a particular style. Brewers can also get feedback from festival attendees. Over 100 breweries will have booths in this area taking up Islands Q through V.
Craft Beer Guilds
Active state brewery guilds are a way of promoting and protecting each state's craft beer businesses. This year 18 states and the District of Columbia will be represented and these booths will be pouring 178 unique beers from their home state that you can't get anywhere else in the festival hall. Learn about each state's craft beer culture, how to get involved and what each does to help their independent craft community.
HANGOUT SPOTS
If you came to GABF to turn off your brain and just enjoy the beer, then these are the places you need to check out. Enjoy food, games, socializing, live music, dancing and karaoke, and all the things we love to do while drinking beer.
The Backyard
Located near the entrance, this is the festival's fun zone full of yard games, music and a chance to get social. Here is just a sample of the fun to be found. The Heavy Medal Booth is where guests can sample 50 award-winning beers from past festivals and from the World Beer Cup. Guests can also detox with purs from sponsor Stubborn Soda. Sing your heart out on the Karaoke Stage or listen to professional musicians on the Live Music Stage. The Backyard, known for having artificial grass and lounge chairs, is also where a variety of games, like corn hole, ping pong and Twister, can be found.
Brewpub Pavilion
Guests cannot survive on beer alone and since more than 36% of the over 5,300 US breweries are actually brewing restaurants, this special section at the festival is where guests can eat and drink. Located across the hall from the entrance area of the festival, 42 brewpubs from around the country will be serving up small bites to go along with their brews.
Designated Driver Lounge
GABF loves designated drivers! Hundreds of festival attendees are designated drivers who are there to support their beer loving friends by giving them a safe ride home. To thank them, the festival offers the Designated Driver Lounge filled with craft brewed sodas and root beers from Colorado's own Tommyknocker Brewery. DD's also receive a complimentary gift, a free chair massage and complimentary snacks. The DD Lounge is located near the Brewer's Entrance.
Silent Disco
Sponsored by Colorado's own Oskar Blues Brewery, this is one of the festival's longest running activities and, when you need to rally after an hour or two of drinking, a good place to regroup. Whether you participate in the dancing or get a kick out of watching people move to music you can't hear, it is always fun to check out this part of the festival. Silent Disco is located next to the Brewers Studio.
EXTRAS
American Home Brewers Association and Homebrew Marketplace
Could you be the next Sam Calagione or Jim Koch? Located smack in the middle of the festival, the AHA booth and Marketplace is where those who brew at home, or would like to start brewing, can learn, get ideas, see demos on equipment and gadgets, find ingredients and see what it takes to get started.
Pro-Am Competition
In this special section, award-winning homebrew recipes from American Homebrewers Association members are brewed into beers by professional craft brewers and judged separately at GABF. Guests get to sample these additional beers at this special booth located next to the AHA and Homebrew Marketplace.
Merchandise Hall
This year there will be two areas where you can buy your GABF 2017 gear. The main area, the one with the 30-foot wall of t-shirts, is located at the front of the hall near the brewer's entrance and features not only GABF gear, but cool stuff from your favorite breweries. Things you didn't know you needed like pint glasses, hats and hoodies. The second mini-merch area is in the Meet the Brewer Hall with a smaller selection of GABF commemorative items.
Want to know everything there is to know about the Great American Beer Festival? Then download the GABF App to yor smartphone to get the full list of all 800 participating breweries, beers, vendors, events, and winners. Use it to search for beers by style or geographic region and keep track of what you've drank. The best reason to download the app is for the festival map so you can navigate your way.
Photo by © Brewers Association
Tags:
Beer
,
Festival
Recent Articles

Feedback
How are we doing? Tell us what you like or don't like and how we can improve. We would love to hear your thoughts!