Where to Prosit to Oktoberfest in Colorado
Zicke zacke, zicke zacke, hoi, hoi, hoi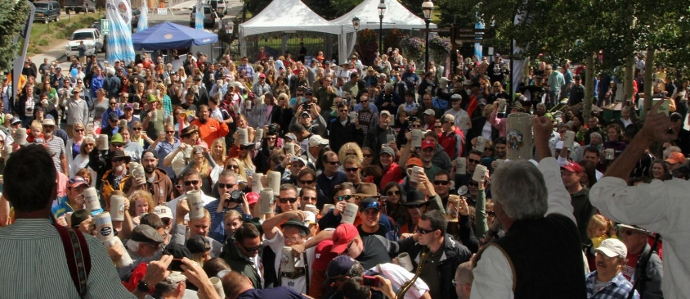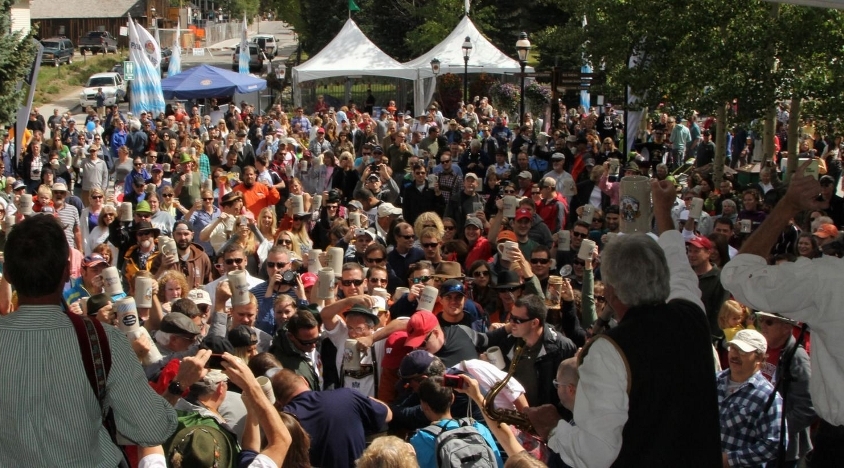 Whether your heritage is German or not, we all turn a little Bavarian in the fall in Colorado because we have some of the best Oktoberfest parties in the country. They happen all over, not just Denver, so if you are looking for a weekend getaway or just a place in your neighborhood where you can relax, have a liter of beer and sing a song or two, there are a variety of Oktoberfest celebrations to choose from. In fact choosing will be the hardest part. Here is where and when to Oktoberfest in Colorado. Note, unless otherwise stated, these festivals are free to enter, but food and drink are pay as you go.
Breckenridge Oktoberfest, September 8-10
Nobody goes as big as Breckenridge when it comes to beer festivals. They boast the largest Oktoberfest street party in the Rocky Mountains. The festivities start early, beginning on Friday, September 8. Enjoy German cuisine and beers, German themed games, traditional dress and dancing and, as a bonus, the start of fall foliage in the mountains. Guests can pre-purchase commemorative beer steins, both half and full liter, and beer tokens in advance online. Beer tokens are $5 each online, however, beers day of the event will be $6 so this is a chance for a bargain. Visit the website for pre-purchase and event information. (Main St. downtown Breckenridge)
Vail Oktoberfest, September 8-10 and September 15-17
Vail provides two weekends of Oktoberfest for us to enjoy. The weekend of September 8-10 the festival happens in Lionshead and the following weekend, September 15-17, the party moves to Vail Village. Both weekends include live entertainment, alpenhorn blowing, keg bowling, yodeling, and lots of family friendly events. Enjoy Bavarian music, dancing, food and beverages. Beer tokens will be for sale at the event.
Loveland Oktoberfest, September 15-16
This event takes place at Grimm Brothers Brewhouse over the weekend and features beer from several mountain breweries including Verboten, Crow Hop, Big Beaver, Buckhorn, Big Thompson and of course, the host Grimm Brothers. The party begins at 4 PM Friday. (623 N. Denver Ave., Loveland)
Parker Oktoberfest, September 15-17
Get in the spirit as O'Brien Park turns into Bavaria as it has for 12 years now. The Parker Oktoberfest is sponsored by Paulaner HP USA, a German beer favorite. This event is also unique for its Winegarten for those who prefer the grape. The party features a variety of games and kids' activities to keep the little ones busy while the adults sip. Enjoy live entertainment from bands and dance clubs and there will also be contests. The organization promises there will be Chicken Dancing. The party begins at 6 PM on Friday. (10795 S. Victorian Dr., Parker)
Rocky Mountain OktoberfestPlus, September 16-17
The 20th annual Rocky Mountain OktoberfestPlus will be at the Ute Pass Cultural Center in Woodland Park beginning at 11 AM both Saturday and Sunday. While there is German fun, Woodland Park puts a Colorado spin on the event with a climbing wall, obstacle course and kids area. Along with the German polka bands will be some country and rock and roll music. Admission is $6 per adult, $5 for seniors and those under 21 are free. (210 E. Midland Ave., Woodland Park)
FORToberfest, September 16
Celebrate the last outdoor music festival of the summer in Old Town Square, Fort Collins. There will be 10+ hours of live music with specialty tastings of local, seasonal craft beers. The music begins at 11 AM. (Old Town Square, Downtown Fort Collins)
Steamboat Springs OktoberWest, September 16
The 9th annual Steamboat OktoberWest happens on Saturday at Gondola Square in Steamboat Mountain Village. The difference between this event and a traditional Oktoberfest is that Steamboat will feature all-American Colorado beers, no German brews. The beer garden will feature over 45 Rocky Mountain breweries each sampling two kinds of brew. Tickets for the beer garden begin at $30 per person and the festival begins at 2 PM. (2305 Mt. Werner Cir., Steamboat Springs)
Denver Oktoberfest, September 22-23 and September 29-30
This is the granddaddy of Colorado Oktoberfestivals as 2017 marks the 48th year of this event. Held in the Ballpark neighborhood on Larimer Street between 20 and 22 Streets, Denver Oktoberfest has a rich and dedicated history because, well, we like to drink beer. There will also be live music, dancing, outdoor games, and Oktoberfest contests. This year there will be Happy Hours from noon to 2 PM each day of the festival. The way this festival works is patrons purchase rolls of tickets that can be traded in for food and drinks. However, this can involve standing in some long lines. To alleviate the congestion, the festival offers patrons a chance to purchase the official 2017 beer stein in advance. Cost is $27 for the special edition 32 oz. stein and includes two beer tickets without having to stand in those pesky lines. For those who want the VIP treatment, the VIP Package includes the official stein, an official t-shirt, authentic German hat and an all you can eat and drink in the fenced VIP section. Packages cost $100 for Fridays and $125 for Saturdays. Purchase tickets and steins or get more information from the festival's website. (Larimer St. between 20th and 22nd St., Denver)
Longmont Oktoberfest, September 22-23
Join in the not-so-German fun in Roosevelt Park as Left Hand Brewing presents the Longmont Oktoberfest. Enjoy music, everything from German to reggae, along with food, art, ponies, bouncy castles, food trucks, and an all-Northern Colorado lineup of breweries and cideries. Other non-German Oktoberfest activities include a petting zoo, rock climbing, water activities and a kid zone. Enjoy sips from Left Hand, Wibby, Pump House, Grosen Bart, Skeye, 300 Suns, Longs Peak, Bootstrap Brewing, St. Vrain Cidery, Wild Cider, and Oskar Blues in the outdoor setting in the middle of town. While entry is free, the brewery does request a $5 donation per person for charity. (700 Longs Peak Ave., Longmont)
Oktoberfest Colorado Springs, September 22-24
Head south for a mountain Oktoberfest at Security Service Field (AKA Sky Sox Stadium) with all the German beer, food and fun you can handle. Enjoy authentic German food and Warsteiner beers, roaming brass bands and games like keg bowling and stein hoisting. There is even a German dinner and wine tasting experience. Save yourself some time and purchase beer and beer steins in advance online. Big Boot packages are $89 per person and include a 2-liter boot stein, four beer tokens, one German cocktail and a parking pass. Schmal Stein packages are $47 per person and include a half liter stein, three beer tokens, one German cocktail and parking pass. Regular Stein packages are $43 per person and include an Oktoberfest mug, three beer tokens, one German cocktail, and parking pass. Guests can also pre-purchase beer tokens online for $5.50 each (no stein) to save time. (4385 Tutt Blvd., Colorado Springs)
Oktoberfest Castle Rock, September 30
The festivals continue a few miles south of Denver at Festival Park. Oktoberfest Castle Rock is beer, food and live music to welcome in the fall season. Kids can enjoy a bouncy house, face painting, petting zoo, pony rides and a fun zone. Adults can enjoy tasty beers, music, and German food. (300 2nd St.; Castle Rock)
Louisville Oktoberfest, October 7-8
Just 20 miles north of the city, kick off October with a few thousand of your closest friends at the Louisville Oktoberfest at Steinbaugh Pavilion on Saturday and Sunday, October 7-8. Enjoy a mix of local bands and traditional German music along with foods imported from Germany. There will be a kids' play area and lots of beer by official sponsor Bayreuther of Barvaria. Entry fee is $5 person and the first 400 people to pre-pay online will receive an official pint glass. Tables for up to eight people can also be reserved online. Check the website for details. The party begins 2 PM on Saturday and 11 AM on Sunday. (824 Front St.; Louisville)
Photo by Go Breck
Tags:
Beer
,
Festival
,
Food
,
Music
,
Outdoor Seating
Recent Articles

Feedback
How are we doing? Tell us what you like or don't like and how we can improve. We would love to hear your thoughts!