Taste 125 Years of History at The Brown Palace
Celebrate the quasquicentennial with booze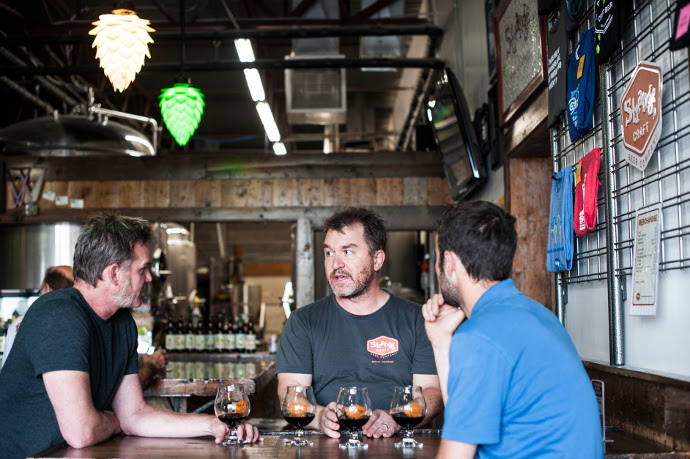 This August the grand dame of Colorado hotels celebrates 125 years of hosting guests from all over the world. The Brown Palace Hotel and Spa begins a series of special events to highlight its amazing history. This hotel, which is older than the Plaza Hotel in New York and the Ritz in Paris, has hosted presidents, dignitaries and celebrities. Now the public has a chance to taste some of that history because the hotel is celebrating its quasquicentennial with booze. A special whiskey and beer will be available for a limited time during the month of August and features two great Denver products, Stranahan's Colorado Whiskey and Strange Craft Beer.
The official anniversary date is August 12, but the hotel will have celebrations all weekend and even all month long and the best part is you don't have to be a hotel guest to partake.
Stranahan's Master Distiller Rob Dietrich was tapped by Hotel Sales Manager Mark Shine to create a single malt whiskey using the hotel's own artisan well water that is located over 700 feet below the hotel. That was then turned into special barrels of whiskey, which were recently bottled in 125th anniversary special edition bottles that are available at the hotel.
In a collaboration that began in March, Shine met Tim Myers of Strange Craft and requested special brew for the hotel's anniversary. Shine told Myers he wanted the brew to be 12.5% ABV in honor of 125 years. Myers knew that would be a huge undertaking, but was up for the challenge. Over a few beers at the hotel's Ship Tavern Tim and Mark formulated what kind of beer they wanted to make. Myers wanted to do a brown ale for the Brown Palace. Since the hotel has a colony of rooftop honey bees Myers also wanted to use honey. To help with the 12.5% ABV request, Dietrich supplied some whiskey barrels for aging and an ABV boost. Myers knew the timeline was tight for aging an imperial beer, but fingers crossed the group went for it. The resulting beer is called Golden Age Imperial Honey Brown Ale.
To make the beer, Strange Craft hauled away 250 gallons of artisan water from the hotel's underground well. The brewery also used 60 pounds of Colorado honey, some of it from the hotel's rooftop hive. The rest came from Bee-yond the Hive of Salida, CO. Tim then used 10 pounds of English East Kent Goldings hops on a base of English Maris Otter and Brown malt and fermented with Strange's house Belgian yeast. Put this all together and you get a beer with a honey and dark chocolate aroma. However, the beer is not done yet.
The second process involved Dietrich bringing over three four-year-old barrels that held Stranahan's Diamond Peak whiskey that had been drained earlier that day. The beer then aged for only three and half months before being bottled and kegged for the hotel. The result is 20 cases of bomber bottles and the rest are in kegs available in Ship Tavern and Churchill's restaurants at the hotel. The labels for the bomber bottles were created by students at The Art Institute of Colorado.
A limited number of these beer bomber and whiskey bottles will be available as part of the hotel's 125th Anniversary weekend hotel packages. The Stranahan's 125th Package starts at $225 and includes luxury accommodations for two people, two drinks of your choice in Ship Tavern or Churchill's made with Stranahan's 125th Anniversary Rocky Mountain Single Malt Whiskey and two custom whiskey glasses. The Strange Craft Beer 12.5% Package starts at $229 and includes luxury accommodations for two people, a 22 oz. Bomber bottle of the Golden Age Imperial Honey Brown Ale, and a 125th commemorative gift. Both packages are available through September 4.
You don't have to be a hotel guest to enjoy these boozy treats. During the weekend of August 10-13, the hotel will host a variety of events for the public to join and both the whiskey and beer will be sold at either Ship Tavern or Churchill's until the bottles and kegs are empty.
Special events include:
Champagne and Oyster Reception held in the Atrium Lobby, August 11, from 5-7 PM. A half dozen oysters will be $18.
Anniversary Seven-Course Degustation Menu available in the Palace Arms August 10-12. Cost of the menu is $150 per person with an optional wine pairing.
Anniversary Prime Rib Special in Ship Tavern for $39 and a Dinner Special paired with the Golden Age Ale August 11-13.
There will be extended hours in the atrium for Afternoon Tea from 11 AM to 4 PM August 11-13. Tea starts at $40 per person.
Tastings of the Anniversary Whiskey and Golden Age Ale August 10-13
Anniversary edition of Ellyngton's famous Champagne Brunch August 11 and 12 from 9 AM to 2 PM. Brunch starts at $70.95 per person.
An After-hours Speakeasy in The Brown Palace Club featuring all-you-can-eat and drink with appetizers, desserts, and samples of the Anniversary whiskey straight from the barrel on August 12 from 9 PM to 1 AM. Cost is $125 per person.
There will also be events for kids along with prizes, drawings, special happy hours and other events all weekend long in the Atrium Lobby.
Whether staying in a suite the weekend or just enjoying the atrium after work, head over to The Brown Palace to sample these quasquicentennial beverages before they are gone.
Photo via RadCraft
Tags:
Beer
,
Parties
,
Whisky
Recent Articles

Feedback
How are we doing? Tell us what you like or don't like and how we can improve. We would love to hear your thoughts!