Guillermo del Toro and Patron Tequila Collaboration Release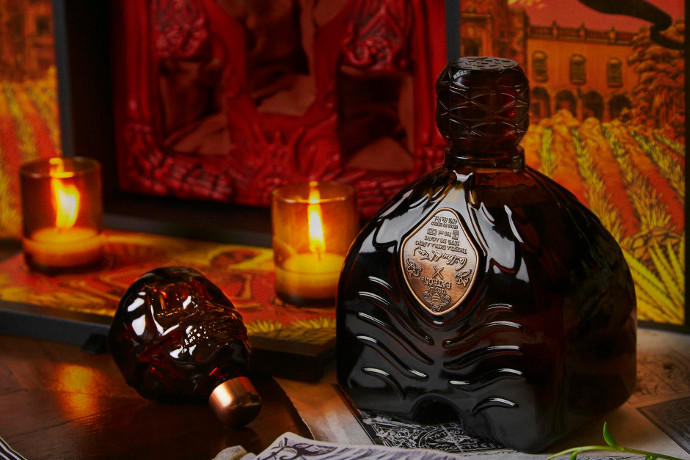 Guillermo del Toro, Mexican writer, designer, and director for films such as Pan's Labyrinth and Hellboy, is working with Patrón Tequila on a new expression: The Patrón X Guillermo del Toro. This new release features a blend of rare anejo tequilas and is priced at $399. The reason for the price isn't just what's in the bottle, but the whole presentation: the hand-blown glass bottle is shaped like a stylized skeleton, the skull of which is filled with an aged orange liqueur. It sits inside an elaborate and beautiful case, a black and silver box that open to reveal an exquisite red and orange color palette depicting the Hacienda Patrón distillery in the Highlands of Jalisco.

Alongside the bottle are two candles, which are designed to be placed on a drawer that slides out from the interior of the box. Lighting the candle flames creates an alter, of sorts, where in the middle cocktails can be set.
Fantastical and romantic, the design is evocative of del Toro's aesthetic, one that he is again bringing to bear this year with a cold-war era fantasy film called The Shape of Water. In it, a mute woman, played by Sally Hawkins, working in a government facility attempts to rescue a strange, aquatic creature, played by monster actor Doug Jones.
The film comes out in December in select theaters, and will be available later for home release, so you can try some of the tequila while watching it; It's unlikely you'll be able to sneak the commemorative box into a movie theater, after all.
Photo via Patrón
Recent Articles

Feedback
How are we doing? Tell us what you like or don't like and how we can improve. We would love to hear your thoughts!