Oskar Blues Has a Mission to Donate One Million Cans, but Not of Beer
Can do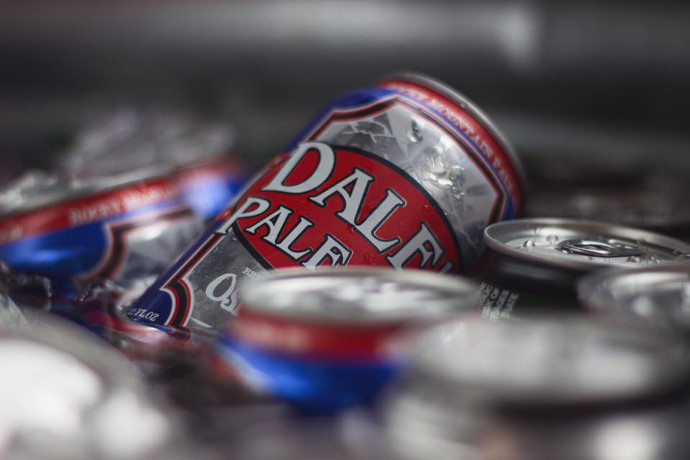 Oskar Blues Brewery is on a mission to donate one million cans. No not beer, something much more valuable, cans of clean drinking water. Though the company's Can'd Aid Foundation, the brewery has partnered with Ball Corporation to provide drinkable water to communities in need. To date, the Can'd Aid Foundation has collaborated to package and distribute 483,200 cans of clean water to victims of flooding and other disasters, including the Flint, MI, water crisis.
"At the end of 2015, a flood devastated much of South Carolina and we were able to quickly and efficiently can and distribute water by partnering with Oskar Blues Brewery North Carolina to fill cans donated by Ball Corporation," says Diana Ralston of Can'd Aid. "We realized we were in a unique position to be able to help in the wake of disasters and we jumped at the opportunity. Now, with Ball's increased support of one million cans, we're eager to reach this ambitious goal to help as many people as we CAN."
The expanded effort will include a focus on faster deliveries.
"While disasters aren't predictable, Ball Corpration and Can'd Aid Foundation aim to provide canned water as quickly as possible," adds Ralston.
Canned water is an ideal option for helping those affected by disasters because aluminum beverage cans are easy to transport, durable and infinitely recyclable. Canned water will benefit communities across the US in response to crises like floods, hurricanes, fires and more.
To promote this mission, the Can'd Aid Foundation is inviting artists nationwide to submit original artwork for the cans. The winning submission will convey the importance of sustainability and the environment, as well as highlight the benefits of aluminum cans. This is an open call for proposals and hosted in partnership with Can'd Aid, The Ball Foundation, and Western States Arts Federation (WESTAF).
Any artist interested in submitting artwork can apply online via the CallforEntry website. Artists can submit digital images showcasing their previous work along with "CANvas CANpaign" original artwork. Each entry is $30 and submission must utilize a specific template that can be found on the entry website. Deadline for entry is Monday, August 31. More imformation can be found on the organizations' CallforEntry website here.
The Can'd Aid Foundation is a non-profit that is focused on making a difference in communities and for the planet. The foundation calls it "do-goodery." Founded after a devastating flood that affected the brewery's hometown, the organization now has programs nationwide and have raised over $2.50 million. Oskar Blues Breweries are located in Longmont, CO, Austin, TX, and Brevard, NC.
Photo via Oskar Blues Brewery on Facebook
Tags:
Beer
,
Charity
Recent Articles

Feedback
How are we doing? Tell us what you like or don't like and how we can improve. We would love to hear your thoughts!