Adrift Tiki Bar Has New Owners and New Happy Hour
Combing the beaches of Denver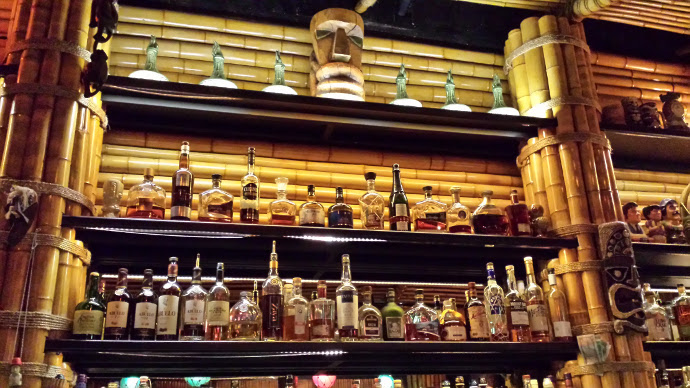 Adrift Tiki Bar has been a staple of South Broadway for a while and had a reputation as a bit of a dive bar with a cheesy tiki side. Recently that changed, because the owners of Little Man Ice Cream, Paul Tamburello and Loren Martinez, have come in and taken over the tiny bar and completely revamped and updated the menu. One thing they didn't change is the tiki vibe that so many have come to love, so amidst the bamboo and palm fronds, Denver's only tiki bar doesn't disappoint. If you haven't been here in a while, here is what's new.
While some folks think tiki is passé, those in the know believe today's modern cocktail culture derives from the tiki bar's roots back in the 50s and 60s. That is the thought behind what the new owners and Bar Manager Maggie Yarbrough wanted to create when putting the menu together. Yarbrough also wants to put rum in its proper place behind the bar. Most of these drinks are rum forward with a variety of flavors and styles — much more than just coconut. Yarbrough says she brought in other flavors like elderflower, apricot and passion fruit to provide more variety. There are 65 different types of rum behind the bar, and Yarbrough plans to have rum flights available in the near future.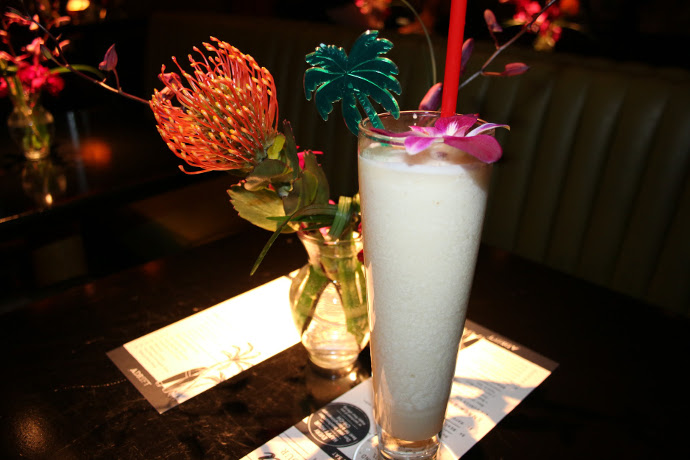 The bar's signature cocktail is the Macadamia Nut Chi Chi, and is the only drink that came from the bar's original menu. This frozen drink is more like a sophisticated adult milkshake rather than the slushy goop that usually comes from a machine. Made with vodka, macadamia, pineapple, coconut and sugar, this frozen drink is hand made for every customer, not batched. The taste is rich and creamy, thick and frothy and just the right amount of sweet mixed with macadamia. Other frozen drinks include Don's Pearl, with guava and passion fruit, the Uli Uli with a combination of Tequila, Mezcal and Gin, and the Koko Kiha, made with chocolate gin, banana, pineapple and coconut.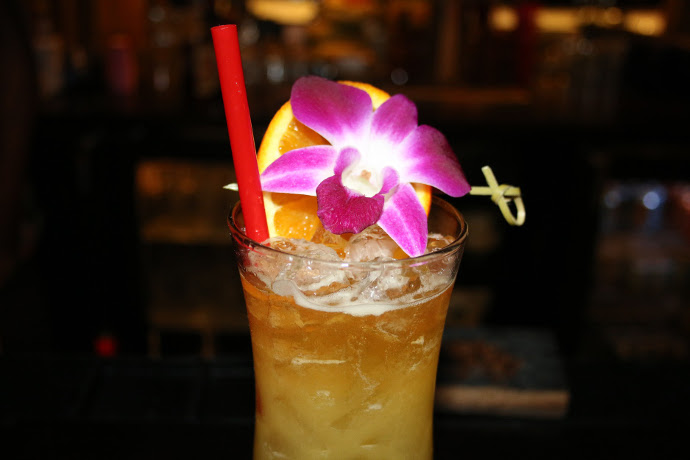 The bar's Hurricane is made with white and dark rum, orange, lime, passion fruit, and a 151 topper. This sweet and tart drink is an orange-yellow color and topped with a palm tree stir stick and a hibiscus flower. In fact all the cocktails come with a flower garnish — so these drinks don't just taste great, but will look fantastic in your Instagram feed.
A popular drink at Adrift is the White Wave made with gin, apricot brandy, lemon and coconut. While it looks like milk, the drink has a touch of fruit with the coconut, but doesn't have that over-the-top booze taste that will make you forget you're drinking a cocktail.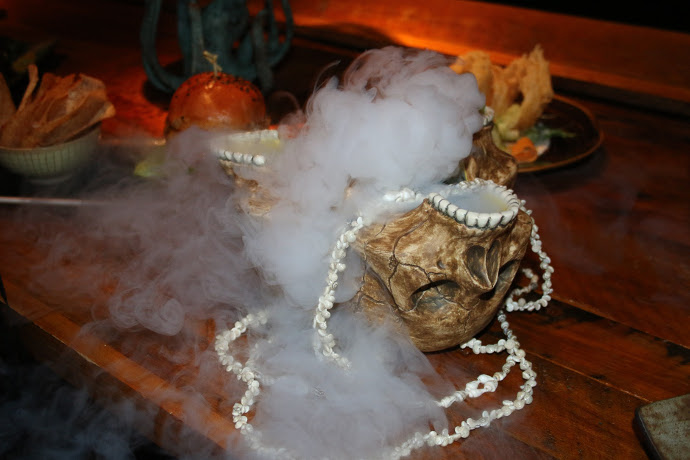 Since this is a traditional tiki bar, Adrift also features its own version of the classic Zombie. Designed to serve two people, the zombie is made with white and dark rum, 151 rum, apricot, grapefruit, pineapple, lime, cinnamon, and pomegranate. It is served inside a two-jawed skull tiki bowl with dry ice to give it smoke and panache. The cost is only $12 for two people, so this cocktail is a bargain as well.
Something else that makes the bar at Adrift unique is you won't find any Coors products or any other big corporate beers here. Nothing but Colorado craft on tap and in bottles and cans. The bar currently has brews by Avery, Denver Beer Co., Dry Dock, Oskar Blues, Ratio, Ska and Upslope. Beers will rotate seasonally.
Happy Hour at Adrift is Tuesday through Saturday from 4 to 6 PM with a special food menu. If you wear your Don the Beachcomber finest, as in Hawaian shirts, grass skirts or anything considered tiki, you will receive a free Chi Chi with the purchase of another item on the happy hour menu. On Tuesdays and Wednesdays, all tiki cocktails are $2 off.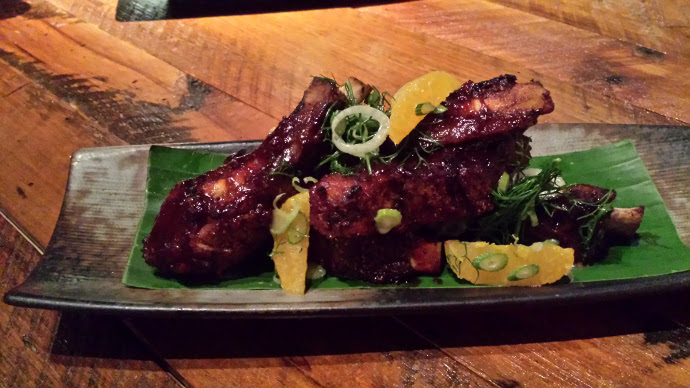 Happy hour food ranges from $1 Pele Chicken Wings covered in a sweet sauce, $2 Guava BBQ Baby Back Ribs and Kona Kalua Pork Sliders. A spear of Polynesian Pickles are only $3 and are more sweet than tangy. Bowls of Edamame in a rich soy sauce are also $3. Currently the bar and restaurant are only open Tuesday through Thursday 4 PM to 12 AM and Friday and Saturday 4 PM to 1 AM. The bar is closed Sundays and Mondays for winter. Come spring, a newly renovated patio will open with a possible increase in hours.
Photos via Carrie Dow
Tags:
Beer
,
Cocktails
,
Rum
Recent Articles

Feedback
How are we doing? Tell us what you like or don't like and how we can improve. We would love to hear your thoughts!