TAG Updates Cocktail Menu for Spring
TAG, you're it!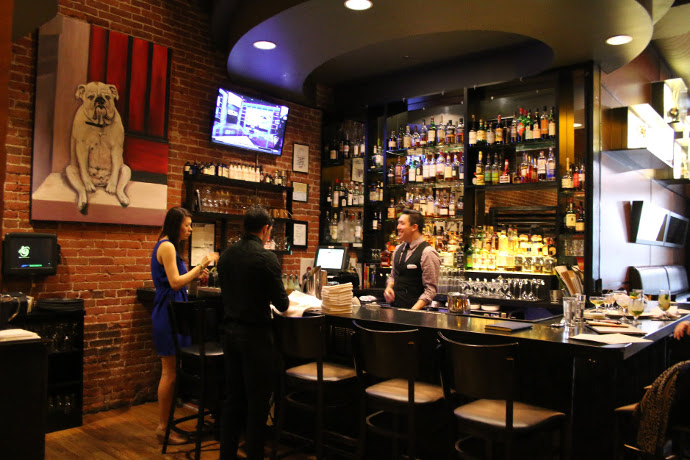 Eight years ago, Chef Troy Guard opened TAG Restaurant in Larimer Square. Since then, Guard has created a mini-restaurant empire with nine other restaurants in the Metro Area, from casual Asian, to burgers, to a dessert bar, and even a fine dining steak house. With such a flurry of activity in just a few short years, sometimes the original can get left behind. Chef Guard, however, isn't about to let that happen. For spring the bar at the original, TAG has had an overhaul of its cocktail menu with new and exciting options.
"At some point along the way we lost a little focus on this program," says Guard Group Bar Program Manager Michael Cerretani. "We focused on the new openings and TAG got lost in the shadows. We gotta get it back to where it used to be. It had a reputation as one of the best cocktail bars in the city, because it was. That's our flagship restaurant and we want the right attention and the right people."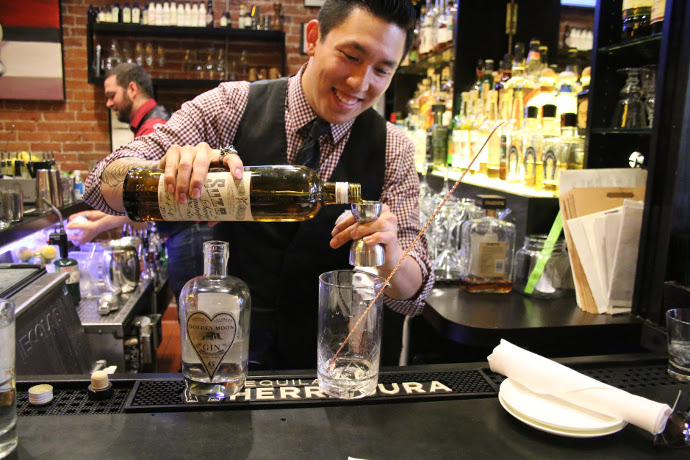 According to Cerretani, the getting the "right people" including hiring one of Denver's best bartenders, the award-winning TJ Vong. Vong, who opened Mister Tuna's bar program last fall, is the right guy to jazz up TAG's menu. Since Guard believes in only using the best and freshest ingredients in his food dishes, Cerretani and Vong want to reflect that in the bar program.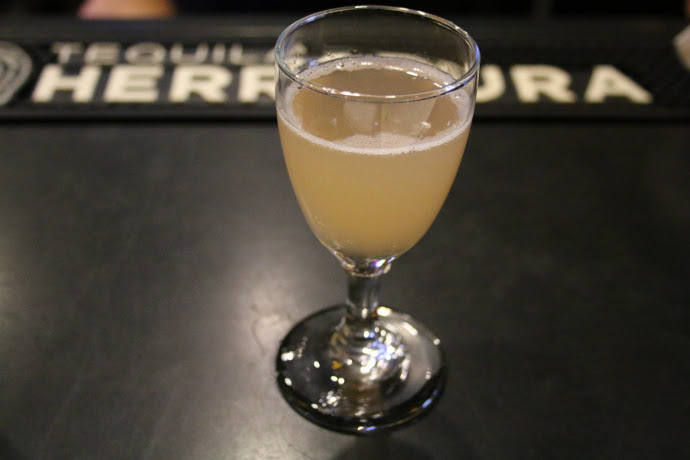 Amuse Booze is the bar's welcome cocktail made with Blanc Vermouth, ginger syrup, demerara syrup, lemon juice and bitters with a soda topper making a light refreshing drink, but still complex enough to surprise. Vong created the citrus and ginger mélange to lubricate conversation and get the guests' evening going, yet the flavors are delicate enough to avoid overstimulating palates before a meal. This cocktail is only served at the bar.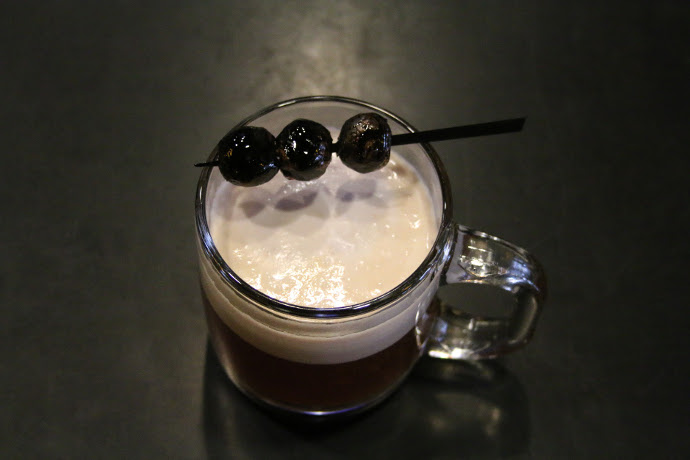 A temporary holdover from the winter menu, Winter, But Not is one of the most unusual rum cocktails found in Denver. Why? Because Vong uses no coconut or lime. This non-tropical cocktail is made with Pirate Rum, Compari, orange juice, raspberry liquor, Ramozzatti Amaro. It also contains a hand-whipped cream that Vong makes in the cocktail shaker with ice, a few berries and heavy whipping cream, which is fun to watch. He then torches three booze-soaked cherries for the garnish. The scent is a little bit smoky cherry combined with raspberry. The drink is rum forward and oh so creamy with flashes of berry. Like a kid in a candy store, it's fun to dip the cherries in the frothy cream before biting for an extra indulgence of flavor. This cocktail is available for a limited time.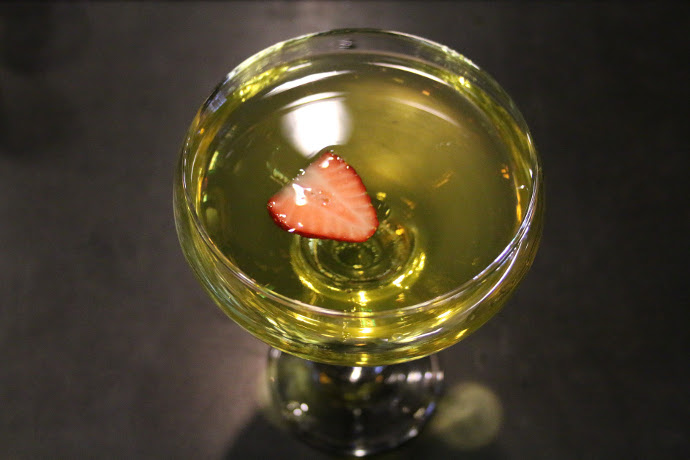 New for spring, Chillin' Like a Bond Villain is made with Golden Moon Gin, Suze Bitters, Dry Curacao, and Nardini Mandorla, a type of grappa, with a strawberry garnish. The scent has a hint of licorice and fresh citrus while the taste is anise and floral and fits in with the earthiness of the gin.
Also new for spring is Uptown Funk, a fantastic mix of flavors and again features rum. The drink is made with Plantation Pineapple Rum, lime juice, ginger syrup, sesame and basil and garnished with sesame seeds. The rum is "fat washed," meaning Vong uses a special technique to add a touch of savory flavor. Fat washing is similar to infusing, but instead using some type of fat, such as sesame oil or butter or even duck fat. For Uptown Funk, Vong washes the rum with, wait for it, blue cheese! The scent is pineapple and basil while a sip showcases the thicker texture that gives way to a blue cheese savoriness that one can just barely sense on the taste buds. Unexpected, but it works!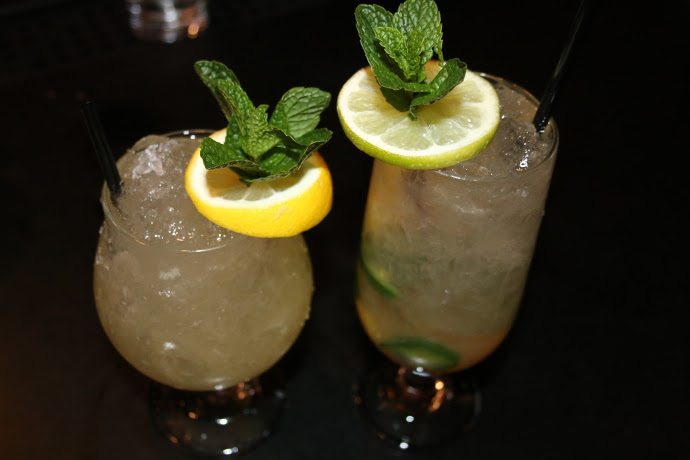 Not everything is going away as the bar's signature cocktails will remain. One of these is the boozy and earthy Respect Your Elders, made with Woodford Reserve, Bertina Elderflower, lemon and mint. This cocktail is bourbon without the bite and drops hints of the elderflower and lemon at the finish. Not too bourbon and not too sweet, this cocktail is just right.
Another signature cocktail is the amazing Kumquat Jalapeno Mojito, made with rum, kumquat, jalapeno, fresh lime and mint. It will delight and surprise drinkers with its spicy kick. The fruit and jalapenos are muddled, not shaken, with crushed ice that cause a flavor explosion of mint, tropical fruit and heat. This unique cocktail is also one of the bar's most popular.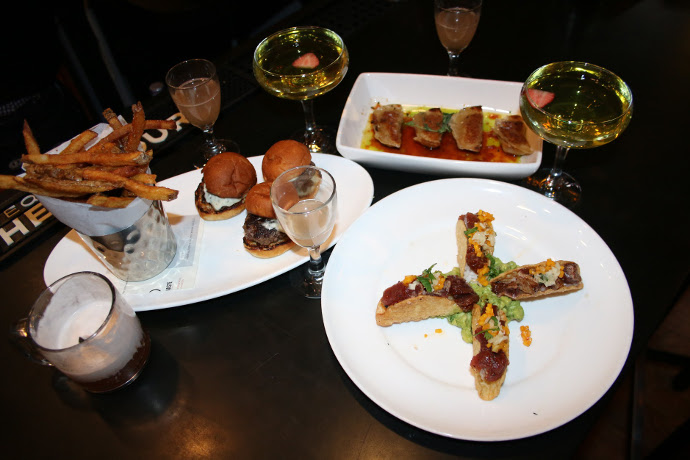 Guests have two choices for dining when visiting into TAG in the afternoon. There is a Mid-Day Menu of quick bites and a Social Hour Menu with specials. Both run from 2 to 6 PM. On the Social Menu Steamed and Crisped Seafood Potstickers are little doughy puffs of goodness stuffed with shrimp and Hawaiian Sunfish until they almost burst and dipped in Korean vinaigrette. Make any afternoon special with Kobe Beer Sliders topped with gorgonzola aioli and shallot confit. Get two for sharing on the Social Hour Menu or, if you're having a late lunch, get three sliders on the Mid-Day Menu with generous tin of duck fat fries. On the Mid-Day Menu, Taco Sushi is a plate of four charred ahi tacos with sushi rice, guacamole and li-hing mango salsa, great as a meal for one or to share over drinks. Everything on the Social Hour menu is only $5, which is quite a deal for the quality of the food and drink served. House red and white wines are also $5.
Photos via Carrie Dow
Tags:
Cocktails
Recent Articles

Feedback
How are we doing? Tell us what you like or don't like and how we can improve. We would love to hear your thoughts!