What Colorado Beers to Drink for National Stout Month
Don't fear the dark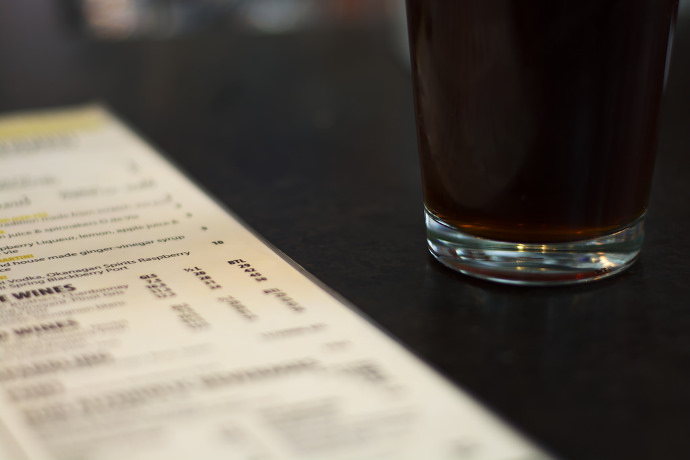 What is Stout Beer? It is the darkest of the dark. The heavy hitter of ales. When poured in a glass, these black beauties with frothy foam out shine all others. Stouts are one of the world's most popular beer styles (Guinness, anyone?) - however, we here in the States tend to shy away from these brooding brews. Historically, stouts were considered "strong" beers or beers with high alcohol content, but through the centuries that morphed into simply dark beers. Today's brewers are getting creative with Stouts and making an amazing variety, so there is a dark beer that's right for you, even if you don't like dark beers. Trust us.
Since February is National Stout Month, it's time to get over our fear of the dark and embrace these beers, especially since Colorado does them so well.
Backside Stout from Steamworks
This Durango beer is a complex mix of malts and oats with a smooth texture and velvety head. Enjoy the sweetness of chocolate with a roasted finish and a comfortable 6.2% ABV. Find this award-winning beer in cans throughout the state.
Chocolate Oak Aged Yeti from Great Divide
The latest release in the Yeti Series, Chocolate Oak Aged Yeti continues to grow the Yeti legend. This time the brewery toned down the hops to allow the added cocoa nibs to fully develop and combine with the oak chips giving this beer the flavor of a gourmet chocolate bar. Then, just to mess with us, the brewery adds a dash of cayenne. Find this 9.5% ABV whopper in 22 oz. bottles.
Cowtown Milk Stout from Wynkoop Brewing
From the brewery in LoDo enjoy a creamy, semi-sweet stout with tastes of chocolate, coffee and a hint of sugar from the additional of lactose, more commonly known as milk sugar. The brewery also uses seven specialty malts for a super dark stout that makes a great dessert beer. Found in 4-pack cans in stores or on nitro at the brewpub, this is also a sessionable brew at 4.8% ABV.
Dry Irish Stout from Breckenridge Brewery
Brewed in collaboration with Boundary Brewing of Belfast, Northern Ireland, Dry Irish Stout is the latest Breckenridge beer to be released inside the brewery's special nitro cans. Using roasted and flaked barley, this 4.8% ABV beer is jet black and silky smooth. Like the title suggests, this beer is dry with lots of coffee flavor and a hint of grains. Get your hands on these 4-pack specialty cans now before they disappear.
Mexican Chocolate Stout from Copper Kettle
This beer won Gold at the 2011 Great American Beer Festival. Yeah, it's that good. The stout has a rich texture with dark roasted malts blended with bittersweet chocolate and three types of Mexican chili peppers. The brewers finished it off with pinch of cinnamon for extra flavor and spice. Enjoy in bottles all over the Front Range.
Oatmeal Stout from Upslope Brewing
From our brewing friends in Boulder, enjoy a sessionable 5% ABV beer that's available in cans all over the Front Range. Oatmeal Stout has a silky texture and the robust flavor of oats, roasted malts and some East Kent Golding hops for a balanced finish. Get the tastes of cocoa and caramel in this dark beer.
Out of Bounds Stout from Avery
Also available in cans, pour a glass of this rich frothy toasty stout from Avery. The brewery uses heaps of roasted barley and matches it with hops for a balanced beer that is 6.3% ABV.
Shot Down Chocolate Stout from Fort Collins Brewery
You won't get Shot Down with this chocolatey goodness from our northern neighbors. This lighter dark beer has the flavors of Dutch chocolate, bittersweet chocolate, and caramel before ending in a toasty finish. The brewery used a mountain of malts matched with a cluster of oatmeal for a creamy texture. Find this 5.8% beer in cans all over the Front Range.
Ten FIDY Imperial Stout from Oskar Blues
One of OB's most popular beers, this colossal dark stout of a beer is loaded with chocolate, caramel and coffee flavors and still manages a hoppy 65 IBU finish despite all this. The beer is whopping 10.5% ABV and contains mounds of two-row malt, chocolate malt, roasted barley and flaked oats. Find it in cans everywhere.
Photo via Flickr user Maëlick
Tags:
Beer
Recent Articles

Feedback
How are we doing? Tell us what you like or don't like and how we can improve. We would love to hear your thoughts!