Where to Celebrate Valentine's Day in Denver
Love is the mountain air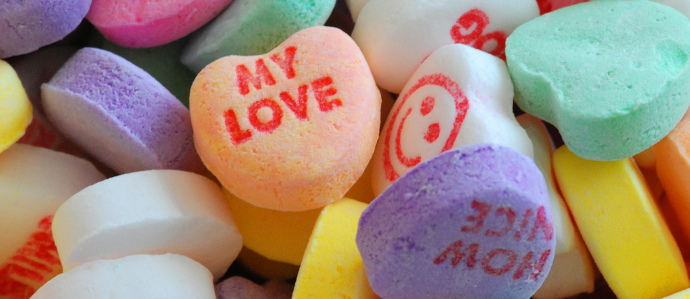 Although winter has a grip on Denver, our thoughts are turning to the thawing thoughts of love. Valentine's Day is Tuesday, February 14. Do you have plans for your sweetheart yet? If not, better get started, because events are filling up and reservations are being made. For those looking for a drink along with some fun, friskiness and maybe something different for their sweetheart, here are some events to visit.
Beatrice & Woodsley
Get together with the girlfriends at the Galentine's Day Dinner on Monday, February 13. This ladies only event will be hidden below the main dining room in the restaurant's private wine cellar. Along with bubbles and delicious eats, take out any dating frustrations on a cupid piñata filled with secret gifts and treats. Enjoy a cocktail and hors d'oeuvres reception before dining at the community-style table. Cost is $48 per person and includes a cocktail reception and three-course prix fixe menu. Optional wine pairings are available. Space is limited to only 16 people, so call 303-777-3505 to make your reservation today. The reception starts at 6:30 PM and dinner follows at 7 PM. (38 S. Broadway; 303-777-3505)
Denver Beer Company
Take your love to DBC for a Beer and Chocolate Pairing at the brewery. Before dinner, after dinner, or instead of dinner, treat yourself and your date to tasty bites of sweetness from Denver's own Chocolate Lab paired with DBC beers. Tickets are $30 and provide five amazing treats paired with five four-ounce beers. Reserve anytime between 11 AM and 11 PM on Valentine's Day by calling the brewery. (1695 Platte St.; 303-433-2739)
Comedy Works
Whether you have found the love of your life or are getting over another bad romance, share some laughs at the Love in the Works show. Enjoy local comedians Brent Gill and Janae Burris as they make fun of other people's bad decisions. The hosts will have volunteers on the stage for bachelor/bachelorette style dating fun. Enjoy comedy, prizes and a chance at love all in one show. Get the Sweet on You package, which is two tickets and heart-shaped box of chocolates. My Funny Valentine is two tickets and a dozen roses and The Casanova package is two tickets and both a dozen roses and box of chocolates. Swinging Single tickets start at $25 and all packages and pricing can be found on the website. Show starts at 8 PM. (1226 15th St.; 303-595-3637)
The Cooper Lounge at Union Station
This restaurant and bar on the Mezzanine level of Union Station evokes the style of a Prohibition Era haunt. Enjoy views of the station's Great Hall or take in the street view of 17th Street. For Valentine's Day, enjoy a three-course dinner with His and Her Welcome Cocktails and a 375mL bottle of Veuve Clicquot Rose for $150 per couple. Call for reservations.(1701 Wynkoop St.; 720-460-3738)
The Crimson Room
Behind the Valentine red door of The Crimson Room, whisk your love down the stairs to this swanky underground bar for live music and luscious cocktails and desserts. Sneak into an intimate booth just the two of you or join other couples in the friendly confines of the bar. It's a great stop both before and after dinner or a show in Larimer Square. (1403 Larimer St.; 720-639-6987)
Lannie's Clocktower Cabaret
Lannie's will celebrate love with two shows for Valentine's. The Valentine's Burlesque Show on Saturday, February 11 is classic adult entertainment with dancers, comedians and more. Tickets are $75 per person, and the price includes tasty treats such as cupcakes, lemon bars and chocolate kisses. There's one show only at 10:30 PM. Then, on Valentine's Day, enjoy Naughty Pierre's Valentine's Day Revue. Tickets are $30 per person General Seating or get the VIP Package for $40 and receive a sparkly tiara or sexy fedora for each ticket holder and get called onstage for a special treat (optional). VIP tickets are limited. Show starts at 7 PM. (1601 Arapahoe St.; 303-293-0075)
Milk & Honey
Located in the "Secret Garden" of Larimer Square, Milk and Honey is a secluded underground bar and restaurant that is a perfect escape with your honey. The restaurant is offering a special four-course Valentine's Day menu for just $90 per couple, and reservations can made via Facebook. (1414 Larimer St.; 303-997-7590)
Ophelia's Electric Soapbox
This eclectic below ground live music club will have a special evening of burlesque on Sunday, February 12. The Valentine Peep Show will feature Denver's own Vivienne VaVoom along with DJ Digg of Austin, TX. Tickets are $15 per person and the show starts at 8 PM. (1215 20th St.; 303-993-8023)
Peaks Lounge
Wow your love with the amazing view from the 27th floor of the Hyatt Regency Denver. Peaks Lounge was voted one of Denver's Best Scenic Sixteen and has a menu to match the views. Enjoy local libations in hand-crafted cocktails or find a special bottle on the wine list. There is also an exquisite dessert menu to finish an evening while gazing at the Denver skyline or into your lover's eyes. (650 15th St.; 303-436-1234)
The Study at Hotel Teatro
Try your hand at the art of calligraphy and draft a love note to your sweetheart that is so exquisite it could be framed. On Sunday, February 12, take part in a handwriting workshop in the cozy confines of The Study inside the Hotel Teatro. For $95 per person, guests receive one complimentary drink and small bites from The Nickel restaurant next door along with a calligraphy workshop by Ink + Root from 2 to 4 PM. Social Hour at The Nickel is from 3 to 5 PM and workshop guests are welcome to order additional drinks at happy hour pricing during the class. (1100 Fourteenth St.; 720-889-2128)
A V-Day Massacre
Blood is red and red means Valentine's Day, right? Enjoy a little gore as you and your love participate in Pandemic Collective Theater's V-Day Massacre happening in February. This interactive cocktail party will have a few tipsy guests drop dead and it is left up to the audience to figure out what the heck happened and who did it. Tickets are $25 per person and include libations. Tickets can be purchased online and performances are Fridays and Saturdays from February 10-25. The bloodshed starts at 8 PM at The Bakery Arts Warehouse. (2132 Market Street)
ViewHouse Ballpark and Centennial
You don't have to have a date to enjoy Valentine's. Both locations of the ViewHouse will host a Singles' Day Party. Enjoy a variety of courtyard games, relays, drink specials and a live DJ. The Centennial party is Saturday, February 11, from 10 PM to close with dancing and live DJ. Ballpark will host on Sunday, February 12, all day. Both locations will also host a Bachelor Watch Party on Monday, February 13, for those still looking for love. At Ballpark watch the show with special guests from the Colorado Firefighters Calendar and at Centennial watch with fan-favorite Bachelor alum Robby Hayes beginning at 7 PM. Food and drink special both locations. (Ballpark, 2015 Market St.; Centennial, 7101 S. Clinton St.)
Photo via Flickr user tlindenbaum
Tags:
Holiday
Recent Articles

Feedback
How are we doing? Tell us what you like or don't like and how we can improve. We would love to hear your thoughts!