Steuben's Opens Second Location in Arvada
Classic cocktails and Americana eats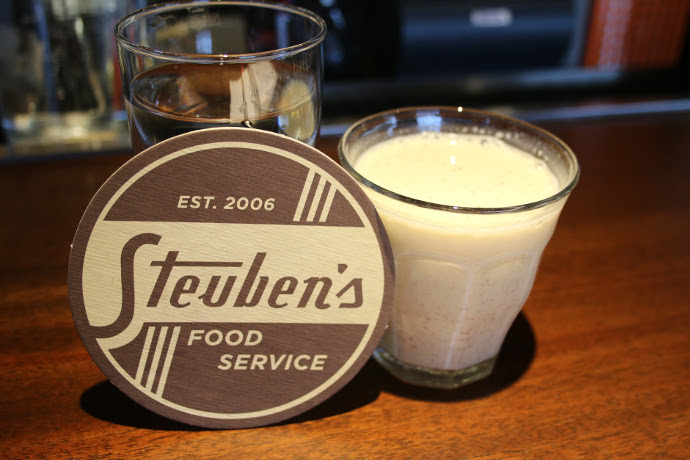 When Steuben's opened in Denver ten years ago, the mix of American regional comfort dishes caught on quickly. The restaurant's menu reads like an All-American cookbook: Mac & Cheese, Ettouffee, Meatloaf, Cubanos, Hot Chicken and Cheeseburgers. The food became an instant hit enticing people from around the metro area. The addition of a food truck a few years later also helped spread this delicious food around town. Earlier this year, Steuben's opened a second location in Arvada's empty Gunther Toody's diner on the busy corner of Wadsworth and Ralston near Old Town. While many things about the original can be found, this new Stuben's brings a little something different to the table including the drink menu.
Connor Green is the bar manager for Steuben's Arvada, and while many of the drinks on the menu came from the old location, Green has added many tasty tipples that can only be enjoyed in Arvada. He says that while the restaurant strives for continuity between the two locations, there are different feels to each. With one urban and the other suburban, each restaurant has to do right by its locale.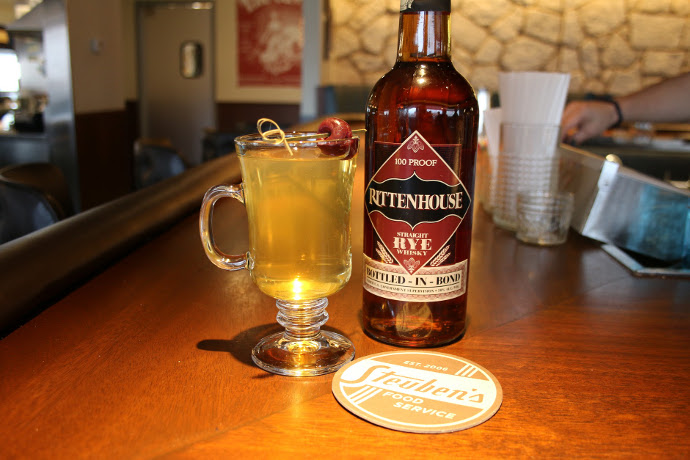 Steuben's Rock & Rye is a popular cocktail at both locations and features Rittenhouse Bonded Rye infused with orange zest, lemon zest, clove, cassia bark, horehound and some old school rock candy. The candy is melted into the drink, though, so you don't get that strange crunch. The drink has an apple-cinnamon flavor that Green compares to cough syrup, because it will numb the back of your throat like a lozenge. It's great for sipping slowly on a chilly day.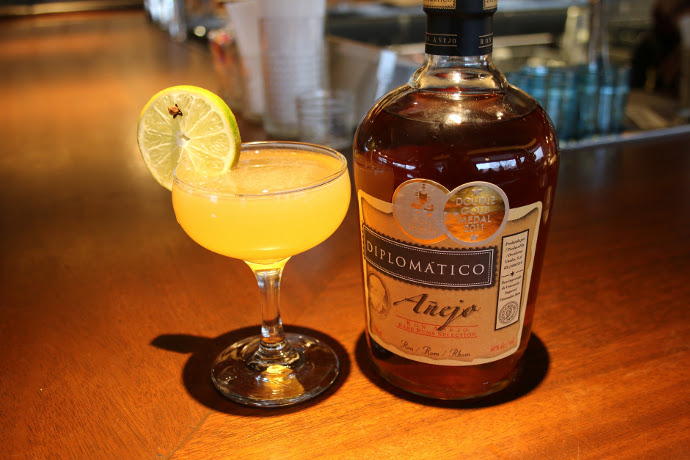 To fit the season, the Arvada location is serving the Winter Daiquiri, made with Diplomatico Anejo Rum, demerara syrup, Angostura Bitters and lime juice. Anejo Rum is a "rested" rum from Venezuela aged for four years. The glass is garnished with a lime wheel and a clove spike for extra citrus, herbal scent. It's a citrus-y take on a traditional daiquiri, and while the cocktail doesn't look thick, the texture is rich and creamy with a taste of lime and a bit of a bite at the finish.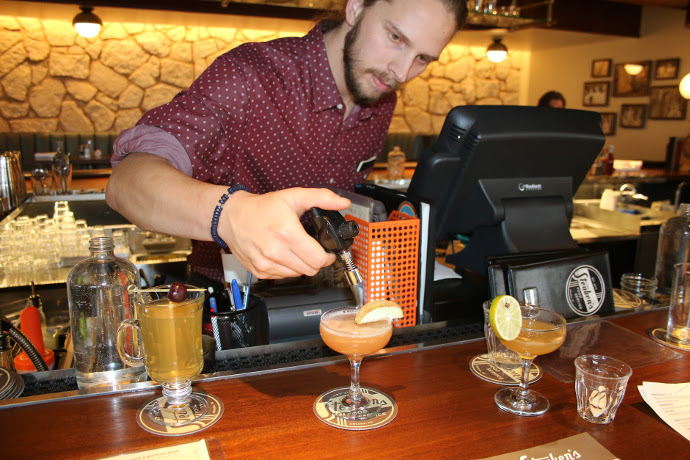 The AC Slater is a fiery drink that smells like apple pie. Also only served in Arvada, the AC Slater uses Bulleit Rye, Laird's Applejack Brandy, Domain de Canton, apple-cinnamon syrup and lemon juice. This tart and tangy sipper will perk up any evening. Another Arvada cocktail is Johnny on the Spot, made with Leopold Bros Small Batch Gin, Teatulia Earl Grey tea, rosemary syrup and lemon juice. Green makes an infusion of the gin with the earl grey tea, six bags to three cups, enhancing the gin's lavender, juniper, bergamot and rosemary flavors.
Steuben's Arvada is also offering Holiday Nog through January. Made with Basil Hayden's Kentucky Whiskey, the drink smells and tastes like fresh baked cinnamon rolls. The drink is served with a crunchy sweet garnish of white chocolate bark and nutmeg. Consider it dessert in a glass.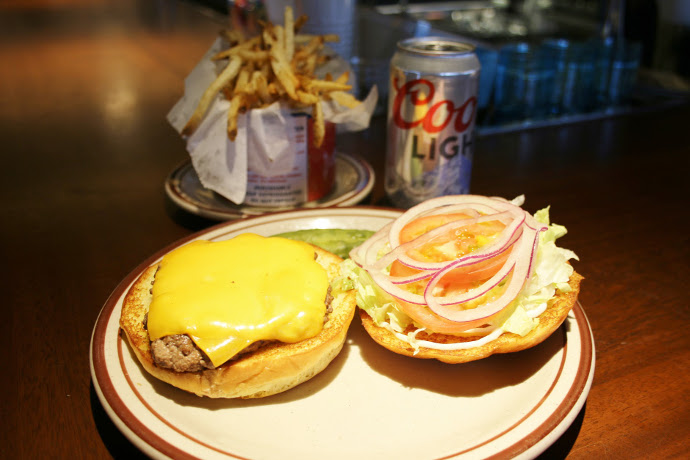 Happy Hour at Steuben's is called Lucky Seven, because there are happy hour meals for only $7. Try the classic burger with fries and a shake, fountain soda or Coors Light for only $7, or scarf down a grilled cheese, fries and drink. There is also a Chicago dog and a veggie burger available, and the house-cut fries come served in a tin can. Happy Hour Buffalo Wings are $1 each and Deviled Eggs are $0.50 each.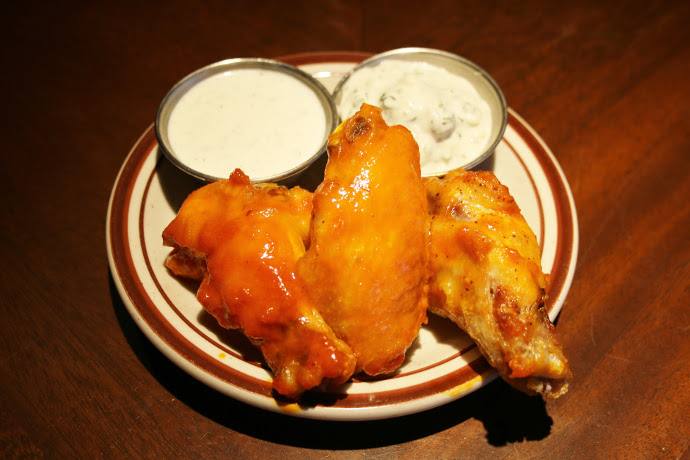 Drinks on the Lucky 7 menu include a selection of Steuben's classic cocktails for only $6 (regularly $8-9) and $1 off well liquor and all drafts, $2 domestic beers, $5 house wines and a combo of PBR and Mellow Corn Whiskey for $6. Another small surprise on the happy hour menu is $1 bottles of Little Kings Cream Ale. It's an classic ale similar to Genesee and, let's be honest, those little green bottles are super cute.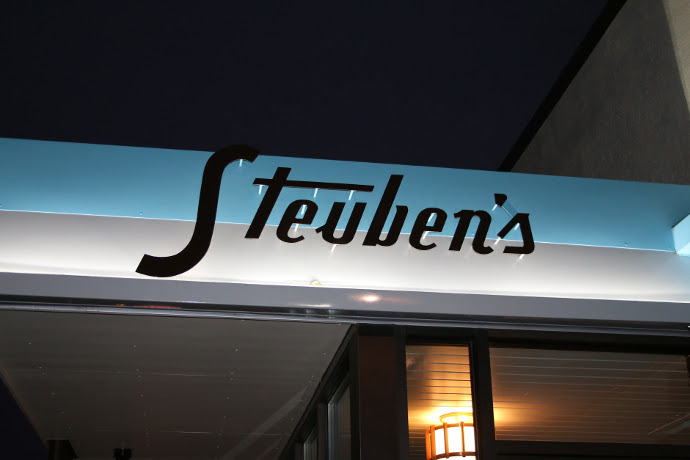 Steuben's Arvada Lucky 7 Happy Hour is 3-6 PM and 9 PM to close daily.
Photos via Carrie Dow
Tags:
Beer
,
Cocktails
,
Food
Recent Articles

Feedback
How are we doing? Tell us what you like or don't like and how we can improve. We would love to hear your thoughts!