Holiday Cocktails You Can Make at Home
You can do it!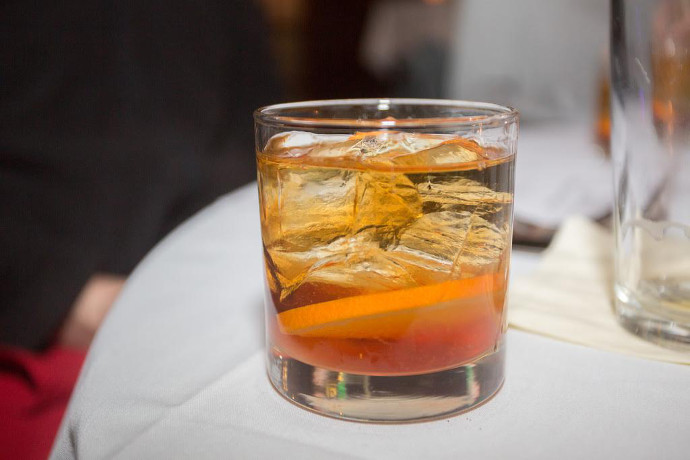 Chad Skrbina, longtime bartender for The Palm in Denver, believes making a good cocktail shouldn't be difficult. He even hosts cocktail classes at The Palm to show people how easy it is to create fun flavors in a glass. If you would like to serve a hand-made treat to your friends and family this season, Skrbina provides holiday twists on these classic cocktails that you can make at home.
Holiday Bourbon Old Fashioned
2 oz. bourbon
1 sugar cube
1 orange slice
1 cherry
Seltzer water
Bitters (ingredients without amounts are dashes or splashes to taste)
Muddle the fruit and sugar cubes with a splash of seltzer to release the flavors. If you don't have a muddler at home, try the back end of a wooden spoon. Add the bourbon, bitters and then some ice. It's a classic cocktail with a holiday spin.
Cranberry Sauced Margarita
Fresh cranberries
1.5 oz. tequila
Agave nectar
Sour mix
¼ oz. Grand Marnier, Cointreau or Triple Sec
1 lime wedge
Holiday colored sugar and salt
Start with the lime wedge, agave nectar and fresh cranberries in a shaker and muddle to release the flavors. Then add your favorite tequila, sour mix, Grand Marnier (or your choice) and ice into the shaker and shake away. Mix the sugar and salt together and use to rim the glass. Skewer some extra cranberries and a lime wedge for garnish. If you are hosting a party, Skrbina recommends preparing ahead of time in a pitcher and then add ice before serving.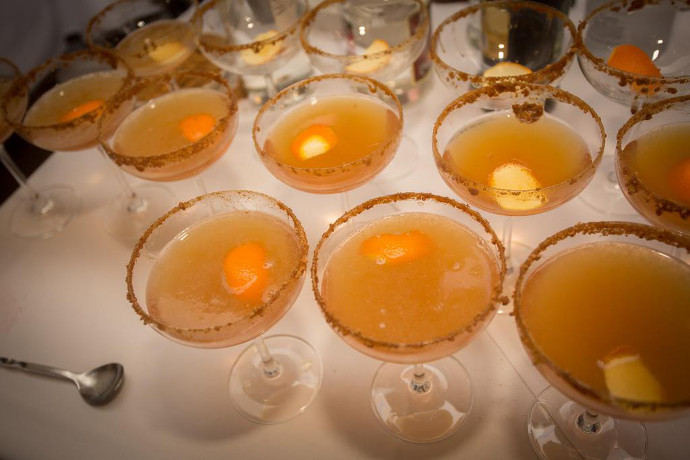 Gingerbread Sidecar
2 oz. cognac
1 oz. Grand Marnier
Maple syrup
2 sliced, fresh peeled ginger or pickled ginger
2 strips orange peel
Finely crushed ginger snaps
In a cocktail shaker add cognac, Grand Marnier, fresh ginger and a dash of maple syrup. Shake vigorously and strain into a glass rimmed with the crushed ginger snaps and garnish with an orange peel. This good looking drink will be an Instagram hit at your party.
Eggnog Martini
1.5 oz. rum
0.5 oz. Amaretto
1.5 oz. eggnog
Fresh ground nutmeg
Put all of the ingredients in a cocktail shaker and shake vigorously. Then pour into a martini glass. You should get a frothy martini. Grate fresh nutmeg or sprinkle ground nutmeg on top for garnish. It's a new way to enjoy old fashioned eggnog.
Candy Cane Martini
1.5 oz. vodka
0.5 oz. peppermint schnapps
0.5 oz. white Crème de Menthe
0.5 oz. green Crème de Menthe
Candy canes
Crush one candy cane into pieces and put one candy cane aside for garnish. Mix the vodka, schnapps, and white Crème de Menthe into a cocktail shaker and shake. Rim a martini glass with crushed candy cane and pour in the green Crème de Menthe. Top with the clear mixture in the shaker. Hang the extra candy cane off the side of the glass to amaze your guests.
Blue Christmas Martini
2 oz. vodka
Sour mix
Two to three drops Blue Curacao
Fresh blueberries
Mix ingredients in a cocktail shaker and pour into martini glass. Float the blueberries on top or skewer them. This one is easy.
Photos via The Palm
Tags:
Cocktails
,
Holiday
Recent Articles

Feedback
How are we doing? Tell us what you like or don't like and how we can improve. We would love to hear your thoughts!