Jim Koch Announces the Samuel Adams LongShot Winner at GABF
Home brew is good brew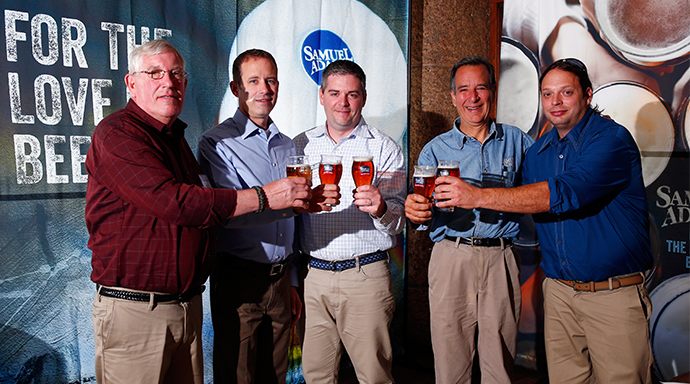 Boston Beer Company Founder and avid home brewer Jim Koch was in Denver for the Great American Beer Festival to announce the winners of the 20th anniversary Samuel Adams LongShot Home Brew Competition. Over 1,000 beers from home brewers around the country participated in this prestigious event. Only three were chosen best of the best.
Jim Koch himself began as a home brewer before founding Sam Adams Boston Lager back in 1984 and he personally makes the award presentation at the world's largest celebration of beer, where Boston Lager first gained popularity after winning "Best Beer in America" at the festival in 1985. The LongShot winners were announced at a beer brunch at Marlowe's Restaurant in downtown Denver on Friday, October 7.
This year's Longshot winners are:
David Cousino of Avon, OH, Saison - Cousino began homebrewing 25 years ago in college and after a long break started brewing in earnest four years ago. He is a pharmacist and now the attention to detail in his profession shows in his homebrews. Koch says Cousino's Saison has a soft malt character, delicate floral notes and a hint of pepper.
Duane Wilson of Horseheads, NY, American Wild Ale – Wilson and his co-brewer Mike Edwards have been brewing together for eight years and strive to improve on the styles they create. Wilson's mixed-fermentation American wild ale is fruit forward with apricots and kumquats and finishes with a dry tartness.
Graham Johnson of Marblehead, MA, Imperial Stout – Johnson is the Samuel Adams employee home brew winner. The company opened up the competition to its employees because they are so passionate about beer and many of them brew at home. Johnson's Imperial Stout uses whole coffee beans and chocolate and has decadent flavors of cocoa, espresso and hints of brandy and raisin. The taste finishes with touch of sweetness.
The LongShot winners were selected by panel of judges based on the BJCP style category under which they were submitted. The panel included Jim Koch, John Holl, Author and Editor of All About Beer Magazine; Tony Forder, Editor of Ale Street News; Jason Alstrom, Founder and Publisher of Beer Advocate and Norman Miller, Author and The Beer Nut from Wicked Local. New this year, two past winners who went on to become professional brewers were invited to judge. They were 2009 winner Michael Robinson of Newburyport Brewing and 2013 winner Cesar Marron of Sketchbook Brewing. For the employee competition, the beers were voted on by visitors to the Boston Beer Company taproom.
"I started out as a homebrewer and saw my dream of becoming a professional brewer turn into a reality," said Jim Koch, Samuel Adams Brewer and Founder. "Since we started the LongShot competition 20 years ago, we've seen an explosion of interest in brewing, and we're honored to showcase top emerging talent from the homebrewer community with this year's Contest." Koch says that since the competition began, six winners have gone on to open their own breweries, something that is a source of pride for the company.
The winning brews will be available for drinking in a variety pack starting in the Spring of 2017. If you think you have an award winning home brew and would like to be a part of the competition for 2017, check the LongShot page on the website for details on next year's application process.
Photo of LongShot winners Duane Wilson, David Cousino, Graham Johnson, Jim Koch, Mike Edwards (left to right) via the Boston Beer Company.
Tags:
Beer
Recent Articles

Feedback
How are we doing? Tell us what you like or don't like and how we can improve. We would love to hear your thoughts!