Take a Cocktail Class at The Crimson Room
Master Class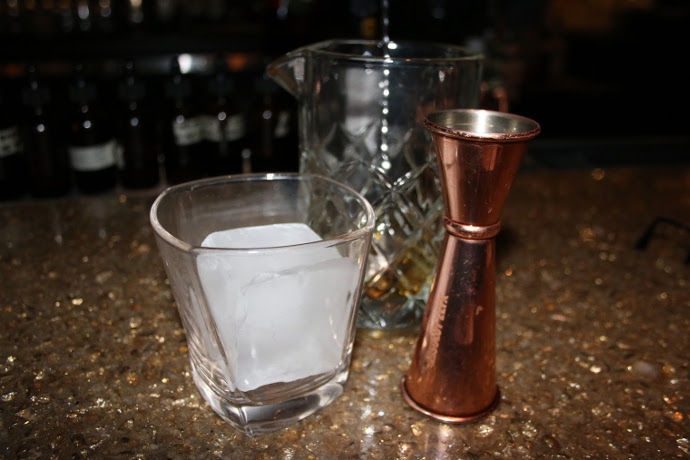 Underground lounge The Crimson Room in Larimer Square is a special place to enjoy a drink in Denver. Located down a mysterious dark stairway behind a bright red door, The Crimson Room is Denver's luxury speak easy jazz club. The refined drinks and fancy small plate menu make The Crimson Room a great place to start or end a night on the town or to spend an intimate evening with that special someone. The bar also offers cocktail classes once a month taught by the bar's mixologists to give patrons a chance to be their own bartender and learn how to make the lounge's great cocktails at home. Here is what you can learn at The Crimson Room.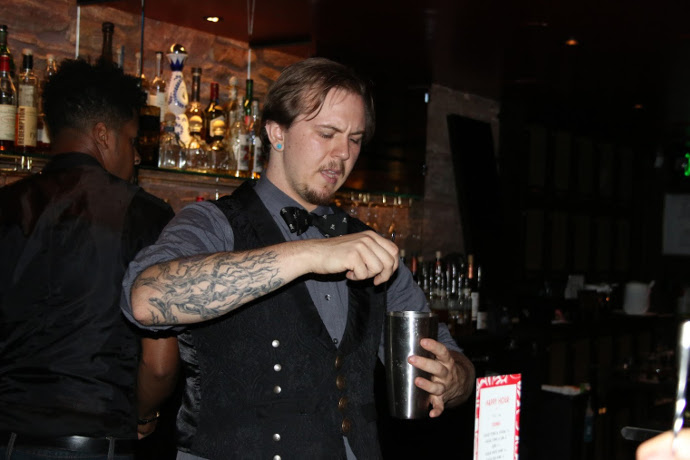 Each class has a theme revolving around a single spirit, holiday or style of drink. July's class featured whiskey and was run by bartender Casey. For this class, there were nine students and Casey first provided a brief history of whiskey, bourbon and scotch so we would understand the spirit we would be using. The difference between whiskey and bourbon is that bourbon is a unique American spirit made with at least 51% corn and aged only in new charred oak barrels. Scotch is made only in Scotland and uses mostly malted barley rather than corn. Canadian Whiskey, which contains at least 51% rye, is also a unique type of whiskey. Casey tells us that the Japanese are making some of the best whiskeys in the world and even import peat from Scotland to get authentic flavors.
Our class gets to make two cocktails and the first one is the Brown Derby, the original cocktail of the Kentucky Derby until 1936 when it switched to the Mint Julep. The Brown Derby is made with rye whiskey, grapefruit juice and honey. We are all given metal cocktail shakers with ice and jiggers, which help us to measure the liquids. We add one ounce of grapefruit juice and a half ounce of honey to the shaker, then we had once and half ounces of vanilla whiskey.
Next, we have to shake the shaker. We put a glass inside of it, making a long enclosed tube, and Casey instructs us to shake the container parallel to the floor to get the best shake. Then we give the metal a hard tap to release the drink and strain it into a martini glass. Casey then gives us a grapefruit peel garnish, which he instructs us to give a light squeeze and twist over the cocktail to release some of the oils in the peel and provide extra flavor. Now we get to taste our hard work. The scent is citrusy and the taste is both fruity and sweet with a smoky finish.
Our second cocktail is the Vieux Carre, a potent drink named for the French Quarter (Old Square) in New Orleans. Since he comes from Louisiana, the Vieux Carre is Casey's favorite. For this drink, we pour one ounce each of Jim Beam rye whiskey, Korbel brandy, and sweet vermouth into a small glass pitcher. We top the mixture with a dash of Peychard bitters, which is two shakes of the bottle. We are then given a long skinny metal bartender spoon for stirring. Casey says there are two "styles" of stirring — Japanese and American. The Japanese hold the spoon with three fingers and push the spoon clockwise. He prefers the American Style, which is using the spoon to "throw" or twist the liquor around counterclockwise.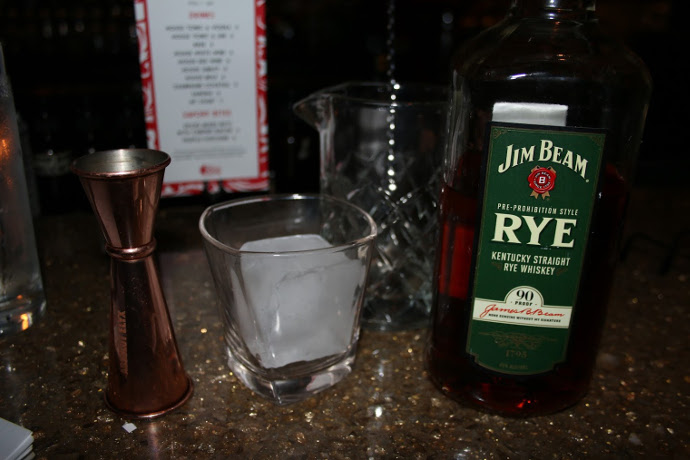 "It's all in the wrist," he says showing us how to twist the spoon around the edge of the shaker to fully mix the contents. Then we pour the cocktail through a strainer into a highball glass that contains a single large cube of ice. The ice cube will help temper the whiskey and because it melts slowly, will give the drink more complexity as we sip it. Then we top it with a lemon peel garnish. The lemon scent is blown away by the boozy taste. This strong drink is best sipped slowly in a cozy Crimson Room chair over a lingering evening filled with piano music.
Classes are the first Tuesday of each month (except for September) from 7 - 8 PM and cost $20 per person. Everyone gets to make two cocktails with all utensils and ingredients provided. The upcoming class schedule is below, and guests must register in advance by sending an email to angela@thecrimsonroom.com to be part of the class. Be sure to check the website for additional information, as class times are subject to change. The Crimson Room is located at 1403 Larimer St.
August 2 – "Snifter? I don't even know her!" Get to know Brandy
September 13 – Creative Cocktails You'll FALL For
October 4 – Mindmill Swills; Dutch-influenced Cocktails
November 1 – Spicing up Cocktails; Mixing with Herbs & Spices
December 6 – Holiday on the Rocks
Photos via Carrie Dow
Tags:
Cocktails
,
Education
,
Spirits
Recent Articles

Feedback
How are we doing? Tell us what you like or don't like and how we can improve. We would love to hear your thoughts!