Where to Watch the 2016 Summer Olympics in Denver
Go for the Gold!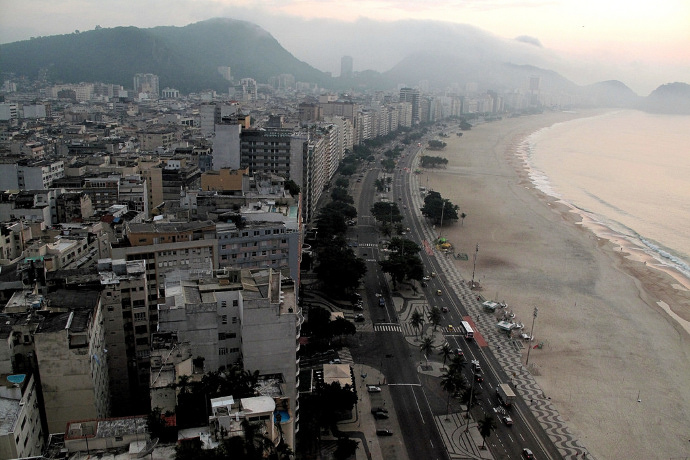 The Games of the XXXI Olympiad will begin this week, with opening ceremonies on Friday, August 5. What better way to celebrate the world's greatest athletes than giving cheers with a drink in hand? Since the games are in Rio de Janeiro, Brazil, we should celebrate as the Brazilians do with a delicious caipirinha. Considered Brazil's national cocktail, the Caipirinha is made using a unique spirit, Cachaça, sugar and lime. Cachaça is made from sugarcane juice. The traditional way of making a caipirinha is by muddling lime and sugar and then adding Cachaça. If you're heading to the games, you'll find this cocktail everywhere. If you're watching them at home, here are a few places in Denver that serve up this South American favorite.
Buchi Café Cubano
This Cuban café in the Highlands has Caipirinhas on the menu all the time, not just for the Olympics, and they're only $7.
(2651 W. 38th Ave.; 303-458-1328)
Central Bistro
Over in the Highlands, Central Bistro serves up a variety of cocktails featuring different flavors from all over the world. The
San Juan Express
is made with Avua Cachaca, grapefruit, lime, Irie Island Spice. and peach bitters for a refreshing Olympic-watching beverage. Enjoy for $11.
(1691 Central St.; 303-477-4582)
Cuba Cuba
This Caribbean restaurant located inside Denver's Golden Triangle serves all sorts of tropical delights including a traditional Brazilian Caipirinha made with Brazilian cane cachaca, sugar and lime. You can also add strawberry, grapefruit or pineapple, if you like, and the whole package is $9. (
1173 Delaware St.; 303-605-2822)
Del Frisco's Grille
In Cherry Creek North, Del Frisco's is serving up medal-winning cocktails for guests who watch the Olympics at the restaurant's huge wrap-around bar surrounded with HDTVs. There are also TVs on the rooftop patio. For the Olympics order one of these special cocktails
: Liquid Gold
with peach raspberry Grand Marnier topped with ginger ale and lemon twist;
Silver Lining
with St. Germaine and prosecco, soda waterand fresh blueberries and raspberries;
Bourbon & Bronze
with Bulleit Bourbon, Domine de Canton and fresh lime juice with a cherry.
(100 St. Paul St.; 303-320-8529)
Fate Brewing Company
Fate Brewing and Eatery in Boulder is opening up the tap room bar with 11 HDTVs for your Olympic viewing pleasure. There will also be specials on Brazilian beers starting on August 5.
(1600 38th St., Boulder; 303-449-FATE)
Los Chingones DTC
The newly opened Los Chingones in the Tech Center offers up all kinds of Southern hemisphere delights. The
Los Cina-Cha-Cha
is made with Leblon Cachaça infused with cinnamon and vanilla, fresh OJ and simple syrup and cost is $10.
(4959 S. Newport St.; 303-567-4258)
Rodizio Grill
If you're hungry, this Brazilian steak house is a great place to enjoy a bottomless assortment of meats along with a traditional Caipirinha. Denver's best known Brazilian eatery makes it the traditional way, with Brazilian Cachaça and fresh limes.
(1801 Wynkoop St.; 303-294-9277)
This new restaurant behind Union Station is not only a great place for hanging out and watching Olympic action — the bar will be offering $3 Caipirinhas and $3 Olympia beers during the Olympics. That's a gold medal for specials! (1900 Chestnut Pl.; 720-535-9719)
Stoney's Bar & Grill
While they don't serve caipirinhas, Stoney's downtown is having a free pig roast for the opening ceremonies on Friday, August 5. Get free pork while until its gone starting at 5 PM.
(1111 Lincoln St.; 303-830-6839)
Thirsty Lion Union Station & Cherry Creek
Both locations of Thirsty Lion will offer up drink-related gold during this Olympics. Every time a Team USA members wins a gold medal, guests at the restaurant will be able to purchase
Gold Margaritas
(featuring Jose Cuervo Gold tequila) for half price.The special is valid immediately following the win. (
1605 Wykoop, Downtown; 201 Columbine St., Cherry Creek
)
Recent Articles

Feedback
How are we doing? Tell us what you like or don't like and how we can improve. We would love to hear your thoughts!