An Inside Look at Little Machine Brewing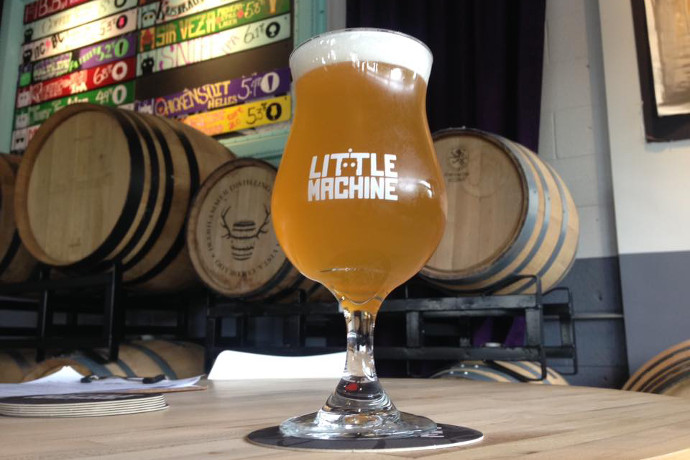 The most striking thing about Little Machine Brewing Company, in my opinion, is the bar.

It's a circular one that surrounds the taps and tenders situated in the middle of a deceptively expansive drinking space. Take a seat, and it almost feels like your beer consumption is taking place as a member of a football huddle. That's actually appropriate—Little Machine's Jefferson Park location is within easy walking distance of the Denver Broncos' home, Sports Authority Field. Except here, Peyton Manning won't be calling the plays.
The rest of Little Machine's interior is fairly standard for Denver breweries—a couple garage doors open up the room to the elements with plenty of exposed ductwork and visible brewing equipment. Little Machine deviates a bit from most Denver breweries in one sense—it has no patio. There are a few on-site parking spaces, but I'd only go outside of Broncos game day. However, if you're at the Orange and Blue on a Sunday, Little Machine would be a great spot to huddle up with friends for a beer before kick-off.
Little Machine's brewers do concoct some of the city's most distinctive craft brews so the menu routinely features experimental beers, one-offs and a few standards. My bartender told me that Colorado Stock Ale, a pale ale at 5 percent ABV, "Tractor Beam" Oatmeal Stout (5.8 percent ABV) and "Sniff" English-style IPA (6.1 percent ABV) are on tap most of the time. So are a couple of Little Machine's fruit beers—"Razz Against the Machine" Tart Raspberry Ale (5.3 percent ABV) and "Alternating Currant" Tart Black Currant Ale (5.3 percent ABV). Locavores should select the Colorado Stock Ale as all of its ingredients were produced here in the Centennial State. I also tried the "Rosie" Red IPA (6.8 percent ABV), which ought to slake the thirst of any hops-monger.
There are 11 other taps, so Little Machine is a good place for drinkers who dig on trying new stuff. I thought Little Machine's take on taster glasses—of the small stemless wine variety—was a creative touch. Like other breweries, Little Machine offers up a menu of food trucks throughout the week, but they get a Mile-High salute from me for selling bags of Zapp's chips. Nearby restaurants also will deliver to your bar stool, too.
Overall, Little Machine is strong entrant to the Denver craft-beer scene. Their marketing features a robot theme, and so like the Terminator, I'll be back.
Little Machine's taproom is open Monday–Thursday, noon–11 PM; Friday–Saturday, 11 AM–11 PM; and Sunday, 11 AM–10 PM. (Little Machine Brewing Company, 2924 West 20th Ave., 303-284-7893)
Photo via Little Machine Brewing on Facebook
Recent Articles

Feedback
How are we doing? Tell us what you like or don't like and how we can improve. We would love to hear your thoughts!