Colorado's Most Expensive Cocktail: The Leyenda at The Broadmoor
A Colorado Legend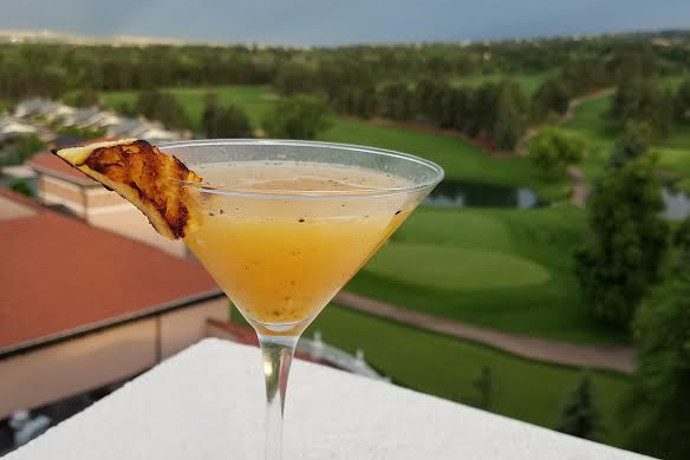 In Spanish, the word Leyenda means "legend." Here in Colorado, The Broadmoor resort in Colorado Springs is a legend. Opened in 1918 this historic resort recently underwent a multi-million dollar makeover remodeling and re-imagining large parts of the resort. However, some things don't change. The Penrose Room in the South Tower overlooking the lake is one of them.
The Penrose Room and Lounge is also Colorado's only 5-Star and 5-Diamond restaurant. It has top notch service, a European-influenced menu, and some of the most exquisite cocktails in Colorado. It also has what could be considered Colorado's most expensive signature cocktail. For only $88, you can sip The Leyenda.
The Leyenda Cocktail is based on the Margarita, but is made with an exclusive tequila. Spirit enthusiasts consider Gran Cenenario Leyenda to be tequila's first "Extra Anejo," and it is made by blending 100% blue agave that has been aged for an average of four years in French Limousin oak barrels. Using a process called "Seleccion Suave," that mixture is then combined, or married, with tequila reserves that are aged up to 15 years. Connoisseurs consider it the most refined tequila in Jalisco.
Gran Centenario has been making tequila since the 1800s, but Leyenda is a more recent introduction, as in this millennium. A small amount of this tequila is put into special art-deco inspired, limited edition bottles. Those bottles are then numbered and signed by the bottler. All that uniqueness retails for about $300 a bottle. This is no ordinary tequila, and the Leyenda is no ordinary drink.
The Leyenda is made with Gran Centenario Leyenda Tequila, Grand Marnier 100, which itself retails for just under $200 a bottle, and muddled fresh grilled pineapple with a grilled pineapple garnish. Bar Manager Thomas says the flavor profile is a playful take on the margarita with the sweetness of pineapple while the Grand Marnier also adds a lot of sweetness to balance the tequila. He and Head Bartender Chris say they only make a few of these cocktails throughout the year, but both have noticed that the cocktail's popularity goes in cycles. Thomas says one person will order The Leyenda, and somehow word gets around the restaurant and then a few others will order one as well. Chris says the most he has made at one time was eight in one day. I'll let you do the math on that bar tab.
"There was a graduation [party] last year. A guy came in, sat down and ordered one and enjoyed it. Then the rest of the family arrived and they ordered a bunch more. It's considered a celebratory cocktail."
Because this cocktail stays on the menu year around, that may make it Colorado's most expensive regular cocktail. Some places do offer more expensive cocktails, way more expensive, but on a seasonal basis. For example, the Edge Restaurant at the Park Hyatt in Denver has a Valentine's cocktail that includes a 2-carat cushion-cut diamond for $22,222. The Leyenda is on the menu year around and has been for over five years. Thomas says it's not going anywhere. When something is a legend, it stays that way.
Does your bar or restaurant have a more expensive cocktail? If you can top The Leyenda, let us know!
Photos via The Broadmoor
Tags:
Cocktails
Recent Articles

Feedback
How are we doing? Tell us what you like or don't like and how we can improve. We would love to hear your thoughts!