Git Fit While Catering to Your Drinking Habit This Summer at These Denver Run Clubs
Will run for booze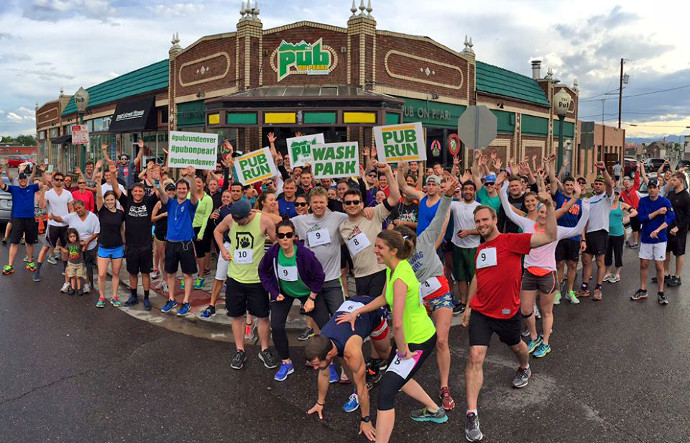 Summer is just around the corner and local bar and brewery run clubs are gearing up to start the 2016 season. If you've found a few extra pounds creeping up on you from hibernating this winter, now is the time get signed up and get running. Denver run clubs encourage members to run with a group, have fun, share race times and meet new people. What could be more fun? Oh, yeah, having a tasty adult beverage afterward. Ready, set, go!
bRUNch Running, Denver (Locations vary)
A new organization has combined two of our favorite things, running and brunch! At various locations around town, athletes can enjoy an easy 5K run, or a more strenuous 10K for the serious athlete. Afterwards, enjoy delicious brunch with mimosas and other beverages. All runs are on Sundays and registration begins at 9:15 AM. Running starts at 9:30 AM. Each event has a signup fee of $25 in advance ($30 at the door) and the fee includes the run, brunch entrée, two drinks, tax and gratuity. Also, $1 of every ticket sold is donated to various charities. Denver bRUNch Runs are sponsored by Tito's Handmade Vodka, Great Divide Brewing Company, Denver Beer Company, Renegade Brewing Company, and Epic Brewing Company and beers from these breweries are available at events. Other cities with bRUNch Runs are Fort Collins, Boulder, Phoenix, AZ, and Austin, TX.
Upcoming Denver bRUNch runs are at Central Bistro on April 24 and Telegraph on May 1. Visit the website for the full schedule.
Denver Beer Company Run Club
Winter be damned because Denver Beer Company's run club goes all year long. Enjoy a 5k walk/jog/run around the LoHi neighborhood every Tuesday. Afterwards, enjoy a free pasta dinner with a delicious DBC beer. Registration is at 6:20 PM and the running/jogging/walking starts at 6:30 PM. Maps are available for newbies. (1695 Platte St.; 303-433-2739)
Highland Tap and Burger Run Club
Another hearty year-around run club meets at the Highland Tap and Burger every Wednesday. Come run a four-mile loop from the Highlands to LoDo and back. All ages and speeds welcome. Afer the run, runners will receive a complimentary pasta and salad dinner and select beers are 20% off. For newbies, please arrive 10 minutes early to fill out a waiver and learn the course. Running starts at 6:30 PM. (2219 W 32nd Ave.; 720-287-4493)
The Irish Snug Run Club
Denver's largest and oldest run club can be found at The Snug. Join a weekly 5k run around the Capital Hill neighborhood. All ages and abilities are welcome, however, everyone must register and sign a waiver online before their first run. Members receive weekly emailed newsletters with info about local races, guest presenters at the club, and other events. Runs are every Thursday and registration is in the downstairs bar, Under the Snug. Running starts at 6:15 PM. Follow a run club guide or you can run on your own or with a group of friends. Afterwards enjoy a pasta and salad dinner with drink specials. Runners receive a special Run Club technical shirt after their 10th run. (1201 E Colfax Ave.; 303-839-1394)
Jagged Mountain Run Club
Get in a rugged run twice a week with Jagged Mountain every Tuesday and Thursday beginning at 6:30 PM. Run a 3-4 mile loop in the Ballpark neighborhood starting and ending at the brewery. Afterwards, get 50% off your first beer. The runs are weather permitting, so check with the brewery before heading over. (1139 20th St.; 720-669-BEER)
Joyride Brewing/Edgewater Run Club
Take a few laps around scenic Sloan's Lake in West Denver. Meet at Joyride Brewing at 6 PM, run around the park, then head back to the brewery to enjoy the sunset and some beers. All runners get happy hour pricing all night long. The brewery also has tables reserved for the runners so on those warm summer nights, there is no worry about finding a place to rest. The Edgewater Run Club meets every Wednesday. (2501 Sheridan Blvd.; 720-432-7560)
Pub on Pearl/Wash Park Run Club
Beginning Wednesday, April 6, the Wash Park Run Club at the Pub on Pearl will begin its 2016 weekly season. Check in starts at 6 PM, and the running starts at 6:30. Members run from the pub to Wash Park, around the park, and then back to the pub for one free snack and 2-for-1 beers all night long. Run 15 times over the summer and receive a free Pub Run t-shirt. Guests must register before their first run. (1101 S Pearl St.; 303-777-6768)
ViewHouse Run Clubs
Both locations of the ViewHouse will be offering run clubs for the first time this year. That covers runners in both the Ballpark neighborhood downtown and Centennial in the Denver Tech Center. Runs will be on a two-mile course and include an Endure FIT360 work out in the courtyard afterward. Runners will also get 25% off their food order and one free beverage. There is a one-time fee of $20 to join the club, and paid members receive a t-shirt. Centennial runs will be on the first Saturday of each month starting April 2 at 9:30 AM and Ballpark runs will be the first Wednesday of each month starting April 6 at 5:30 PM. Check the website for the full summer schedule. (Ballpark, 2015 Market St; 720-306-9008: Centennial, 7101 S Clinton St.; 303-816-3160)
Photo via Pub on Pearl Run Club
Tags:
Beer
,
Cocktails
Recent Articles

Feedback
How are we doing? Tell us what you like or don't like and how we can improve. We would love to hear your thoughts!