Where to Sip Margs on National Margarita Day in Denver
Frozen concoctions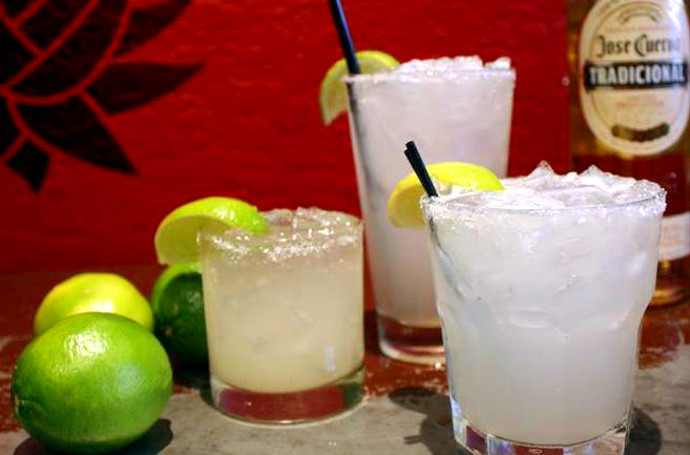 Monday, February 22, is National Margarita Day and there is nowhere better than Denver to enjoy this tasty tequila cocktail. With a variety of authentic Mexican establishments and fine tequila taquerias, there are plenty of places to enjoy in what should be a day-off-work holiday. Here are some of Drink Denver's favorite margarita palaces.
Blue Bonnet
One of Denver's most historic restaurants, The Bonnet loves Margaritas so much that there is an entire menu covering every kind possible. Here is just a small sample list: The Perfect Margarita, Blue Margarita, El Presidente, Frozen Swirl, Italian Margarita, the Mango Margarita, the Habanero Margarita, and the house specialty, the award-winning Phil's House Margarita. With so many to choose from, you could drink margs all day. Or maybe that was their plan all along. (457 S Broadway; 303-778-0147)
Kachina Southwestern Grill
Enjoy happy hour all day on National Margarita Day up in Westminster. Get $6 house margaritas and half-price pitchers of the House Margarita, Coinhouse Margarita, Prickly Pixie, and Cointreau. If the weather cooperates, enjoy your drink on the outside patio facing the mountains. (10600 Westminster Blvd.; 303-410-5813)
La Loma
Another one of Denver's historic Mexican restaurants, La Loma serves Margaritas by size and by brand and allows the customer to mix and match flavors and add-ons. The house specialty is the De La Casa and is $9 for a 12-ounce, $12 for 28 ounces, $19 for 46 ounces, and $36 for a 64-ounce pitcher. That's a heaping dose of margarita. Don Julio and Patron tequila margaritas start at $12 for 12 ounces and go up to $48 for a pitcher. Guests can also add flavors for $2 each, choice of strawberry, prickly pear, mango, peach guava, blood orange, and passion fruit. Add a Grand Marnier float for $3. All Margaritas come either frozen or on the rocks. (2527 W 26th Ave.; 303-433-8300)
La Sandia
Over in Stapleton, Richard Sandoval's La Sandia has nine margaritas to choose from, some of which even come by the pitcher for larger groups. Start with the Traditional for $7 up to the Cadillac Tradicional made with Cabo Wabo Reposado and Grand Marnier for $11. (8340 Northfield Blvd., Unit 1690; 303-373-9100)
Lola Mexican Fish House
Lola's has a special selection of Coin-style Margaritas. Coin-style uses silver tequila and Cointreau. Lola's Coins start at $8 for the Herradura Silver and go up to $14 for the Don Julio Anejo. The bar also has a variety of classic cocktails made with tequila such as the Drug Mule, Jalisco Negroni, and the LoHi Old Fashioned. For National Margarita Day Lola's is offering the first 100 guests to get a FREE Casa Coin Margarita. (1575 Boulder St.; 720-570-8686)
Machete Tequila & Tacos
Both locations of Machete have an extensive tequila menu so you can expect the margaritas to be varied as well. There are 13 types of Margaritas from the traditional Machete for $11 up to $18 for the Anejo Cadillac and $20 for the Anejo Coin. Seem a little pricey? Well, another reason to join Machete for National Margarita Day is because happy hour starts at 11 AM Monday with $3 off house and specialty margaritas until 6 PM. (LoDo: 1730 Wynkoop; 720-612-7698; Cherry Creek: 2817 E 3rd Ave.; 303-333-1567)
Marg's World Taco Bistro
A place called Marg's is bound to have a lot of margaritas, 12 to be exact. Try something exotic like the Vanilla-Coconut or the Kiwi-Jalapeno. Also, every Monday is National Margarita Day. Marg Mondays at Marg's feature $5 House Margaritas all day. (LoDo: 1519 Wykoop.; 303-534-MARG (6274); Uptown: 500 E 19th Ave.; 303-832-MARG)
Max's Wine Dive
Although Max's specializes in wine, they love a good margarita just like the rest of us. For National Margarita Day enjoy BOGO House Margaritas all day long. (696 Sherman St.; 303-593-2554)
Second Home Kitchen + Bar
Over in Cherry Creek, enjoy Second Home's Sidekick Margarita for only $12 on National Margarita Day. The Sidekick is made with Herradura Silver, Cointreau, agave nectar, lime, passion fruit reduction, and a chipotle salt rim. Enjoy it on the Second Home patio next to the firepit, clouds or sunshine. (150 Clayton Ln.; 303-253-3000)
Tamayo
Tamayo has a large selection of distinctive tequilas and mezcals for the spirit connoisseur, and you can find these fine spirits in the cocktails. Tamayo has seven tequila Margaritas and two mezcal Margaritas starting with the Traditional for $9. If the weather cooperates, you can enjoy National Margarita Day on the rooftop patio overlooking the mountains. (1400 Larimer St.; 720-946-1433)

Photo via Machete Tequila & Tacos
Tags:
Cocktails
,
Tequila
Recent Articles

Feedback
How are we doing? Tell us what you like or don't like and how we can improve. We would love to hear your thoughts!