Where to Find Pliny the Younger in Denver (2016 Edition)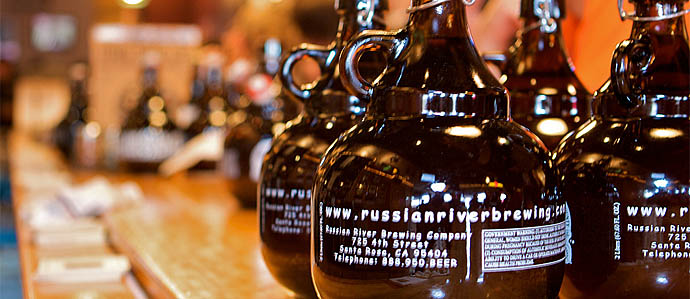 Each year in February, the craft beer world gets buzzing over the release of Pliny the Younger, a triple IPA made by Russian River Brewing Company of Santa Rosa, Calif. It's a time of year when many beer lovers—old and new—embark on a quest to find the cult beer in select markets around the country. And they should—Pliny the Younger is a beer unlike any other. Newbies will be amazed by the hop-forward flavor and grizzled veterans like me take the opportunity to enjoy a beer that in many respects sets a benchmark for others.
There's no shortage of places in Denver to find a pour—God, it's great living here—and the events themselves are some of the most enjoyable of the craft beer year. So if you're trying to take part in Pliny time, here's a list of places tapping kegs this year:
The Falling Rock Tap House leads all servers of the Pliny the Younger with three tappings on February 20, 21, and 28. Doors open at 11 AM with the pour starting at 1 PM. Of all the Pliny events in Denver, I prefer this one—it's orderly, the crowd is great, and the Falling Rock has hundreds of other beers to try pre- and post-Pliny. Big-time hints here: People generally begin lining up two hours prior to opening because the Falling Rock uses a ticket system. Check the website for the full explanation. Also, the Feb. 21 and 28 tappings are on a Sunday, which means street parking in Denver is free.
The Cheeky Monk Belgian Beer Cafe will offer two tappings of Pliny this year. The first will occur at 5 PM on Wednesday, February 24, and the second at 3 PM on Saturday, February 27. Both tappings will take place at the chain's Denver location on Colfax Avenue. The Cheeky Monk offers Pliny on a first come, first served basis.

Hops & Pie will tap a keg of Pliny at 1:30 PM on Wednesday, February 24. The pizza and beer palace uses a ticket system and will hand them out when their doors open at 11:30 AM. If you get a ticket, you can redeem it for a pour any time before 10 PM that day, and that day only. This is probably your preferred path to pairing Pliny and pie.

Euclid Hall will tap into its Pliny starting at 1 PM on Saturday, February 27. That's when the doors open that day, so you may want to line up outside in advance or formulate your own strategy for getting the triple IPA. There's almost no better restaurant in Denver for beer pairings. The Hall recommends bringing cash to pay for your Pliny pour.
World of Beer's outlet in Denver will distribute its Pliny at noon on Sunday, February 28. Tickets will be handed out beforehand so another early arrival may be in order. Bartenders also will have some Pliny the Elder on tap, so dare to compare. Also, Russian River's Supplication will be available for sour snobs. World of Beer loyalty members receive priority. All others will be served on first-come, first-served basis.

Park & Co. will dole out its Pliny at 4 PM on Monday, February 29. Tickets will be handed out at 3 PM, so be sure to get there early.

Freschcraft, a must-visit for any Denver beer lover, will host its Pliny tapping at 6 PM on Monday, February 29. Trust us, the food and the beer are worth your leap day. Freshcraft uses a ticket system to ensure fairness and will only accept cash. (No tabs). They'll form the line beginning at 5:30 PM, so get there early.
As other events become known, we'll update this list. Skol!

Photo by The Drink Nation
Tags:
Beer
Recent Articles

Feedback
How are we doing? Tell us what you like or don't like and how we can improve. We would love to hear your thoughts!