Where to Watch the Broncos (W)in the Super Bowl in Denver
#BroncosCountry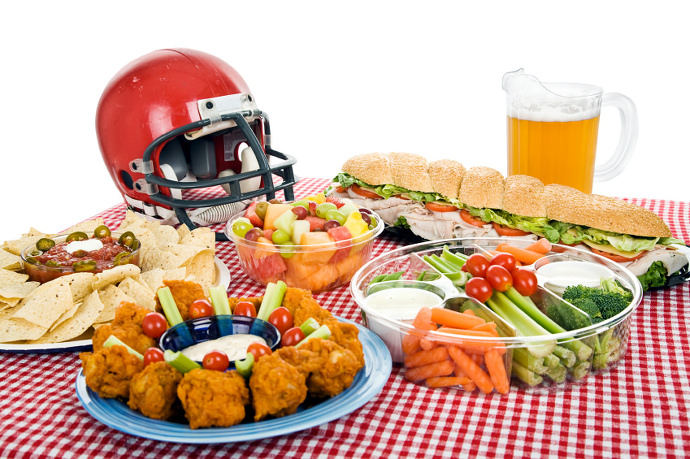 The biggest of American sporting events is finally here, and in Denver, it's offically a holiday. Super Bowl Sunday is upon us, and this year the Denver Broncos will face the Carolina Panthers in the big game. What will happen when Old School Peyton Manning meets New School Cam Newton? Game time is 4:30 PM MST, but for most of these Super Bowl parties, you might want to get there early to snag the best seats. May the best team (Broncos) win!
Chopper's Sports Grill
Cherry Creek's favorite sports bar will have drink specials and a pre-game DJ. Also partake in a free Super Bowl pool and watch the game on the bar's 165-inch HD video wall and 20 other large HD TVs. (80 S Madison St.; 303-399-4448)
Del Frisco's Grille
Also in Cherry Creek, the Del will have happy hour all day on Sunday plus a Super Bowl Ring appetizer special. Enjoy $5 drafts or $6 select cocktails and wines and pair them with $6 gourmet flatbreads, tacos, nachos, egg rolls, or corndogs. (100 St. Paul St.; 303-320-8529)
Fate Brewing Company
Our friends up in Boulder are rooting for the Broncos and you get the benefits. At Fate Brewing, enjoy a free pint of one of the brewery's core beers when you bring in your growler for a refill before the big game. (1600 38th St., Boulder: 303-449-FATE)
Epic Brewing Taproom
Epic is combining two great events into one. Celebrate both the Broncos in the Super Bowl and Mardi Gras this Sunday with Mile High Cajun providing an all-you-can-eat Cajun buffet for $25 per person. Enjoy beer specials and lots of beads, mostly blue and orange. (3001 Walnut St.; 720-539-7410)
Giggling Grizzly
The Griz will open at noon on Super Bowl Sunday, and there will be beer and shot specials, a full kitchen, and giveaways during the game. Seating is first come, first serve. (1320 20th St.; 303-297-8300)
Govnr's Park
This bar has been celebrating the Broncos all season long and the Superbowl is no different. Watch the game while drinking $4.50 23 oz. Coors Lights and $4 Coors Light aluminum pints or get a bucket of five pints for $18. If you need to hit the harder stuff, Jim Beam is $4 and Jameson is $5. The party starts at 10 AM. (672 Logan St.; 303-831-8605)
Hard Rock Café
The Hard Rock will have a Broncos-themed menu for the day and the game will be broadcast on a giant 110-inch TV. The Denver Café has also made a bet with the Myrtle Beach Café. The losing city's staff must wear the winning city's t-shirts for a day. Go Broncos! (500 16th St., Ste. 120; 303-623-3191)
Highland Tavern
Join the Highland Tavern for Super Bowl Sunday and get $4 Fireball shots and Full Sail Session Lagers. There will also be halftime giveaways and plenty of swag and prizes. (3400 Navajo St.; 303-433-1990)
Jackson's
Jackson's by Coors Field is having a Super Bowl 50 Tailgate starting at 1 PM. For $75 per person, you get seating for the game in a private room, a buffet, bottomless Coors Lights, exclusive Broncos giveaways, and raffles contests. Call 303-298-7625 for reservations. (1520 20th St.; 303-298-7625)
Jake's Sports & Spirits
Join Jake's Tailgate starting when the bar opens at 10 AM. Get food and drink specials all day leading up to the game at 4:30 PM. The bar is taking reservations for tables. (3800 Walnut St.; 303-295-3800)
Lime Denver Pavilions
Lime is taking reservations for its Super Bowl Party. Tables must be reserved in advance. Enjoy $5 Orange Crush Mojitos and Bronco-ritas and $3 Orange Crush Jello Shots at this tequila bar. (500 16th St., #322; 303-629-5463)
Punch Bowl Social
The party starts at 1 PM on Super Bowl Sunday, and to commemorate the game, the Punch of the Day is Orange is the New Blue made with Old Forrester Bourbon and garnished with oranges and blueberries. Enjoy half off chips and salsa or wings and $5 will get you an Old Man can, your choice of a PBR, Coors Banquet, or Olympia, and a brat. PBS has 16 TVs to watch the game. Call 303-765-2695 for reservations. (65 S Broadway;303-765-2695)
Stoney's
Stoney's is starting the day off right with a Broncos Breakfast at 9 AM Superbowl Sunday. Enjoy a pancake buffet, breakfast burritos, and a Bloody Mary bar. Starting at 11 AM, the South Patio will have a Gameday BBQ with giveaways and drink specials all day. (1111 Lincoln, St.; 303-830-6839)
Stapleton Tap House
The Tap House is taking reservations now for Super Bowl Sunday. Those who reserve will get 50% off beers during the game and can place advanced catering orders from Jim-n-Nick's BBQ. Call Justin at 720-499-2337. (8286 E Northfield Blvd., Unit 1525; 720-499-2337)
3 Kings Tavern
Here's something different from what is normally a music bar. 3 Kings Tavern is hosting a Superbowl Potluck Party. Bringing a dish to share and enjoy drink specials, pool tables, and the game on all the TVs. (60 S Broadway; 303-777-7352)
Thirsty Lion Gastropub
The Thirsty Lion is hosting the official Pro Players Association Super Bowl Party on Sunday featuring a host of Broncos Alumni. Also KUHS radio will be streaming a live pre-game show featuring former Broncos Chris Brewer and Fred "Mr. Wall Street" McHenry. Other players scheduled to attend include Haven Moses, Greg Boyd, Paul Howard, Mark Cooper, Larry Evans, and Race Central TV/Radio Host Kurt Hansen. Players will be on-hand to sign autographs and chat with folks about playing for the Broncos while watching the Broncos in the Super Bowl. There will be giveaways and a silent auction to local Food Banks and the Pro Players Association. The party starts with the Thirsty Lion Happy Hour at 3 PM. Enjoy $4 featured pints, featured wines, and House Margaritas. Food menu from $3.95-5.95. This free, open to the public event starts at 4:30 PM. (1605 Wynkoop St.; 303-623-0316)
ViewHouse Ballpark & Centennial (2015 Market St.; 720-282-1588 and 7101 S Clinton St.; 303-790-8439)
ViewHouse is Denver's football headquarters. The Centennial location boasts Denver's largest indoor TV not inside a sports arena. It's a whopping 200 inches! At the Ballpark location, they are putting a canopy over the outdoor space and setting up a 120" outdoor LDC TV, which makes a total 88 TVs for viewing. Drink specials include $5 Colorado Buffalo Gold drafts, $3 Coors Light drafts, and $2 Touchdown Shots every time the Broncos score a touchdown. Food specials include slider platters and taco trays. The restaurants are expecting 4500 fans between the two locations so get there early because most seating is first come, first serve. Cabanas can be reserved ahead of time for larger groups by calling the restaurants directly.
Wash Park Sports Alley Bar & Grill
Over in Wash Park, the Sports Alley has 38 HDTVs for viewing the game along with drink and food specials. Groups can reserve tables in advance by calling 303-635-6691. Remember, this place is down the alley next to the Starbucks. (266B S Downing St.; 303-635-6691)
Not interested in the biggest football game of the year? Then check this out…
Duo
Don't care one little bit about football? Then get away from all the hype to Duo for the Non-Football Super Bowl Dinner. The evening features a three-course meal and there won't be a single slider or buffalo wing in sight. There are no televisions here either so this is truly a football free zone. Cost is $50 per couple (because it's the 50th Super Bowl). Wine and beer are extra, and there will be a special gameday cocktail for an additional cost. (2413 W 32nd Ave.; 303-477-4141)

Photo via Flickr user USDAgov
Tags:
Beer
,
Parties
,
Spirits
,
Sports
Recent Articles

Feedback
How are we doing? Tell us what you like or don't like and how we can improve. We would love to hear your thoughts!